Killing Joke @ the Fillmore NY @ Irving Plaza, NYC – pics
Finally, after numerous line-up changes through the years, all original Killing Joke members reunited for a new album and world tour.

Drummer, Paul Ferguson, rejoined the line up for the first time since 1987 enabling a whole new generation of fans to see Killing Joke's legendary original formation. Diehard fans have been waiting for this moment for two decades!

Bassist, Martin 'Youth' Glover also steps back into the live arena after a near 15 hiatus, having not played live with Killing Joke since 1994's Pandemonium tour.

The tour SAW Killing Joke take up a two night residency [at Irving Plaza in NYC] offering a different set on each evening. On the first night, they played their first two albums in their entirety, 1980's self-titled album followed by the album 'What's This...For!'. Their
second performance [Sunday, October 12th in NYC] in each city [treated] fans to 1994's Pandemonium and the Island Records singles of'79 to '80.
Does anyone have the complete selist for each show? More pictures from night one (Saturday, October 11th) below...

opener Ascention of Watchers...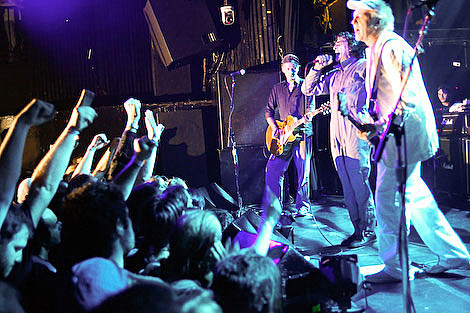 Killing Joke's last show of the tour will be October 14th at House of Blues in Chicago.