Killing Time added to Ringworm show, Victims on tour (dates & pics from 924 Gilman show w/ Ringworm & Nails)
Ringworm @ 924 Gilman

Ringworm is currently on the road with a helluva tour behind them, as Nails and New Lows are currently joining the Cleveland band on their road to 'This is Hardcore' fest in Philly. After This is Hardcore, Ringworm will link up with Victims, Kings Destroy, Gang Signs, and special guest NYHC tough guys Killing Time (!) to play Saint Vitus on August 13th. Tickets are on sale for this 21+ event.
Saint Vitus is one of a few dates scheduled for Swedish d-beat greats Victims, who will kick-off their US tour at the Brooklyn show. The band will tour the East Coast, logging dates at Best Friends Day and another NYC show on August 28th at Acheron. There the band will be joined by Defeatist, Grudges and DBCR as part of a closing to their US tour. The flyer for this all ages show is below. Victims released their latest LP A Dissident earlier this year.
From Ashes Rise is also scheduled to play This is Hardcore, and will hit NYC for an 18+ show on August 15th at Public Assembly with Fuck The Facts, Full of Hell, and Night Birds (who have a new LP coming). From Ashes Rise have added another date, August 14th at The Barbary in Philadelphia, with Victims. All Victims and From Ashes Rise dates are below.
Ringworm and Nails played 924 Gilman on July 30th (Saturday) as part of that ongoing tour with New Lows. Pictures of Ringworm & Nails from 924 Gilman are below, alongside all tour dates and some video of Victims in action.

--

Victims live at Fluff Fest 2011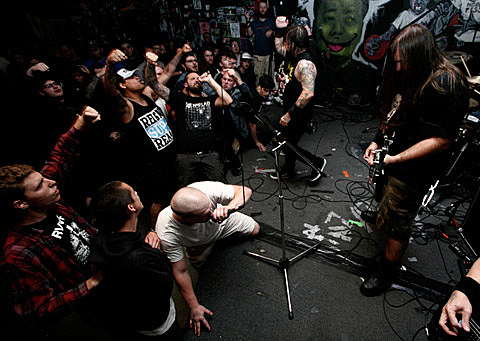 RINGWORM, NAILS - 2011 TOUR DATES
08/02/11 - El Paso - TX - House - 10756 Limas - Ringworm, Bitter End, New Lows
08/03/11 - Austin - TX - Red 7 - 611 East 7th Street - Ringworm, Bitter End, New Lows, Oneagainstmany
08/04/11 - Dallas - TX - Trees - 2709 Elm Street - Ringworm, Bitter End, New Lows, Power Trip
08/05/11 - Little Rock - AR - Downtown Music - 215 West Capitol Avenue - Ringworm, Bitter End, New Lows
08/06/11 - Kansas City - MO - The Record Bar - 1020 Westport Road - Ringworm, Bitter End, New Lows
08/07/11 - St. Louis - MO - Fubar - 3108 Locust Street - Ringworm, Bitter End, New Lows
08/08/11 - Chicago - IL - Subterranean - 2011 West North Avenue - Ringworm, Bitter End, New Lows, Harms Way
08/09/11 - Cleveland - OH - Peabody's - 2083 East 21st Street - Ringworm, Bitter End, New Lows
08/10/11 - Albany - NY - Bogie's - 297 Ontario Street - Ringworm, Bitter End, New Lows
08/11/11 - Boston - MA - Great Scott - 1222 Commonwealth Avenue - Ringworm, Bitter End, New Lows
08/12/11 - Philadelphia - PA - Starlight Ballroom - 460 North 9th Street - This Is Hardcore 2011
08/13/11 - Brooklyn, NY - Saint Vitus - Killing Time, Kings Destroy, Gang Signs
FROM ASHES RISE - 2011 TOUR DATES
Sunday, August 14 This Is Hardcore 2011 Philadelphia, PA
Sunday, August 14 The Barbary Philadelphia, PA
Monday, August 15 Public Assembly Brooklyn, NY
Saturday, August 20 The Highline Seattle, WA
VICTIMS - 2011 TOUR DATES
AUGUST 13 - NYC @ St Vitus Bar w/ Ringworm, Kings Destroy, Gang Signs
AUGUST 14 - Philly @This is Hardcore Fest
AUGUST 14 - Philly @ The Barbary Late show/TiH after party w/ Death First
AUGUST 15 - Albany @ Valentines
AUGUST 16 - Boston @ Great Scott
AUGUST 17 - Wallingford, CT @ Cherry Street Station
AUGUST 18 - New Jersey
AUGUST 19 - Baltimore @ Charm City Arts Space
AUGUST 21 - Richmond @ Best friends day w/ CoC
AUGUST 22 - Asheville @ The Get Down
AUGUST 23 - Nashville @ Little Hamilton w/ Symptoms
AUGUST 24 - Chicago @ Panchos
AUGUST 25 - Cleveland @ Now Thats Class
AUGUST 26 - Pittsburgh
AUGUST 27 - Syracuse @ another breath final show
AUGUST 28 - Nyc @ Acheron with Defeatist, Grudges, DBCR