King Tuff played Knitting Factory w/ Frankie Rose & the Outs & Nude Beach (who replaced Pregnant on an upcoming instore) — pics & video
"King Tuff totally rocked it at the knitting factory tonight.
Glad I didn't miss it!" - BeyondBeyondisBeyond
King Tuff (aka Kyle Thomas who also happens to be in Witch and Feathers and Happy Birthday) headlined (an actual birthday party) at Knitting Factory in Brooklyn last night (1/20) with support from Frankie Rose & The Outs and Nude Beach. That's Tuff above, and more pictures of the show are below.
Nude Beach (the NY band) will join Nomos and The Men for a FREE show at Generation Records at 2PM on Sunday (1/23). Nude Beach is replacing Pregnant on the in-store bill, who recently dropped off of the show but is still scheduled to play Cake Shop on Mar 18 with Black Wine & Big Eyes. Bone up for Cake Shop by checking out their self-titled LP, out on vinyl now, but you can preview that LP on digital form above.
Generation Records is also a bit of a homecoming show for Nomos and The Men, as both bands recently came back from a two week tour of the West Coast which saw them share dates with Mammoth Grinder, Hatred Surge, Skin Like Iron, Walls, and many others. Both bands released LPs in 2010; Nomos dropped Notes From The Acheron in September (order it) while The Men are currently on their second pressing of Immaculada after initially releasing it in May (snag one).
More pictures and a video from Knitting Factory, below...

--
Frankie Rose & The Outs at Knitting Factory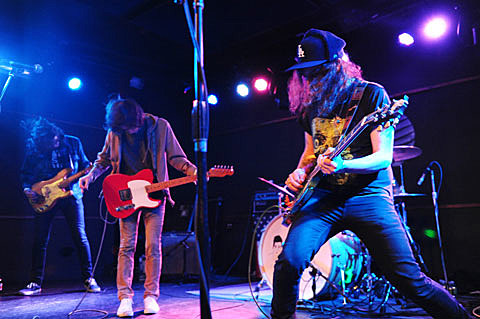 Frankie Rose & The Outs at Knitting Factory

King Tuff - 2011 Tour Dates
Wed 01.26.11 Austin, TX The Mohawk w/ Hex Dispensers
Thu 01.27.11 Chicago, IL Empty Bottle w/ Hex Dispensers