Kiss played Jones Beach (pics & setlist)
Boston Herald: I'm thinking about the Dr. Pepper commercial that's everywhere. Many bands in the so-called indie community think it's abhorrent to sell songs to advertisers, what do you say to those bands?

Paul Stanley: Wake up and smell the coffee. If those indie bands keep that philosophy they'll be flipping burgers soon enough. There's a reason that it's called the music business. Putting your song in a commercial doesn't negate your creativity.

Boston Herald: The concept of selling out is meaningless to KISS, right?

Paul Stanley: Success isn't selling out. We've never had to sell out because we've always done things on our terms. I didn't get into this to have a fan base of 100. I will gladly fly in the private jet to the show and make no apologies for being loved worldwide. Hold on a second. Listen to this from Rolling Stone: "KISS proved why they are the reigning kings of theater rock, delivering an electric two-hour, 21-song set of glam-rock smashes, newer tunes, over-the-top pyrotechnics." Regardless of what the naysayers say, I didn't have to sell out to get these kind of reviews.
Kiss played Jones Beach last night, Saturday, August 14th. More pictures and the setlist from their show, and a few videos, below...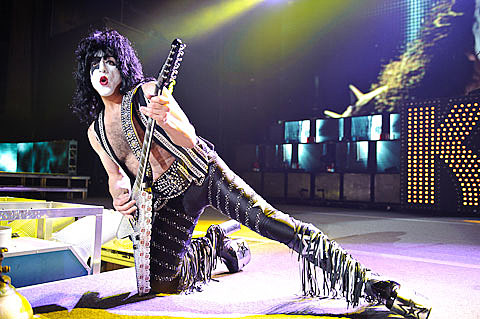 KISS Concert at Jones Beach Theater, Wantagh, NY, USA Setlist on August 14, 2010
1. Modern Day Delilah
2. Cold Gin
3. Let Me Go, Rock 'N' Roll
4. Firehouse
5. Say Yeah
6. Deuce
7. Crazy Crazy Nights
8. Calling Dr. Love
9. Shock Me
10. I'm An Animal
11. 100,000 Years
12. I Love It Loud
13. Love Gun
14. Black Diamond
15. Detroit Rock City
Encore:
16. Beth
17. Lick It Up
18. Shout It Out Loud
19. I Was Made For Lovin' You
20. God Gave Rock 'n' Roll to You II (Argent cover)
21. Rock And Roll All Nite