KMFDM on tour (dates), played Gramercy Theatre (pics). Nitzer Ebb there in December, kicks off tour in Nov. (dates)
photographer: paul birman
Twenty-five years, almost as many albums and an ever-changing band of misfits follow Sascha Konietzko, frontman and the only original member of KMFDM, around this year on the band's world tour. The Philly crowd at the TLA was a mixture of 80's metal heads who have been around since the beginning, Hot Topic goth kids and mosh-pit junkies. Not many were standing yet as opening group Angelspit started its set, but the crowd quickly filled just before KMFDM hit the stage. Lucia Cifarelli and Konietzko (half the time with a cigarette in his mouth) were front and center pushing buttons and turning knobs, generating KMFDM's signature 'ultra heavy beats,' joined by guitarists Jules Hodgson and Steve White and drummer Andy Selway. No time was wasted on talking, and they started right into the music, which was a good combination of old and new songs plucked from their vast play list....Twenty-five years and still running strong with no signs of slowing down is what makes KMFDM one of the greatest heavy-hitting bands of all time.- [Magnet]
That was a review of KMFDM's Philly show. The pictures in this post are from the 9/25 NYC show at Gramercy Theatre. The industrial band's appearance was part of an ongoing tour for the pair to celebrate KMFDM's 25th anniversary, and is billed as "Kein Mitlied World Tour 2009: 25 Years of the Ultra-Heavy Beat".
Another industrial heavyweight, Nitzer Ebb, has reformed and is heading back to the states for a "The Industrial Complex" tour which includes Gramercy on 12/4. Tickets are on sale. The band has a song on the new Saw VI soundtrack and are working on their first LP in 14 years.
Full KMFDM/Angelspit and Nitzer Ebb tour dates, KMFDM pics and a video from the show are below...

Angelspit/KMFDM @ Gramercy...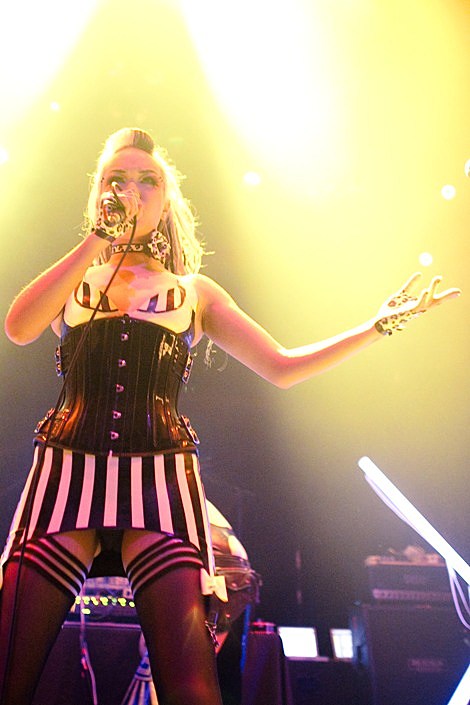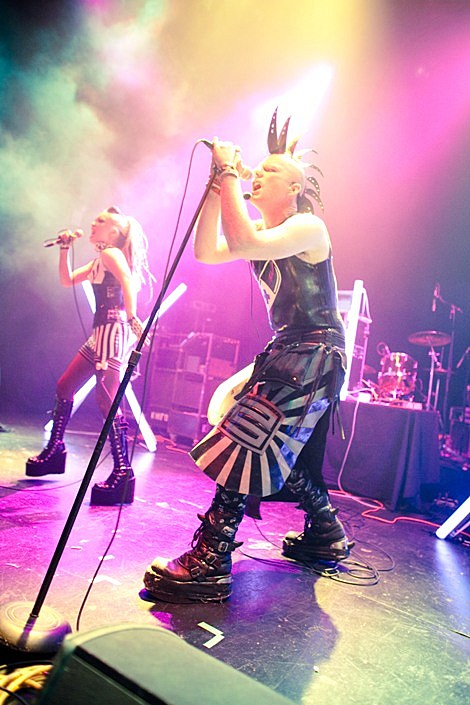 KMFDM LIVE at Gramercy Theater 8/25

KMFDM, ANGELSPIT - 2009 TOUR DATES
October 01 Ð Cincinnati, OH Ð Bogarts (ALL AGES)
October 02 Ð Detroit, MI Ð HarpoÕs (ALL AGES)
October 03 Ð Chicago, IL Ð House Of Blues (17+)
October 04 Ð Milwaukee, WI Ð The Rave (ALL AGES)
October 05 Ð Minneapolis, MN Ð First Ave (18+)
October 07 Ð Kansas City, MO Ð The Beaumont (ALL AGES)
October 08 Ð Omaha, NE Ð The Slowdown (ALL AGES)
October 09 Ð Denver, CO Ð The Gothic (16+)
October 10 Ð Salt Lake City, UT Ð Club Vegas (21+)
October 12 Ð Seattle, WA Ð The Moore (with Legion Within) (ALL AGES)
October 14 Ð Portland, OR Ð Wonder Ballroom (with Legion Within) (21+)
October 15 Ð San Francisco, CA Ð The Grand (with Legion Within) (ALL AGES)
October 16 Ð Los Angeles, CA Ð Club Nokia (with Legion Within) (ALL AGES)
October 17 Ð Pomona, CA Ð The Glasshouse (with Legion Within) (ALL AGES)
October 18 Ð San Diego, CA Ð House Of Blues (with Legion Within) (21+)
October 19 Ð Phoenix, AZ Ð The Marquee (ALL AGES)
October 21 Ð Dallas, TX Ð The Granada (17+)
October 22 Ð Austin, TX Ð EmoÕs (ALL AGES)
October 23 Ð Houston, TX Ð Meridian (ALL AGES)
October 24 Ð New Orleans, LA Ð House Of Blues (18+)
October 25 Ð Atlanta, GA Ð Masquerade (ALL AGES)
October 26 Ð Chapel Hill, NC Ð The Cats Cradle (ALL AGES)
October 28 Ð Charlotte, NC Ð The Fillmore (ALL AGES)
October 29 Ð Orlando, FL Ð The Firestone (ALL AGES)
October 30 Ð St. Petersburg, FL Ð The State Theater (ALL AGES)
October 31 Ð Ft. Lauderdale, FL Ð Culture Room (ALL AGES)
NITZER EBB - 2009 TOUR DATES
06.11.2009 Monterrey Cafe Iguana Mexico
07.11.2009 Mexico City Centro Convenciones Mexico
17.11.2009 Los Angeles Key Club
18.11.2009 San Francisco Slims
20.11.2009 Portland Berbatis Pan
21.11.2009 Seattle El Corozan
22.11.2009 Vancouver The Venue
24.11.2009 Salt Lake City Urban Lounge
25.11.2009 Denver Bluebird Theatre
27.11.2009 Minneapolis Varsity
28.11.2009 Chicago Double Door
29.11.2009 Cleveland PeabodyÕs
01.12.2009 Toronto Mod Club
02.12.2009 Montreal tba
03.12.2009 Boston Paradise
04.12.2009 New York Gramercy Theatre
05.12.2009 Philadelphia The Starlight
06.12.2009 Fairfax Jaxx
08.12.2009 Jacksonville JackrabbitÕs
09.12.2009 Orlando Firestone
10.12.2009 Atlanta Masquerade
11.12.2009 New Orleans The Hangar
12.12.2009 Houston Meridien
13.12.2009 Dallas tba
15.12.2009 Phoenix Marquee
16.12.2009 Tucson Rock
18.12.2009 San Diego tba
19.12.2009 Santa Ana Galaxy