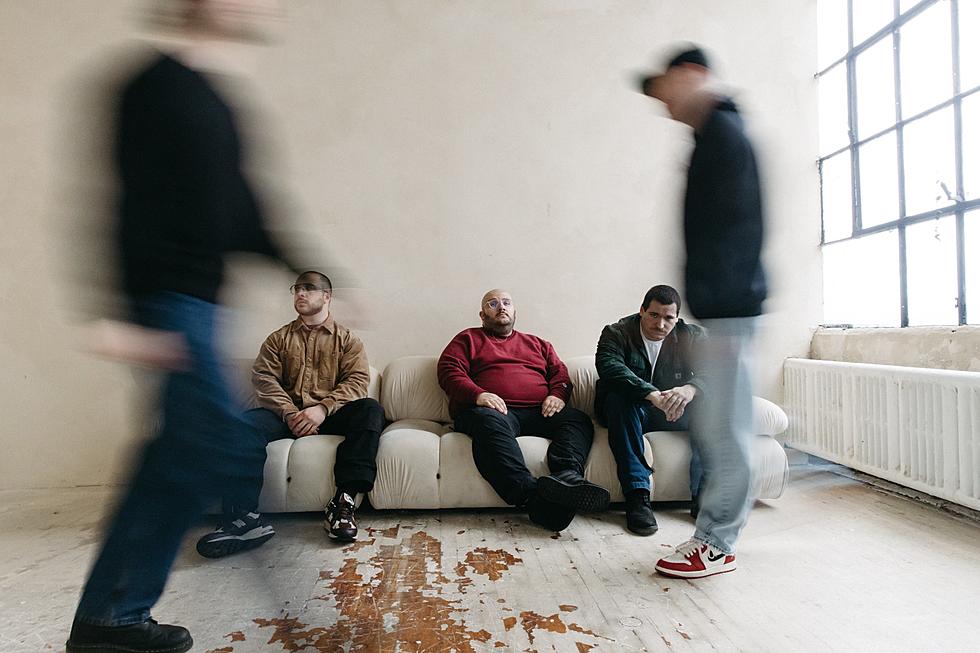 Koyo announce debut LP ft. Glassjaw, Movielife & Vein members, share new song (exclusive vinyl)
photo by Rebecca Lader
Long Island's Koyo may have formed as the emo-leaning side project of hardcore kids that also played in Hangman, Typecaste, Rain of Salvation, and other heavier bands, but they turned into a force of their own across three EPs dating back to 2020, and now they've announced their debut full-length for Pure Noise Records, Would You Miss It?, due September 29. It was produced by Jon Markson (Drug Church, One Step Closer, Regulate, etc), and it features guest appearances from Long Island hardcore/emo heroes Vinnie Caruana of The Movielife and Daryl Palumbo of Glassjaw, as well as Anthony DiDio of metalcore torch-carriers Vein.fm.
We've got an exclusive white/maroon/clear tri-stripe vinyl variant of the album, limited to just 250 copies. Pre-order yours while they last. Here's a mock-up:
"We really slow-cooked this record," said vocalist Joseph Chiaramonte. "There are songs on it that go back as far as being written just after [2020's] Painting Words Into Lines came out. Even as we were writing for [2021's] Drives Out East, we knew certain songs had to be allocated for certain things. We'd just keep them in the bank and develop them over time."
The album's first single is "You're On The List (Minus One)," which channels the same Long Island emo/melodic hardcore influences as Koyo's early EPs (Silent Majority, The Movielife, early Taking Back Sunday, etc), but it feels bigger, tighter, and bolder than anything else they've done yet. Koyo retain the grit of a band who came up in the hardcore scene, but they also swing for the fences when it comes to big hooks and clear production. "You're On The List" would've fit in perfectly with the Northeast emo explosion of the early 2000s, but it's also wholly connected to today's thriving hardcore scene and goes far beyond relying on nostalgia. It's a great track, and it comes with a video that features cameos by My Chemical Romance's Frank Iero, Regulate, Jon Markson, and photographer Michael Dubin. Check it out below.
Koyo are about to begin a tour opening for The Story So Far offshoot No Pressure at NYC's Le Poisson Rouge tonight (5/18), alongside Illusion and the shoegazy Vein.fm offshoot Fleshwater. That tour also hits Asbury Park's House of Independents on Friday (5/19).
They're also opening some shows for Bayside and Vinnie Caruana's other band I Am The Avalanche this summer, including Long Island's Paramount on July 23. After that, they play the Saturday of Philly's This Is Hardcore, the same day as a rare set by the reunited Silent Majority (who Koyo also opened for in Brooklyn in April), Gorilla Biscuits, and more. All dates are listed below.
Pick up our tri-color vinyl variant here.
Tracklist
1. 51st State
2. You're On The List (Minus One)
3. Life's A Pill
4. I Might Not
5. Flatline Afternoon (feat. Anthony DiDio)
6. Anthem
7. Sayonara Motel
8. Message Like A Bomb (feat. Daryl Palumbo)
9. What's Left To Say (feat. Vinnie Caruana)
10. Postcards
11. Crushed
Koyo -- 2023 Tour Dates
05/18 New York, NY @ Le Poisson Rouge *
05/19 Asbury Park, NJ @ House Of Independents *
05/20 Worcester, MA @ Palladium Upstairs *
05/21 Philadelphia, PA @ Underground Arts *
05/23 Buffalo, NY @ Rec Room *
05/25 Detroit, MI @ The Sanctuary *
05/26 Chicago, IL @ Bottom Lounge *
05/27 Columbus, OH @ Ace Of Cups *
05/28 Nashville, TN @ The End *
05/30 San Antonio, TX @ Paper Tiger *
05/31 Fort Worth, TX @ Tulips *
06/02 Mesa, AZ @ The Nile *
06/03 San Diego, CA @ Soma Sidestage *
06/04 Los Angeles, CA @ The Belasco *
06/05 Santa Cruz, CA @ Vets Hall *
06/22 Glasgow, UK @ Audio +
06/23 Manchester, UK @ Outbreak Fest
06/25 Hamburg, DE @ Booze Cruise Fest +
06/27 Dortmund, DE @ Junkyard +
06/28 Hamburg, DE @ Bei Chez Heinz +
06/30 Rennes, FR @ Le Jardin Moderne +
07/01 Paris, FR @ Supersonic +
07/02 Gent, BE @ Trefpunt +
07/04 Kingston, UK @ Fighting Cocks +
07/05 Birmingham, UK @ Asylum 2 +
07/06 Leeds, UK @ Temple of Boom +
07/07 London, UK @ New Cross Inn +
07/8 Cheltenham, UK @ 2000 Trees Fest
07/21 Harrisburg, PA @ Harrisburg Midtown Arts Center ^
07/23 Huntington, NY @ The Paramount ^
07/24 Albany, NY @ Fuze Box
07/25 Cleveland, OH @ House Of Blues ^
07/26 Buffalo, NY @ Town Ballroom ^
08/05 Philadelphia, PA @ This Is Hardcore #
* w/ No Pressure, Fleshwater, Illusion
+ w/ Fleshwater
^ w/ Bayside, I Am The Avalanche
# w/ Gorilla Biscuits, Silent Majority, Bulldoze, Mindforce, Regulate, Life's Question & more