Kurt Vile – Woodsist/CT Fest pics & 2009 tour dates (some w/ Blues Control who are playing other shows too)
Kurt Vile & the Violators played without a doubt one of the best sets at the July 4th Woodsist Festival. Having heard only his fragile sounding acoustic material beforehand, the bluesy screeches and wails that came throught the speakers were a welcome surprise. With the Violators behind him, Vile comes armed with a wall of riffing guitars (in addition to his own) that provide all the layers and energy you could hope for in a live show. Pictures from his set are in this post. Vivian Girls played the same day, as did a bunch of other bands (whose pictures are HERE). Pictures from Day One of the fest (which took place in Market Hotel due to rain) HERE.
Kurt's next NYC show, a July 17th Bruar Falls gig, is part of a mini Violators/Blues Control tour that also includes Boston and Western Mass stops.
After Blues Control's August 1st CD release show (for Local Flavor, out now) at Cinders Gallery, the acts team up again, this time with Vile solo. They'll play two NYC shows at the Cake Shop and Silen Barn on August 14th and 15th, respectively, and an August 16th show in Vile's hometown of Philly.
In fact, if you feel like getting out of NYC for a night, Vile has a slew of Philly gigs only a bus-ride away. Those are all posted below. At the end of August, he'll be on the West Coast touring into September.
Kurt Vile's big Matador debut, Childish Prodigy, recorded by "philly-genius engineer" Jeff Zeigler, will be out this fall on the label.
More Woodsist Fest pictures and all tour dates are below...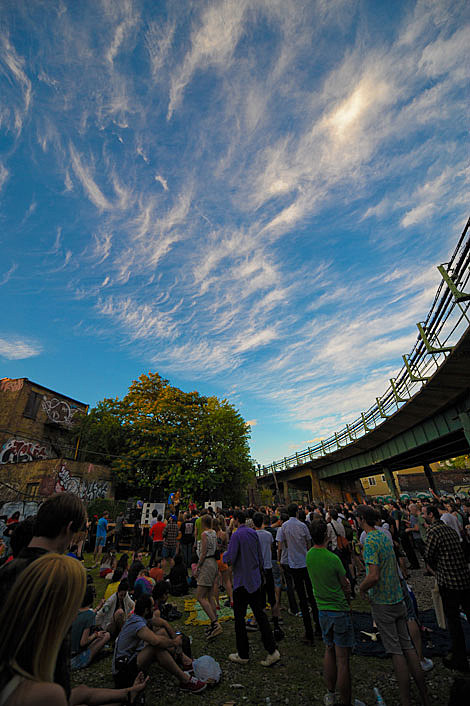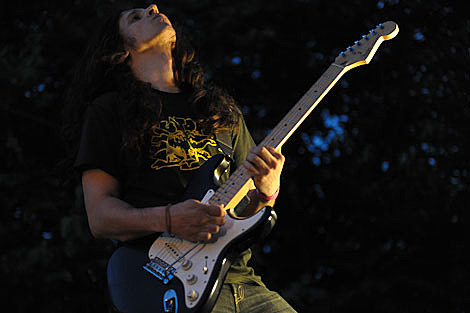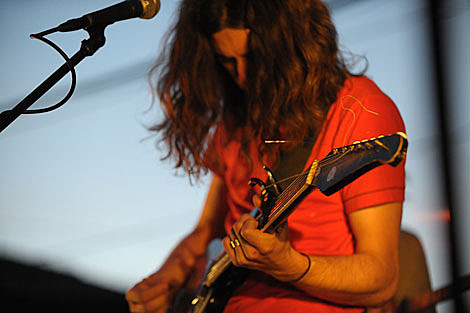 The rest of the Woodsist Day Two pics HERE.
Kurt Vile - 2009 Tour Dates
Friday, July 17 (w/ Violators) @ Bruars Falls - Brooklyn, NY w/ Blues Control and Coconuts
Saturday, July 18 (w/ Violators) @ Church - Boston, MA Homegrown Fest w/ Blues Control, more
Sunday, July 19 (w/ Violators) @ Montague Bookmill - Montague, MA w/ Blues Control
Thursday, July 23 @ Johnny Brenda's - Philadelphia, PA w/ Tyvek and Coconuts
Tuesday, August 11 @ Talking Head Club - Baltimore, MD w/ Espers
Thursday, August 13 (w/ Violators) @ Transfigurations - Asheville, NC Harvest Records Fest
Friday, August 14 @ Cakeshop - NYC, NY
Saturday, August 15 @ Silent Barn - Ridgewood, NY
Sunday, August 16 @ Vox Populi - Philadelphia, PA
Wednesday, August 19 (w/ Violators) @ Rittenhouse Square - Philadelphia, PA
Tuesday, August 25 @ Galaxy Theatre - Santa Ana, CA w/ Built To Spill/Woods
Wednesday, August 26 @ The Troubadour - Los Angeles, CA w/ Dungen/Woods
Saturday, August 29 @ Kemado/Mexican Summer/Folk Yeah Festival - Big Sur, CA w/ Dungen/Woods
Sunday, August 30 @ Bottom of the Hill - San Francisco, CA w/ Dungen/Woods
Tuesday, September 1 @ TBD - Portland, OR w/ Dungen/Woods
Blues Control - 2009 Tour Dates
Jul 17 BRUAR FALLS w/ Kurt Vile & The Violators, CoConuts Brooklyn, New York
Jul 18 CHURCH - Homegrown Fest Boston, Massachusetts $
Jul 19 MONTAGUE BOOKMILL w/ Kurt Vile & The Violators, Phased Out Montague, Massachusetts
Aug 01 CINDERS GALLERY w/ S.S.P.S., Budy Blues Brooklyn, New York
Aug 14 CAKE SHOP w/ Kurt Vile, Hans Chew New York, New York
Aug 15 SILENT BARN w/ Kurt Vile, The Mad Scene, Pink Reason Ridgewood, New York
Aug 16 VOX POPULI w/ Kurt Vile Philadelphia, Pennsylvania
Aug 30 ROWF ROWF ROWF FEST w Manchester, UK w/ Tropa Macaca
Sep 01 HEAD OF STEAM Newcastle upon Tyne, UK w/ Tropa Macaca
Sep 02 STEREO Glasgow, Scotland w/ Tropa Macaca
Sep 03 OSCILLATIONS FEST Belfast, Northern Ireland w/ Tropa Macaca
Sep 04 TBA Dublin, Ireland w/ Tropa Macaca
Sep 05 RAMMEL CLUB Nottingham, UK w/ Tropa Macaca
Sep 06 BARDEN'S BOUDOIR London, UK w/ Tropa Macaca
Sep 07 HELBAARD Den Haag, Netherlands w/ Tropa Macaca
Sep 08 OCCII Amsterdam, Netherlands w/ Tropa Macaca
Sep 10 WEST GERMANY Berlin, Germany w/ Tropa Macaca
Sep 15 SECRET PLACE Milano, Italy w/ Tropa Macaca
Sep 19 KC BELGIE Hasselt, Belgium w/ Tropa Macaca
Sep 20 INCUBATE FEST Tilburg, Netherlands w/ Tropa Macaca
Sep 24 LA BOITE Madrid, Spain w/ Tropa Macaca, Lüger
Sep 25 MUSEU DO CHIADO Lisbon, Portugal w/ Tropa Macaca
$ w/ Kurt Vile & The Violators, Titan, Sunburned Hand of the Man + more