Kurt Vile played Webster Hall w/ Widowspeak & The Young (pics & setlist)
Kurt Vile @ Webster Hall

Last Friday was a pretty important day on three fronts. First and foremost, it was Veteran's Day. I won't bother going into one of my usual tangents and pontificate on the importance of honoring America's servicemen and servicewomen past, present, and future and how they have the scariest fucking job on the planet. Nope. Not gonna do it. Instead, I will jump to the second "important" aspect of last Friday. I put important in quotes because the element I speak of is actually not very important at all. In fact, it's quite trivial and lame and I pity the infantile adult mind who actually expended any energy in reveling in the fact that last Friday was 11/11/11. "OMG ALL THE NUMBERS OF THE DATE ARE THE SAME TODAY EVEN THOUGH THE FIRST TWO NUMBERS OF THE YEAR ARE ACTUALLY 2 AND 0 droollllllll." Yawn.
More importantly, Friday November 11th was important on a third front; it was the day that I finally got to see the great Kurt Vile and the Violators at Webster Hall. I know what you're saying; "But Klaus, you idiot! Kurt's played NYC like A THOUSAND TIMES! Kill yourself already!" And you're right, he has. And I am. And I won't... You see, Kurt is one of those dudes I have literally been unable to see for one reason or another any time he's played NYC. And I don't mean "literally" in the completely non-literal sense people use that word nowadays; i.e. "That joke was so funny I literally shit my pants" or "Yo momma's so fat when she fell into the Grand Canyon she literally got stuck". I mean I have literally been unable to see him. Ever.
Apparently the show wasn't sold out but the place seemed totally packed. And I am pretty sure Webster Hall broke the world record for having the most fog and hair in one place at one time that night. Holy smoke ring for my halo, Batman. Upon entering, I was handed a free commemorative Kurt Vile 11/11/11 45 RPM record which I will never play because I don't have a record player, but which I thought was a super cool thing to give out. I entered the live room about 5 minutes before Kurt went on so I missed the openers. How were they? Kurt and the Violators were absolutely incredible. They played about 16 songs, including one encore, and the crowd was just eating it up.
In the early part of the show, highlights included "Jesus Fever," "Runner Ups," and "Ghost Town." Kurt kicked it up a notch around the halfway mark with a pounding rendition of "Freak Train," which kicked off a fantastic second-half. After solo performances of "Pepping Tomboy" and "My Best Friends," The Violators closed out the main set with two more Halo songs "Puppet to the Man" and "Society is My Friend." After a brief encore break, Vile came out with drummer Mike Zanghi for a beautiful performance of "Baby's Arms." The full band then closed out a great 90-minute set with two songs from the So Outta Reach EP, "Laughing Stock" and a cover of Springsteen's "Downbound Train." -[The Swollen Fox @ the Philly show]
Kurt has a very monotone voice that doesn't divert very far from its point A, but when you add it to such massive, and plodding melodies the experience is intense. The room was super dark and, as I mentioned, very foggy, with very little in terms of stage design and lighting. It made for a very dark and profound experience. I have a very limited musical scope these days, but Kurt and his Violators really hit me in a way that very few bands do. It has all these elements of grunge, 70s rock, jamminess, hairiness, moodiness, and darkness and they're all blended together and served as one unbelievable and unique musical experience. Fuck yes I will try to see him literally every time he hits NYC.
The NYC show fell the day befre Philly and three days before the release of Kurt's new So Outta Reach EP.
If you missed Widowspeak (like Klaus did!), make sure to catch them at the BrooklynVegan Holiday Party on 12/17 at Bowery Ballroom with Twin Sister and Ava Luna. Tickets are on sale, and for a paltry $8! (stay tuned for more details).
More pictures from Webster Hall and Kurt Vile's setlist, below...

--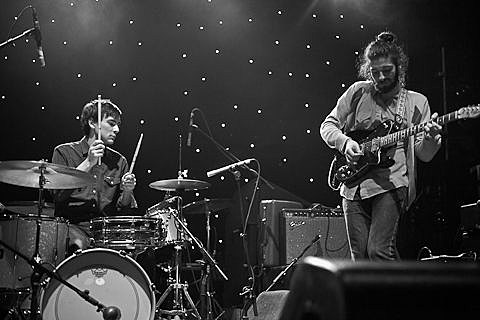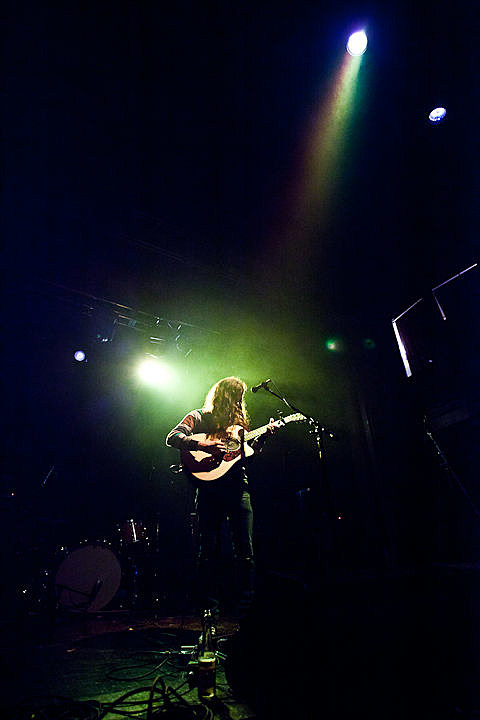 KURT VILE 11/11/11 AT WEBSTER HALL, NY, NY SETLIST
Blackberry Song
Runner Ups
Jesus Fever
On Tour
Freeway
Ghost Town
Hunchback
Freak Train
Peeping Tomboy
My Best Friends (Don't Even Pass This)
Puppet to the Man
Society Is My Friend
He's Alright
==================
Baby's Arms
Laughing Stock
Downbound Train (Bruce Springsteen cover)
--
--
WIDOWSPEAK - 2011 TOUR DATES
Nov 25 Brixton Windmill London, UK
Nov 27 Castle Hotel Manchester, UK
Nov 29 Zigfrid von Underbelly London, UK
Nov 30 dB's studio Utrecht, Netherlands
Dec 01 Worm Rotterdam, Netherlands
Dec 02 L'espace B Paris, France
Dec 17 The Bowery Ballroom New York, NY
KURT VILE - 2011-2012 TOUR DATES
Dec 01 Kings Arms Tavern Newton, New Zealand
Dec 03 The Bakery Perth, Australia
Dec 04 The Corner Hotel Melbourne Vic, Australia
Dec 05 Northcote Social Club Melbourne Vic, Australia
Dec 06 OXFORD ART FACTORY Sydney, Australia
Dec 08 Woodland Brisbane Qld, Australia
Dec 09 MEREDITH MUSIC FESTIVAL Meredith, Australia
Feb 20 The Haunt Brighton, United Kingdom
Feb 22 Le Nouveau Casino Paris, France
Feb 23 Botanique Brussels, Belgium