Kurt Vile shares new single "Pretty Pimpin" & LP details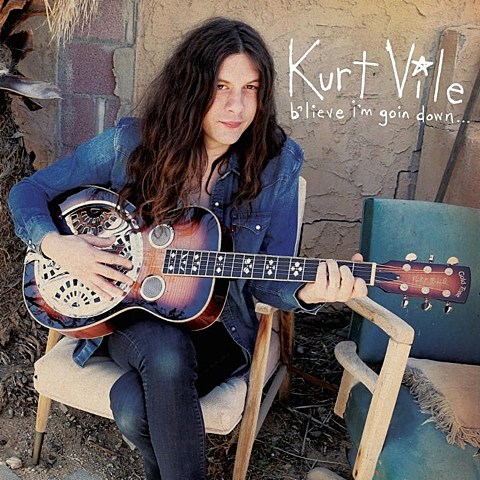 Kurt Vile recently announced that he'd be releasing his new album, b'lieve i'm goin down, this fall, and now we have more details on that. It's due September 25 via Matador (pre-order). That's the artwork above, and the tracklist is below. The first single is opening track "Pretty Pimpin," which immediately feels different from his previous records, yet unmistakably KV. Watch its video below.
Sonic Youth's Kim Gordon heard the new record, and said:
Kurt does his own myth-making; a boy/man with an old soul voice in the age of digital everything becoming something else, which is why this focused, brilliantly clear and seemingly candid record is a breath of fresh air. Recorded and mixed in a number of locations, including Los Angeles and Joshua Tree, b'lieve i'm goin down... is a handshake across the country, east to west coast, thru the dustbowl history ("valley of ashes") of woody honest strait forward talk guthrie, and a cali canyon dead still nite floating in a nearly waterless landscape. The record is all air, weightless, bodyless, but grounded in convincing authenticity, in the best version of singer songwriter upcycling.
Tracklist
1.Pretty Pimpin
2.I'm an Outlaw
3.Dust Bunnies
4.That's Life, tho (almost hate to say)
5.Wheelhouse
6.Life Like This
7.All In a Daze Work
8.Lost My Head there
9.Stand Inside
10.Bad Omens
11.Kidding Around
12.Wild Imagination
KURT VILE -- 2015 TOUR DATES
October
02 - BOSTON, MA - The Paradise * #
03 - AUSTIN, TX - Austin City Limits
04 - AUSTIN, TX - Austin City Limits
07 - NEW YORK, NY - Webster Hall * #
08 - WASHINGTON, DC - 9:30 Club * #
09 - PHILADELPHIA, PA - Union Transfer * #
10 - AUSTIN, TX - Austin City Limits
11 - AUSTIN, TX - Austin City Limits
14 - LOS ANGELES, CA - Fonda Theater
16 - SAN FRANCISCO, CA - Fillmore
17 - PORTLAND, OR - Crystal Ballroom
18 - SEATTLE, WA - The Showbox
21 - MINNEAPOLIS, MN - Mill City Nights * #
23 - CHICAGO, IL - Thalia Hall * #
24 - DETROIT, MI - St. Andrew's Hall * #
25 - TORONTO, ONT - Phoenix Theatre * #
30 - PARIS, FR - Pitchfork Festival
31 - AMSTERDAM, NL - London Calling @ Paradiso *
01 - BRUSSELS, BE - Autumn Falls @ ABbBox *
03 - HAMBURG, DE - Uebel & Gefahrlich *
04 - AARHUS, DK - Voxhall
05 - OSLO, NO - Rockefeller
06 - STOCKHOLM, SE - Munchenbryggeriet *
07 - COPENHAGEN, DK - Amerbio *
09 - BERLIN, DE - Postbahnhof *
10 - KOLN, DE - Gebaeude 9 *
11 - BRIGHTON, UK - Concorde 2 *
12 - LONDON, UK - Electric Ballroom
13 - BRISTOL, UK - Motion *
15 - DUBLIN, IE - Vicar Street *
16 - GLASGOW, UK - ABC1 *
17 - LEEDS, UK - Leeds University Stylus *
18 - MANCHESTER, UK - The Ritz *
20 - LUCERNE, CH - Sudpol *
21 - LYON, FR - Epicerie Moderne *
22 - BARCELONA, ES - Apolo *
23 - MADRID, ES - Penelope *
24 - LISBON, PT - Armazem F *
* with Waxahatchee
# with Luke Roberts
& with Cass McCombs and Heron Oblivion