La Dispute, Title Fight & The Hotelier packed Webster Hall (pics, setlists & review)
Mimi Hong
photos by Mimi Hong, words by Andrew Sacher
La Dispute / Title Fight

The ongoing La Dispute / Title Fight / The Hotelier tour rolled through NYC over the weekend for a show at Webster Hall on Friday night (3/27). The show had sold out months in advance, and it was already almost fully packed by The Hotelier's advertised set time of 7:30 (they ended up going on a little earlier). When The Hotelier headline, it's usually at much smaller venues, but even as the first of three bands on this bill they had a ton of the crowd singing along. It's pretty amazing to see how well they handled the big room, considering exactly a year ago they were in NYC playing what's technically someone's apartment.
Title Fight were up next, and as anyone who's been following them for a while knows, they were supporting their least heavy album yet, Hyperview. The change in sound appears to be alienating some old fans, though that's bound to happen almost any time a band changes it up this much. But every Title Fight album has sounded different anyway, and the show further helped prove that their progression on Hyperview is more natural than it may seem. Something like "Your Pain Is Mine Now" from that album might sound like an entirely different band than the one who wrote "Symmetry" from their 2009 EP (the only old song they played). But in a set with songs like "Lefty" and "Head in the Ceiling Fan" from 2012's Floral Green, it fit right in. And the Title Fight of 2015 is very good at merging their various styles at their shows. At points like "Shed" into "Chlorine" or "Numb, But I Still Feel It" into "Mrahc," Title Fight's transitions were seamless.
La Dispute wrapped up the night, and though it was billed as a co-headlining show with Title Fight, it seemed like an overwhelming majority of the crowd was there for La Dispute. It wasn't that long ago that it was normal to see La Dispute in NYC at a place like Acheron or The Studio at Webster Hall, but now it seems like these guys are on their way to something more like Terminal 5. Of all the times I've seen them, I've never seen their crowd the way it was on Friday night. They opened with "King Park," the 7-minute epic that tells the story of a drive-by shooting that killed an innocent child, which on previous tours would close their sets. But as an opener, it was maybe even more intense. The minute those opening guitars came in, something like 80% of that crowd rushed the stage in excitement. If you weren't intentionally doing that too, your body pretty much didn't have a choice.
That level of crowd energy rarely lowered throughout the night, and La Dispute delivered a set that deserved it. Like Title Fight, La Dispute have been progressing from album to album, and this show only included one song from their debut: the 12-minute "The Last Lost Continent" which they encored with. Even at their last NYC show in April 2014, I probably would've been bummed if we didn't at least get "Said the King to the River," but 7-year-old favorites didn't feel necessary to make this show great. This set of almost entirely newer material was the best I've seen of theirs yet.
The show was also their first in NYC since the departure of original guitarist Kevin Whittemore, and while Kevin was missed, his replacement fit in with the band perfectly. More pictures of all three bands, plus La Dispute and Title Fight's setlists, below...

---
The Hotelier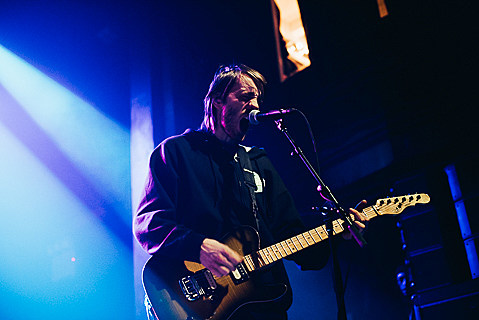 Title Fight
La Dispute
Title Fight Setlist: (via)
Murder Your Memory
Shed
Chlorine
Like a Ritual
27
Hypernight
Leaf
Numb, But I Still Feel It
Mrahc
Make You Cry
Your Pain Is Mine Now
Frown
Symmetry
Liar's Love
Rose of Sharon
Lefty
Head in the Ceiling Fan
Secret Society
--
La Dispute Setlist: (via)
King Park
First Reactions After Falling Through the Ice
The Most Beautiful Bitter Fruit
Woman (In Mirror)
For Mayor in Splitsville
a Letter
Harder Harmonies
Safer in the Forest/Love Song for Poor Michigan
Stay Happy There
Woman (Reading)
HUDSONVILLE, MI 1956
You and I in Unison
Encore:
The Last Lost Continent