Lana Del Rey played Bowery Ballroom (pics, video, setlist)
photos by Chris La Putt & Ryan Barkan
Lana Del Rey @ Bowery Ballroom

After years of playing around NYC as Lizzy Grant followed by a secert-first-NYC-show at Glasslands, and all the chatter and controversy and love and hatred, "Lana Del Rey" made her official NYC debut at Bowery Ballroom last night (12/5).
Lana Del Rey finally took the stage in her self-appointed hometown of New York City earlier this evening in what she clearly felt was a put-up or shut-up performance. "It's good to be home," she told the Bowery Ballroom audience as she strode on stage to the bold entrance music of Bernard Herrmann's iconic score from Psycho. After a couple uncomfortable moments of "f***in technical difficulties" (her words), she quickly launched into "Without You," a song which contains lyrics that arguably define her ethos: "I think I found God in the flashbulbs of your pretty cameras."

Del Rey is an artist with undeniable vocal chops, but one that is also clearly a character through and through; this, however, is not a bad thing! Throughout the course of tonight's 40-minute(ish) set, her voice alternated between that of a baby-voiced vixen and a husky, world weary veteran, often pitching up and down between these vocal registers within the same verse of a single song. The visual imagery projected onto a series of three white balloons behind her on stage during her gig included a well-curated mix of Highbrow Brilliant and Lowbrow Despicable video clips -[VH1]
What did you think? Pictures from the NYC show are in this post, two sets of them.
Lana Del Rey is currently preparing for the release of her new LP Born To Die due on January 30th (maybe you listened to the title track while staring at her naked). Check out a live video of new track "Summertime Sadness" (courtesy of According2g), along with the setlist from Bowery and more pics, below...

---
photos by Chris La Putt...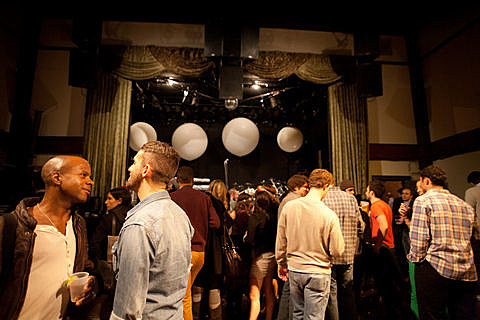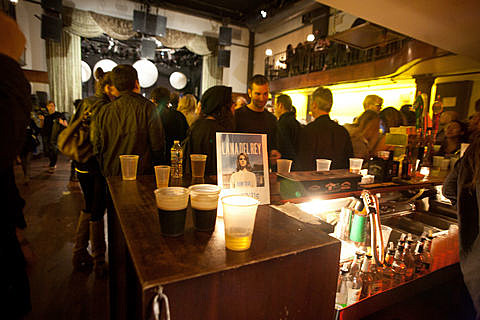 photos by Ryan Barkan...
"Summertime Sadness" live by Lana Del Rey in New York

Lana Del Rey - Without You at Bowery Ballroom

LANA DEL REY AT BOWERY BALLROOM SETLIST 12/5/11
Without You
Bord to Die
Blue Jeans
Radio
Million Dollar Man
Video Games
Summertime Sadness
You Can Be The Boss
Off TO The Races