Land of Talk played Bowery Ballroom w/ Suuns & Little Scream (pics & setlist)
Land of Talk

Living in Brooklyn, it's all too easy to get swept up in the thriving local music scene. After all, bands seem to be coming into existence faster than bedbugs in Bushwick. But Saturday night at the Bowery Ballroom featured tunes from another exciting musical oasis: Montreal, the home of all three of the evening's artists.
First on the bill was Little Scream, the captivating project of singer-songwriter Laurel Sprengelmeyer. Even her sparkly black leggings were outshone by her innovative songs, which seemed to constantly switch tempo and require a different series of emotions to pull off. She may have been alone on stage, but Sprengelmeyer's ferocious foot tapping took on the feel of a bass line, and her presence was easily impressive enough to fill the space.
Up next was the CMJ veterans Suuns. Unlike many of their musical peers, the guys from Suuns do not completely cocoon their music in reverb, distortion, and effects (though these things do have an undeniable presence in their music). Instead, guitar riffs and synth lines are provided with ample breathing room and remain distinct. Suuns may be feel repetitive to some but their music is a well-executed exercise in minimalism.
Suuns were not the main act, but its members seemed to get in the most stage time since Land of Talk's Lizzie Powell borrowed multiple Suuns members for help during her set, relying especially on Joe Yarmush on bass.
Of course, the spotlight was unmistakably on Powell... and her short, white lacey dress. With her pleasant (and dare I say wholesome?) voice, Powell could have easily forged a career at the top of the adult contemporary charts, but instead, she chose to use her voice and her songwriting skills for good. The combination of Powell's pensive melancholic lyrics and assertive guitar riffs is arresting. Here's a woman who seems to be equally comfortable with bearing her soul and shredding - often within the same song.
After concluding their initial set with a rowdier number, Powell prompted a change of pace for the encore upon seeing a pocket of fans start to dance/trample their fellow concert-goers.
Look alive, Brooklyn. Montreal is bringing the A game.
More pictures and Land of Talk's setlist from the show, below...

--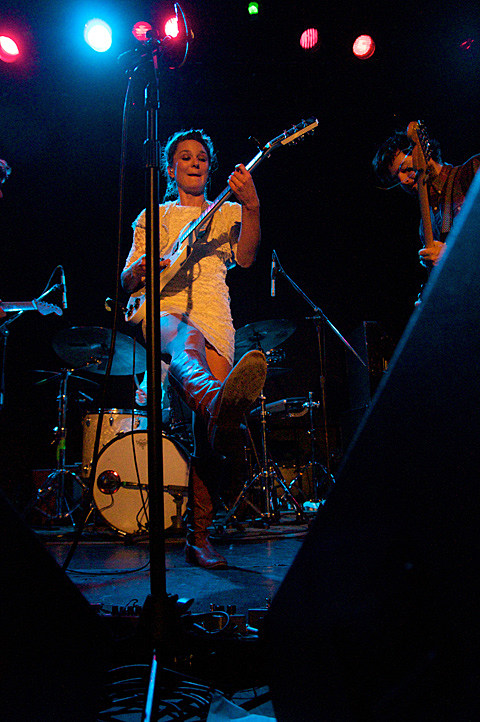 Land of Talk setlist
Cloak and Cipher
Swift Coin
Sixteen Asterisk
Some Are Lakes
Magnetic Hill
Yuppy Flu
Summer Special
The Hate I Won't Commit
Goaltime Exposure
Quarry Hymns
Color Me Badd
May You Never
Encore
It's Okay