Landmine Marathon & Salome are here (win tickets) ++ LM, Failures & Mammoth Grinder live pics, Lewd Acts & more
Landmine Marathon photos by Taylor Keahey, words and photos of Failures & Mammoth Grinder by BBG
Landmine Marathon at Kimo's

Salome and Landmine Marathon are in NYC, and are ready to tear the roof off of Union Pool TONIGHT (7/13) as part of a two night campaign of obliteration. Wetnurse, who have been on the low this year to work on new material, will get the assist on tonight's shindig, while Batillus will support the pair two days later (7/15) at Cake Shop (unfortunately, Cleanteeth had to cancel their appearance). Want tickets? I have THREE pairs available for giveaway for EACH show. Details on how to win are at the bottom of this post.
The Landmine/Salome dates are two of three BV shows scheduled for this week. The Funeral Pyre will team up with Early Graves, Mutilation Rites and the recently added Valdur(!) play Union Pool on July 17th (Sat). Valdur, who shared a split with the great Lightning Swords of Death (check out our interview), are in the NYC area to play a second show as well. The Cali black metal crew will also take on Precious Metal at Lit on Monday (7/17) alongside Mutilation Rites (again) and Syphilitic Lust.
Landmine Marathon recently played Kimo's in San Francisco on their way out east, a trek which would eventually lead them to Dudefest (pics from Dudefest) where they crossed paths with Failures and Mammoth Grinder. Failures played Acheron on Sunday (7/11) with Vaccine, Raw Nerves and Rats In The Walls, and though I missed all the support. Pics from that show are below.
Mammoth Grinder played the Thrasher party during SXSW, and a set of unpublished pics from their appearance are below as well. The band plays The Charleson on July 15th as part of a tour that was originally supposed feature Lewd Acts, who have now officially called it quits...
Lou Dax succumbed on June 20th, 2010 to the coma brought on by a head wound sustained in New York City on May 6th. Lou is survived by his 4 sons. In lieu of flowers, pick up a Lou Dax memorial shirt or record at www.lewdacts.bigcartel.com or www.deathwishinc.com to help his legacy live on. Thank you to everyone who ever listened, saw, helped, or cared about Lou. - [Facebook]
Those pics, and the new Landmine Marathon video for "Shadows Fed To Tyrants", are below.

--
Landmine Marathon at Kimo's in San Francisco (all photos by Taylor Keahey)
Landmine Marathon - "Shadows Fed To Tyrants"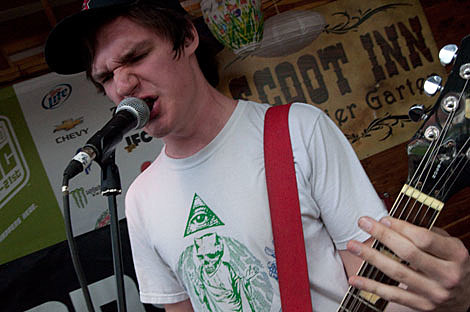 ===========================================
Want a free pair of tickets to Salome / Landmine Marathon? Email BVCONTESTS@HOTMAIL.COM (subject: Salome). Include your first and last name with your show preference (Union Pool on 7/13 or Cake Shop on 7/15). You must be 21+. Winners will be picked at random and contacted. Good luck!