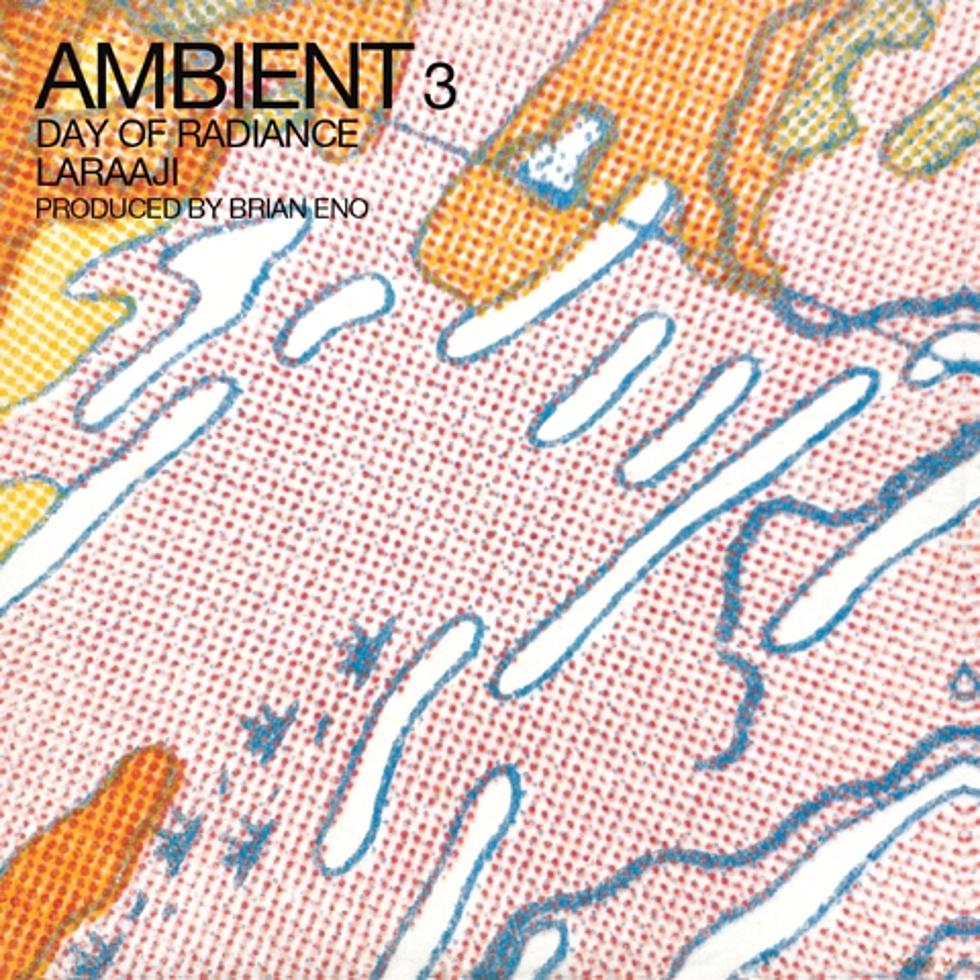 Laraaji reissued his Brian Eno-produced album, playing shows, including NYC tonight w/ Foxes In Fiction & more
Laraaji has been doing a few reissue campaigns this year. Over the summer, he put out All In One Peace on Leaving Records, which collected select works from 1978 to 1983. Just two weeks ago, he reissued Ambient 3: Day of Radiance, his only album to be produced by Brian Eno, whose connection to Laraaji surely helped put Laraaji on the map:
If the album had been released without the word ambient prefixing its title and minus the sleeve credit "Produced by Brian Eno", Ambient 3 - Day of Radiance would probably now be thought of as a New Age curio and rarity, to be filed beside albums by, say, Steven Halpern. Instead, it came between 1980's Ambient 2 (Harold Budd and Brian Eno's The Plateaux of Mirror) and 1982's Ambient 3 (Eno's On Land). The first of the series was Eno's Ambient 1 - Music for Airports, released in 1978. Ambient it was then for Laraaji.

Day of Radiance was the only Eno-related album made by Laraaji. He has gone on to make around 29 more. Most are self-released and around a quarter are collaborations. He is still active and might not have been so prolific without the Eno connection. In the interview, he offers a simple "Yes" in response to the comment "Eno really helped put you on the map." Eno may have been claiming or labelling ambient as a genre, but after he moved on, Laraaji continued his pursuit of a music that was as beautiful, celestial or ethereal as possible.
The above quote is from an interesting piece at The Arts Desk on the new reissue. Head here to read more. You can pick up the Day of Radiance reissue here.
Laraaji plays NYC TONIGHT (11/4) at Trans-Pecos for a show presented by the Human Pitch label that's billed as Ambient 1. Human Pitch head Landon Speers' project Headaches (whose new album comes out this week) is on the bill, as are two newer ambient artists, Foxes In Fiction and James Place. Advance sales have ended, but tickets will be available at the door. Set times (including an afterparty with DJs) below. His only other dates we're aware of are in Maine next week.
Laraaji continues to make new music too. One of his recent releases was his 2011 collaboration with Blues Control for RVNG Intl's consistently intriguing FRKWYS series. Stream that and Days of Radiance below...

---
NOVEMBER 4 @ TRANS-PECOS
8pm / Doors
8:15-9:00pm / James Place
9:10-9:55pm / Foxes In Fiction
10:05-10:50pm / Headaches
11:00-Midnight / Laraaji
After-show:
Midnight - onwards / Rioux (DJ Set) b2b Dadras (DJ Set)