Laura Marling & Alessi's Ark played Webster Hall (pics, setlist)
Thirty minutes before the opening act, Webster Hall was already getting crowded - good news for Alessi's Ark, the opening act. Much like Laura Marling, Alessi Laurent-Marke combines acoustic guitar-based folk songs with a good deal of charm, but what Marling's discography lacks - levity - Laurent-Marke makes up for. Instead of singing about ghosts, going mad, and lost hope, Laurent-Marke tends to stick to lighter topics (like kite flying) and a more delicate, gentle sound.
Many musicians lose their accents when they sing. Lauren-Marke is not one of them. Accompanying her rich voice is a relatively pronounced British accent (she hails from West London) that makes her vocals all the more alluring - especially when she shares the mic with her friend Marcus, who also accompanied her on the guitar throughout the performance.
Though the crowd was certainly attentive during the opening act, the energy in the room seemed to triple as soon as Laura Marling walked on stage. Shrieks, whistles, and high-pitched giggles replaced demure clapping and extended into the first notes of the opening song ("Rambling Man"). But the crowd became fantastically silent as soon as Marling began to sing.
Blending intimacy with power, she often begins her songs with soft finger plucked melodies before calling on her five-piece backing band to contribute thunderous instrumental interludes on banjo, mandolin, upright bass, drums, keys, cello, and guitar.
Marling performed a smattering of songs from her three albums, including older crowd favorites like "Alas I Cannot Swim" and "Ghosts," which she played back-to-back toward the beginning of the set. Midway into the evening, her bandmates took a break, leaving her alone on the stage to play stripped down versions of a handful of songs, including a brand new, as of yet, untitled song.
In typical fashion, Marling apologized for her inability to grasp the art of stage banter and proceeded to charm the crowd with her asides, random facts, and general awkwardness.
There was no encore, well not technically. "We don't consider ourselves rock 'n roll enough to do an encore," said Marling. "So we have a way of getting around it [...] so if you did want an encore, than this is the last song, and if you didn't, than this is the second to last song." The real reason they don't do encores? The crowd would never let them leave. Somehow, though no one appeared to be dancing, the floor of the venue began to shake in time to Marling's last song, "All My Rage," as if the room itself had undergone a conversion and could no longer contain its excitement. Despite Marling's disclaimer, no one budged after she walked off stage, no doubt hoping she would have a change of heart. No such luck.
More pictures from Webster Hall and both setlists below...

--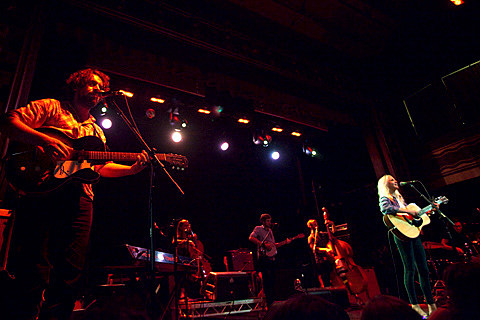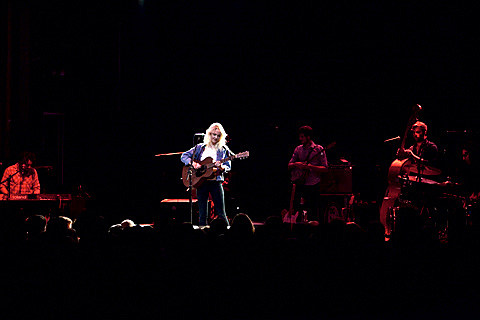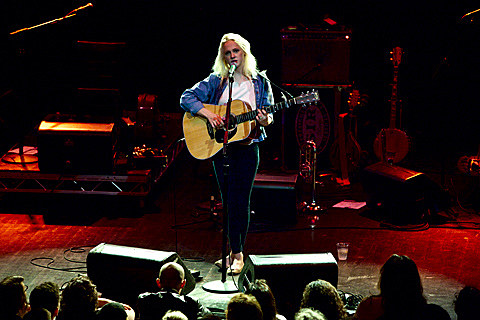 Alessi's Ark setlist
The Witch
Wire
Constellations
Stalemate
On the Plane
Time Travel
The Horse
Maybe I Know (Lesley Gore cover)
Woman
The Robot
--
Laura Marling setlist
Rambling Man
Alpha Shallows
Alas I Cannot Swim
Ghosts
I Was Just a Card
The Muse
Hope In the Air
Don't Ask Me Why
Salinas
Goodbye England
*new song
Night After Night
Blackberry Stone
Sophia
I Speak Because I Can
All My Rage