LCD Soundsystem & Holy Ghost! played Terminal 5 – night 1 pics, video, setlist & more dates
photos by Andrew Frisicano
"Good luck trying to find a better live show than the one LCD Soundsytem just put on at Terminal 5." - Jon Cohen
Holy Ghost! played their 2nd live show as a full band last night at Terminal 5 in NYC (5/20) (they went on at 8:30). Their six song set included a guest appearance by Penguin Prison, "Say My Name" (download it above, get it on their new EP) and "Jam for Jerry". Their full setlist is below.
Holy Ghost's first-ever show was a private show Saturday night at Under 100. Their third is tonight (Friday, 5/21), again at Terminal 5, and again opening for LCD Soundsystem. In fact, they open every LCD show from now until June 9th, and for Hot Chip at Summerstage. All dates below.
LCD Soundsystem went on at 9:30 and played for two hours, long encore included. The encore included a cover of Empire State of Mind - that's when the balloons came down, which they tacked on to NY I Love You.
More pictures, a video, setlists and more dates below..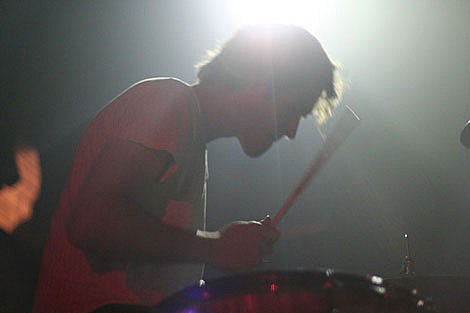 LCD Soundsystem - Tribulations - 5/20/2010 - Terminal 5, NYC

Holy Ghost! Setlist
1. Do It, Again
2. Static on the Wire
3. Say My Name
4. Hold On
5. Jam For Jerry
6. I Will Come Back
--
LCD Soundsystem Setlist:
Us v Them
Drunk Girls
Get Innocuous
Yr City's A Sucker
Pow Pow
Daft Punk is Playing at My House
All I Want
All My Friends
I Can Change
Tribulations
Movement
Yeah
encore:
Someone Great
Losing My Edge
New York, I Love You But Your Bringing Me Down
Empire State of Mind
--
Holy Ghost! - 2010 Tour Dates
05/20: New York, NY @ Terminal 5 *
05/21: New York, NY @ Terminal 5 *
05/22: New York, NY @ Terminal 5 *
05/23: New York, NY @ Terminal 5*
05/24: Montreal, BC @ Metropolis *
05/25: Toronto, BC @ Koolhaus *
05/26: Chicago, IL @ Metro *
05/29: Portland, OR @ Roseland *
05/31: Vancouver, BC @ Malkin Bowl *
06/03: San Francisco, CA @ Fillmore *
06/04: Los Angeles, CA @ Hollywood Palladium*
06/05: Pamona, CA @ Fox Theater*
06/08: Austin, TX @ Stubbs *
06/09: Dallas, TX @ Palladium *
06/18: Baltimore, MD @ Sonar
06/19: Washington, DC @ U Street Music Hall
06/25: Philadelphia, PA @ Making Time
07/02: Calvi, Corse @ Calvi On The Rocks
07/08: Manchester, UK @ Deaf Institute
07/09: Lisbon, Portugal @ Optimus Alive Festival
07/10: London, UK @ Fabric
07/15: Arvika, Sweden @ Arvika Festival
07/16: Winchester, UK @ Glade Festival
07/17: Berlin, Germany @ Melt
07/18: London, UK @ Lovebox
08/04: New York, NY @ Summer Stage, Central Park +
* = with LCD Soundsystem
+= with Hot Chip and Hercules & Love Affair