LCD Soundsystem played 4 shows at Terminal 5 (same setlist each night) – night 2 pics, videos & more tour dates
© Vincent Cornelli
"In the 3 years since I've seen the band, they've become an even tighter and more powerful live act. Even songs I was not really a fan of on their records were delivered with such focused abandon that it was impossible to not shake a head or foot in timed unison. Stylistically, the songs and band seamlessly weaved in a rich cross-section of record geek "hip" subgenres (disco, electro, hip hop, no wave, new wave, post punk) with a decidedly nyc flair. Murphy takes his talking points in the definitive "Losing My Edge" as both an ironic critique of "hipster" authenticity and a genuine sonic blueprint for his own music and artistic influences" [In This Game a Minute]
LCD Soundsystem and Holy Ghost! finished up their four-night run at Terminal 5 in NYC last night (5/23). They played the venue Thursday, Friday, Saturday and Sunday (there was also an official afterparty at Highline Ballroom on Saturday night). Pictures from the first night, are HERE (where you'll also find Holy Ghost's setlist). Pictures from night two are in this post.
The LCD setlist was exactly the same all four nights. According to Anon 4:33, James "commented on wanting to change up the set list for Sunday, but then said 'fuck it' and didn't. ok." That setlist is below.
And the (UK) numbers are in:
For the first time in 16 years, the Rolling Stones top the U.K. album chart, after their reissued 1972 album "Exile On Main St" (Polydor/Universal) hit No. 1. U.S. hip-hop artist B.O.B. debuted at the singles summit with "Nothing On You" (Rebel Rock/Grand/HustleAtlantic/Warner Music) featuring Bruno Mars...

...long-running favorite dance act, LCD Soundsystem, got a No. 7 debut with "This Is Happening" (DFA) and Alicia Keys' "The Element of Freedom" (J/Sony Music Entertainment) raced 21-8. [Billboard]
Those numbers are not to be confused with the U.S. Nielsen Soundscan numbers - a contest The National scored #3 in, one week earlier. This week's U.S. chart coming soon.
No rest for LCD Soundsystem right now. The band, along with Holy Ghost!, are already playing their next show in Montreal tonight (5/24). This summer they'll hit festivals all over the world. In the U.S. it's Sasquatch (next weekend), Pitchfork, Bonnaroo, and ACL. All dates, more pictures from Friday, videos (including one of the balloons dropping) and the setlist, below...

--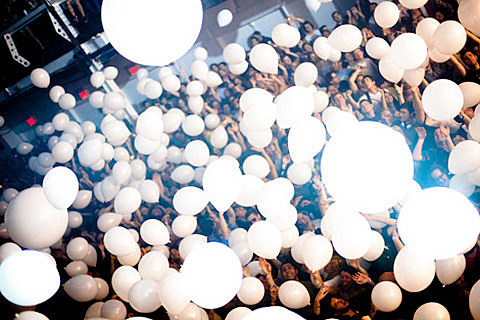 LCD Soundsystem - I Can Change @ Terminal 5 NYC 5/22/10

LCD Soundsystem live from Terminal 5 (NYC) 05-22-10 "Movement"

all my friends live @ terminal 5. 5/22/2010

LCD Soundsystem live from Terminal 5 (NYC) 05-22-10 "Empire State of Mind" / annoying crowd member / balloons

LCD Soundsystem Balloon Drop Finale Clip 5/23/10 Terminal 5 NYC

LCD Soundsystem Setlist:
Us v Them
Drunk Girls
Get Innocuous
Yr City's A Sucker
Pow Pow
Daft Punk is Playing at My House
All I Want
All My Friends
I Can Change
Tribulations
Movement
Yeah
encore:
Someone Great
Losing My Edge
New York, I Love You But Your Bringing Me Down
Empire State of Mind
LCD Soundsystem - 2010 Tour Dates
05/24/10 montreal metropolis Canada
05/25/10 toronto koolhaus Canada
05/26/10 chicago metro United States
05/29/10 portland roseland United States
05/30/10 george SASQUATCH FESTIVAL United States
05/31/10 vancouver malkin bowl Canada
06/03/10 san francisco fillmore United States
06/04/10 los angeles hollywood palladium United States
06/05/10 pomona fox theater United States
06/08/10 austin stubbs music hall United States
06/09/10 dallas palladium United States
06/11/10 manchester bonnaroo festival United States
06/17/10 la coruña sonar Spain
06/18/10 barcelona sonar Spain
06/19/10 neuhausen ob eck southside festival Germany
06/20/10 scheessel hurricane festival Germany
06/22/10 Zagreb T.Mobile - InMusic Festival Croatia
06/24/10 Ferrara bands apart festival Italy
06/25/10 St. Gallen Open Air Festival Switzerland
06/26/10 glastonbury glastonbury festival United Kingdom
07/01/10 Roskilde roskilde festival Denmark
07/02/10 werchter werchter festival Belgium
07/03/10 London Wireless Festival United Kingdom
07/04/10 belfort les eurockeenes France
07/08/10 Novi Sad Exit Festival Serbia
07/10/10 lisbon Alive Festival Portugal
07/15/10 mariaville camp bisco United States
07/17/10 Chicago Pitchfork Music Festival United States
07/24/10 INCHEON pentaport rock festival Korea (South)
07/26/10 sydney hordern pavilion Australia
07/29/10 melbourne festival hall Australia
07/30/10 belongil fields 'Splendour in the Grass' festival Australia
08/01/10 naeba fuji rock festival Japan
08/11/10 helsinki flow festival Finland
08/12/10 Oslo OYA Festival Norway
08/13/10 gotenberg WAY OUT WEST FESTIVAL Sweden
08/27/10 reading reading festival United Kingdom
08/29/10 leeds leeds festival United Kingdom
09/04/10 stradbally electric picnic Ireland
09/12/10 Isle of Wight BESTIVAL United Kingdom
10/09/10 austin austin city limits festival United States ziker park