LCD Soundsystem played Terminal 5 w/ opener Shit Robot, covered Harry Nilsson (night 3 pics, video, setlist)
You could see glo-sticks being passed back among the crowd as LCD Soundsystem began their third straight night at Terminal 5, the hump day of their week-long career wind-down extravaganza. The moment set-opener "Dance Yourself Clean" goes from quiet to loud, someone near the stage flung about a hundred of those glo-sticks into the air, making for the first of many memorable moments of the night.
Despite having done this three-hour tour-de-force the last two nights, James Murphy and crew didn't show any signs of flagging. The eight or so musicians on stage -- not including female backup singers, male chorus and occasional horn sections -- seemed to be having a blast. As did the crowd that pretty much went mental for the entire first hour of the set, which included "Too Much Love" for the first time this week.
High point for me was watching the crowd react to "All My Friends." I was looking down from the third floor balcony and it was amazing to see so many people connect so deeply to it. That will definitely be one of my top concert moments of the year. I stayed against the balcony for the whole show (my first time at T5 if you can believe it) which I think probably made things more tolerable for me.
The bulked up band really made a difference, especially that male choir which includes members of the band Mr. Dream -- "Get Innocuous" and "Sound of Silver" sounded much fuller because of them. It was also nice to have Hot Chip's Al Doyle back, his presence was missed on last year's This Is Happening tour. He kept his shirt on tonight, but played guitar, vibes, timbales and even trumpet at one point.
The mid-section, an attempt to recreate the Nike-commissioned "45:33" was a bit hit or miss. Some parts were fleshed-out into more song-like structure, but without much singing it seemed like a good opportunity for the crowd (and band) to catch its breath.
For the third act, LCD Soundsystem got the crowd moving again with "Us Vs. Them" and kept the crowd bouncing through "North American Scum" and "You Wanted a Hit." With the pingpong bass of "Tribulations" the crowd surfing began, and then it turned into a pit for the thrashy "Movement."
There was also crowd favorite "Yeah" (it always kind of destroys), the throbbing "Someone Great," and LCD signature tune (and first single) "Losing My Edge" which seemed to take on extra meaning (and some new lyrics) in the hours before their retirement. Al Doyle also threw the keyboard hook from "Da Funk" into it at one point -- probably the closest we'll get to Daft Punk playing in LCD's house this week. (Though who knows what surprises are in store at MSG?) Also a treat: the band also threw in their cover of Harry Nilsson's "Jump into the Fire" in the encore, plopped in-between "All I Want" and "New York I Love You." Another highlight.
I don't know if he was saving his voice for singing, but James Murphy was rather unchatty between songs. Which is okay, the music spoke loud enough.
Shit Robot opened the show, and their set included LCD's Nancy Whang on vocals for "Take Em Up". They also later joined LCD on stage. Special guest Colin Stetson joined LCD on horns. Original LCD guitarist Phil Mossman played on some songs.
Only two more nights left for LCD's existence: tonight at Terminal 5 and then the big blowout Saturday at MSG. More pictures and video, and last night's setlist, after the jump.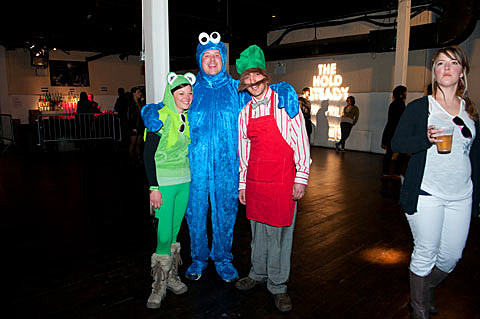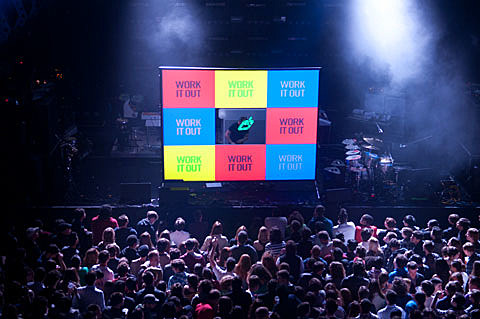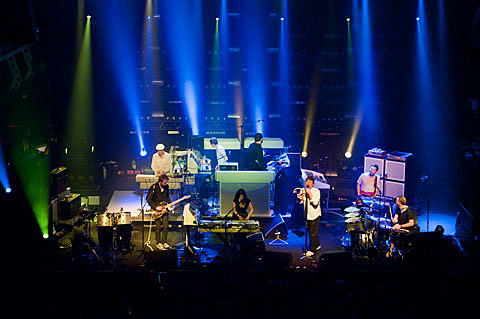 LCD Soundsystem - Jump Into the Fire

LCD Soundsystem - Terminal 5 Setlist 3/30/2011
Dance Yrself Clean
Drunk Girls
I Can Change
Time to Get Away
Get Innocuous
Daft Punk Is Playing At My House
Too Much Love
All My Friends
45:33 Part One
45:33 Part Two
Sound of Silver
45:33 Part Four
45:33 Part Five
45:33 Part Six
Freak Out/Starry Eyes
Us v Them
North American Scum
You Wanted a Hit
Tribulations
Movement
Yeah
Someone Great
Losing My Edge
Home
All I Want
Jump Into the Fire (Harry Nilsson cover)
New York I Love You, But You're Bringing Me Down