LCD Soundsystem played their final show @ MSG w/ Liquid Liquid (and Arcade Fire) — pics, setlist, video of entire show
They played for over 3.5 hours before the sun set on LCD Soundsystem in a cascade of white balloons dropping from the Madison Square Garden ceiling in NYC Saturday night. I wished they played even longer. Everyone I talked to agreed.
From where I was in the middle of the front GA section nobody stopped dancing, or singing along or smiling the entire night. (Save for, like at all four Terminal 5 shows, the couple of awkward, yet brief and deserved intermissions.) Every turn to scan the Garden saw people full-on, in the groove dancing; not just some barely-registered shuffling back and forth. Honestly, everyone who was there should take a bow because they were fantastic. During the first break, video footage was shown of an interviewer talking to fans outside the venue, Aziz Ansari included.
And no, there was no Daft Punk, but there was Arcade Fire singing joyously along on "North American Scum" (the third set's highlight) and an appearance by Reggie Watts who also played with the band at three of the four Terminal 5 shows. The boys choir featuring members of Mr. Dream was there, as were the two female backup singers, and the horn section that included Kelly Pratt and Colin Stetson. Original LCD guitarist Phil Mossman was back and featured a few times in addition to LCD band members
Nancy Whang, Tyler Pope, Pat Mahoney, Matt Thornley, Gavin Russom, and David Scott Stone. Liquid Liquid opened the show like they did at the first two Terminal 5 shows. Shit Robot, who opened the second two T5 shows, again made an appearance during the show. Shit Robot and Juan Maclean, for one song, were alien vocalists in mysterious cardboard-looking spaceships that were set up in seats behind the stage (pictures and video below).
Pitchfork streamed the whole show for those who couldn't be there - you could see the cameras all over the place, including on the shoulders of cameramen walking through the GA crowd. Filmmaker Lance Bangs was seen dancing in the crowd and working backstage on the video of the show, and yes the clouds made it to the two screens that were hanging on the sides of the stage.
LCD started with "Dance Yrself Clean" and "Drunk Girls" followed. The first set was breathtaking and included "Daft Punk is Playing in My House." After an intermission, the band tackled most of 45:33. Watts came out for "Part 2" and Murphy spent most of the middle set off in the background letting the band tackle the instrumentals.
The first encore featured a cathartic and riveting "Someone Great" as well as "Losing My Edge" and "Home." For me that block was the highlight. During "Losing My Edge," the video screens featured images of some of the influential bands mentioned. When I looked up I saw The Sonics.
Their Harry Nilsson cover of "Jump Into The Fire" was part of the final 3-song encore. Murphy, his voice sounding a bit hoarse, paused between songs to thank everyone who came out and everyone who helped put the show together. "Three songs left," "two songs left," and then after saying "this is our last song", and a bit more banter including an admission to his family who was in the audience that he was wearing his dad's watch (as you can hear in the video below), he led the band into their final (ever) number, "New York, I Love You But You're Bringing Me Down." It started slow with Murphy even laughing and pausing 'for dramatic effect' but by the end of the raucous outro the crowd was in a frenzy, only for the band to launch back in and cue the balloon drop. As the crowd was preoccupied with balloons of various size descending upon them, the entire band slipped off stage, almost completely unnoticed, and into history.
VIDEO OF THE ENTIRE SHOW (from the stream), and lots more pictures and the full setlist, below...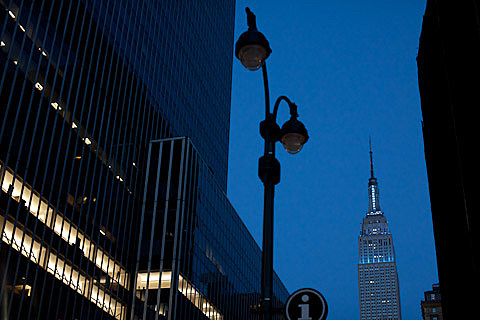 Liquid Liquid (not by Dominick)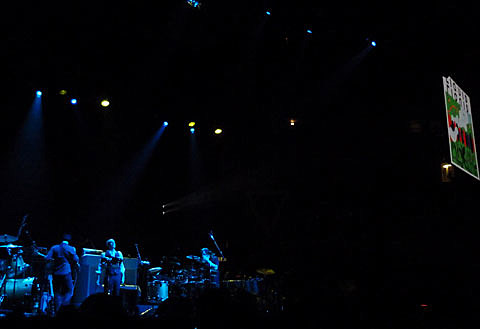 LCD Soundsystem (by Dominick Mastrangelo)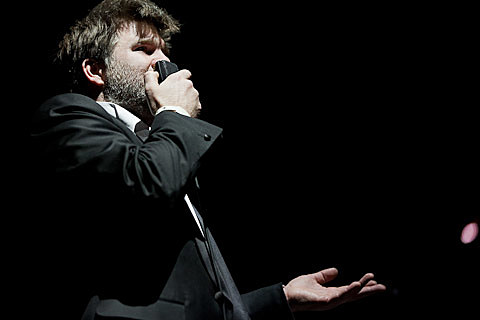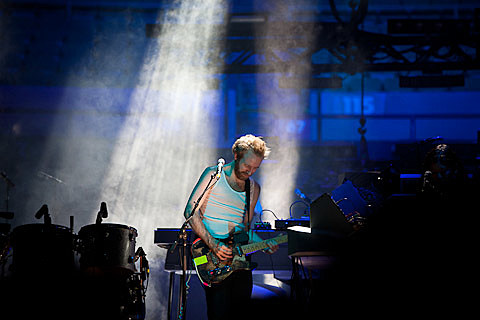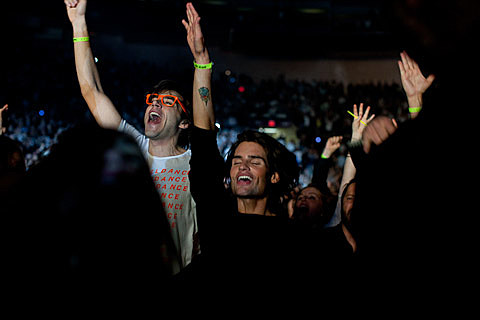 Reggie Watts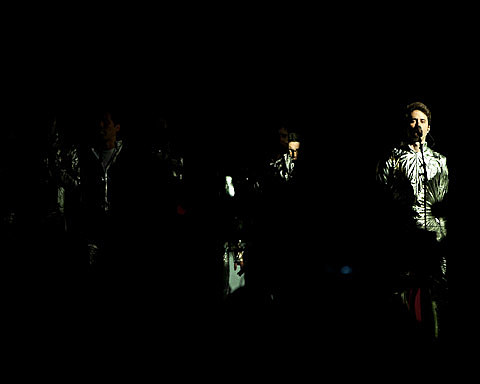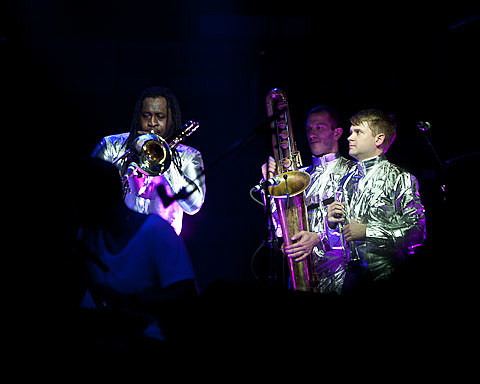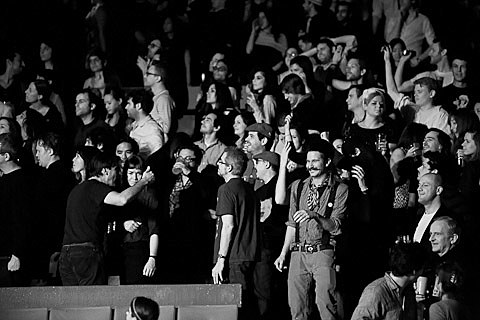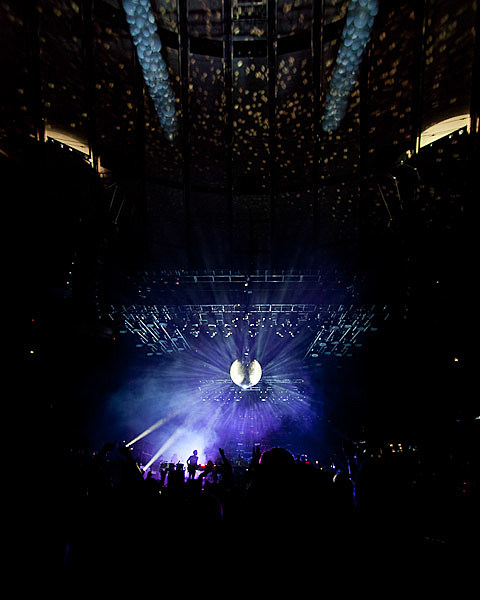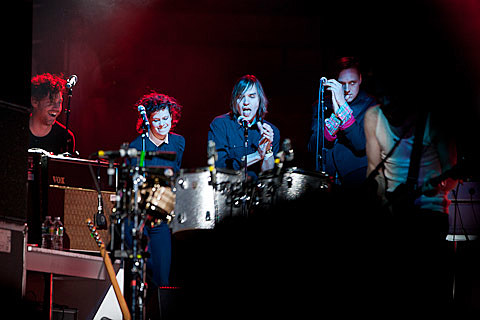 some more LCD Soundsystem (not by Dominick)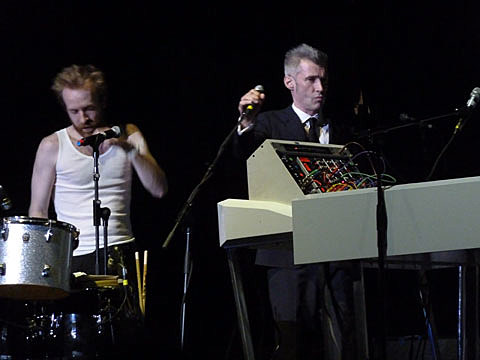 this photo via megyn cawley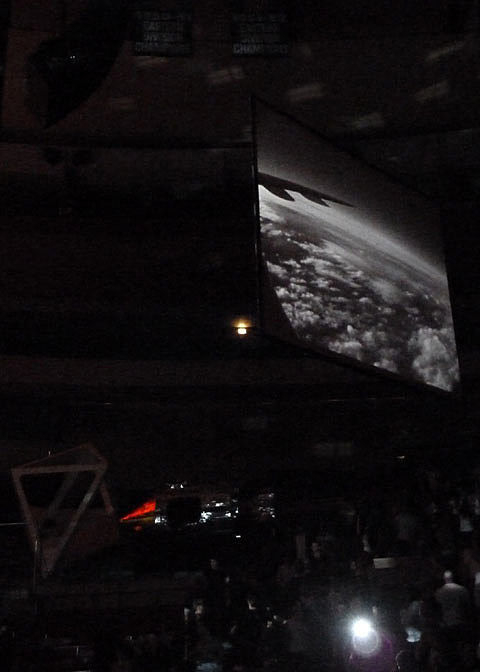 LCD Soundsystem + Arcade Fire - North American Scum

Set 1:
"Dance Yrself Clean"
"Drunk Girls"
"I Can Change
"Time to Get Away"
"Get Innocuous!"
"Daft Punk Is Playing At My House"
"Too Much Love"
"All My Friends"
"Tired"

Set 2:
45:33 Part One
45:33 Part Two (ft. Reggie Watts)
"Sound of Silver"
45:33 Part Four
45:33 Part Five (ft. Shit Robot)
45:33 Part Six
"Freak Out/Starry Eyes"

Set 3:
"Us V. Them"
"North American Scum" (w/ Régine Chassagne, Win Butler, Will Butler & Jeremy Gara of Arcade Fire)
"Bye Bye Bayou" (Alan Vega cover)
"You Wanted A Hit"
"Tribulations"
"Movement"
"Yeah"

Encore 1:
"Someone Great"
"Losing My Edge"
"Home"

Encore 2:
"All I Want"
"Jump Into The Fire" (Harry Nilsson cover)
"New York, I Love You But You're Bringing Me Down"