Lee Bains III & The Glory Fires on Sub Pop, touring +++ Avi Buffalo, Dum Dum Girls, Lyla Foy, Thumpers & Nirvana news
Lee Bains III & The Glory Fires (photo by David A. Smith)

Alabama roots rockers Lee Bains III & The Glory Fires, who you may have caught on tour with Alabama Shakes, have announced that they've signed to Sub Pop. No word on their first release for the label yet, but you can stream a couple earlier tracks from the band below. They're also touring with Turf War soon and coming to NYC on February 1 at Shea Stadium. All dates are listed below.
In other Sub Pop news, they're supposed to finally release the new Avi Buffalo album, which has been talked about for a few years now, this year. It will follow their 2010 debut.
As you've probably heard, Sub Pop is also releasing the new Dum Dum Girls album, Too True, on January 27. Since we last spoke, the DDGs have released another song from it, "Rimbaud Eyes," which you can stream below. Their previously announced tour hits NYC on 1/30 at Mercury Lounge (sold out) and 3/25 at Bowery Ballroom and 3/26 at MHOW with Blouse (tickets).
Lyla Foy (fka WALL) at Glasslands in 2013 (more by Ryan Muir)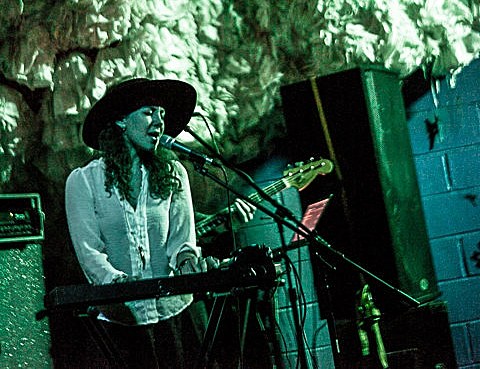 In other Sub Pop news, London art pop singer Lyla Foy, who used to record as WALL, is now using her own name and has signed to Sub Pop, who will release her debut album, Mirrors the Sky, on March 18. She just released the album's single, "Feather Tongue," which you can stream along with her late 2013 single, "Easy," below.
Another recent Sub Pop signee is UK pop duo THUMPERS, who recently toured the UK with (and covered) CHVRCHES. They'll release their debut album, Galore, on February 11. It features the super catchy single, "Unkinder (A Tougher Love)," which you can stream, along with the LP artwork and tracklist below.
We also just posted that Death Vessel are releasing their new album, Island Intervals, on February 25 via Sub Pop. Listen to two tracks here, including one featuring Jonsi.
And lastly, a video of Sub Pop class of '89 stars Nirvana (who are getting inducted into the Rock and Roll Hall of Fame and who are the subject of a new book by Sub Pop founder Bruce Pavitt) playing one of their last-ever shows just surfaced. It was filmed in LA in 1993 by Dave Markey, who directed 1991: The Year Punk Broke. Check it out below.
All streams and more below...

---
Lee Bains III & The Glory Fires - "Centreville"

Lee Bains III & The Glory Fires - "Total Destruction To Your Mind"

Lee Bains III & The Glory Fires -- 2014 Tour Dates
Thursday, January 23 - Charlotte, NC - The Milestone*
Friday, January 24 - Raleigh, NC - Slim's*
Saturday, January 25 - Durham, NC - Duke Coffeehouse*
Sunday, January 26 - Charlottesville, VA - The Southern*
Monday, January 27 - Washington, DC - DC9*
Tuesday, January 28 - Northampton, MA - The Elevens*
Wednesday, January 29 - Boston, MA - Great Scott*
Thursday, January 30 - Wilmington, DE - Oddity Bar*
Friday, January 31 - Philadelphia, PA - North Star Bar*
Saturday, February 1 - New York, NY - Shea Stadium*
Monday, February 3 - Columbus, OH - Woodlands*
Tuesday, February 4 - Cleveland, OH - Beachland Tavern*
Wednesday, February 5 - Chicago, IL - Beat Kitchen*
Thursday, February 6 - Normal, IL - Firehouse*
Friday, February 7 - Bloomington, IN - Russian Recording*
Saturday, February 8 - Nashville, TN - The Basement*
Dum Dum Girls - "Rimbaud Eyes"

Lyla Foy - "Feather Tongue"

THUMPERS - "Unkinder (A Tougher Love)"

THUMPERS - Galore

Galore Tracklist:
Marvel
Dancing's Done
Sound of Screams
Unkinder (A Tougher Love)
Come on Strong
Sixteen
Tame
Wilder Wise
Roller
Running Rope
Together Now