Lee Fields & the Expressions – MP3, new CD & release show
Limewire Store: Tell us about the upcoming Truth & Soul releases you're most excited about.

Truth & Soul co-founder Leon Michels: We are releasing a Lee Fields & The Expressions full-length entitled My World on June 2nd. This has been a project that has taken us about four years to complete and is probably the best thing we've ever done for T&S. It's a record of mostly hard-hitting slow jams, laced with lush strings and Lee's incomparable voice. Lee is really one of the best singers living in America today and he really shines on this record. He is also an amazing live performer, the type of showman that doesn't really exist anymore, so if he's in your town, please check him out...it's worth it.
Leon Michels, the man with the good words for Fields, is co-founder of Truth & Soul Records and bandleader for El Michels Affair. That group's latest Return to the 37th Chamber a disc of Wu-Tang covers, came out in April on Fat Beats.
Truth & Soul, Michels and Fields all have deep roots in the NYC soul revival. Michels used to be a Dap-King before leaving to play with his own group and focus on Truth & Soul. Both Michels and T&S co-founder Jeff Silverman worked at Soul Fire Records, which released Fields and El Michels records before closing in 2003. Through the '90s, Phillipe Lehman (founder of Soul Fire) and Gabriel Roth (who founded Daptone) ran Desco Records, which previously carried the soul and funk torch. Sharon Jones' performance in a Desco Records Lee Fields session is often credited as the Sharon's breakthrough, and the label, and its future incarnations, went on to put out many of her records. Jones and Fields still sing together on occasion, like at Jones' 2007 Apollo Theater gig where the pair performed a James Brown medley.
At the release party for Lee Fields' My World on Friday, June 5th at Southpaw in Brooklyn, both Stones Throw and T&S will be amply represented. The night's stars, of course, will be Lee Fields & The Expressions, accompanied by special guests Aloe Blacc (Stones Throw), The Ghetto Brothers (Truth & Soul) and DJs Akalepse & Jeff Dynamite (Truth & Soul) and Eothen Alapatt (Stones Throw). Tickets are on sale.
Poster for the Southpaw gig, with a video of Fields at the venue in 2006, below...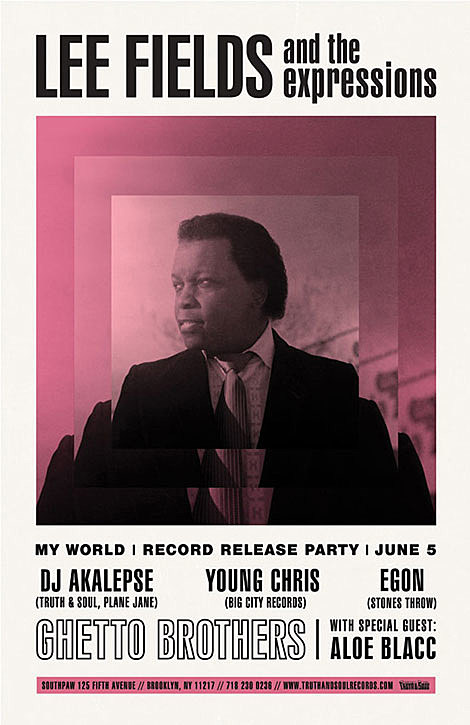 Mr. Lee Fields - Live! (The Daptone Super Soul Review @ Southpaw - Dec. 8th, 2006)