Leftover Crack calls out HR, police @ FFF Fest – pics & video
Kyle Dean Reinford
photos by Kyle Dean Reinford
Every other band at Fun Fun Fun Fest over the weekend made it a point to give the fest's co-headliner Bad Brains a shout-out - a respect kind of thing. It makes sense. That's kind of what you do when you're sharing a bill with a band that helped paved the way for your own sound. That said, it was also really refreshing to hear one band take a slightly different approach. Leftover Crack's Stza also gave Bad Brains, or more specifically HR, lots of shout-outs. They were even positive shout-outs, but they were to call out HR's questionable politics/alleged-still homophobia. They were positive because they started with a speech about equality for all people, and were said in a way as to educate HR (if he was listening), AND Stza even announced his cell phone number in case HR wanted to give him a call. You can hear that last part in the first video below.
So, as pointed out, NYC's anarchist ska punk band Leftover Crack (who I had no idea were so popular because I honestly don't follow punk music that much) love everyone, EXCEPT, notoriously,...

...Oddly, the visit from detectives came just after cops arrested Leftover Crack lead singer Scott Sturgeon [also known as Stza Crack] on Friday for--no kidding--throwing donuts at the police during a demonstration outside the 9th Precinct in the East Village. Sturgeon says he was pissed off that the cops wouldn't let the band play their music at a reasonable volume.
In the complaint, Officer Richard Labore wrote that Sturgeon's antic "caused people to express alarm." Labore also wrote that Sturgeon was chanting "kill the police, kill the police."... [Village Voice, September 2008]
...police. The other video below is the band performing their hit "Fuck the Police" at the Austin festival. The show was a ton of fun. There's more pictures down there too...

a message for HR from Bad Brains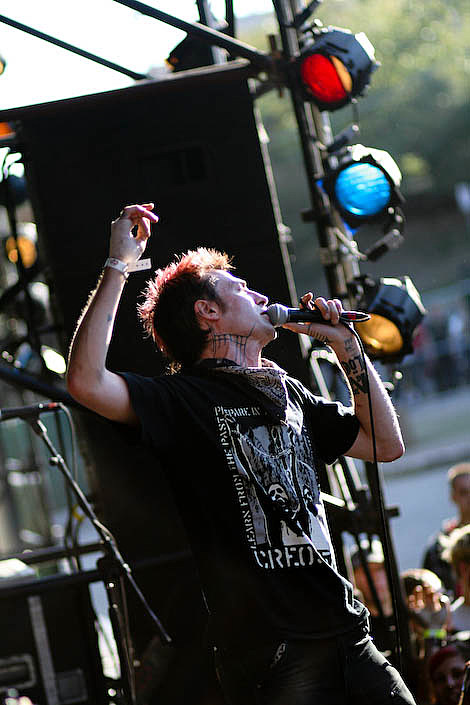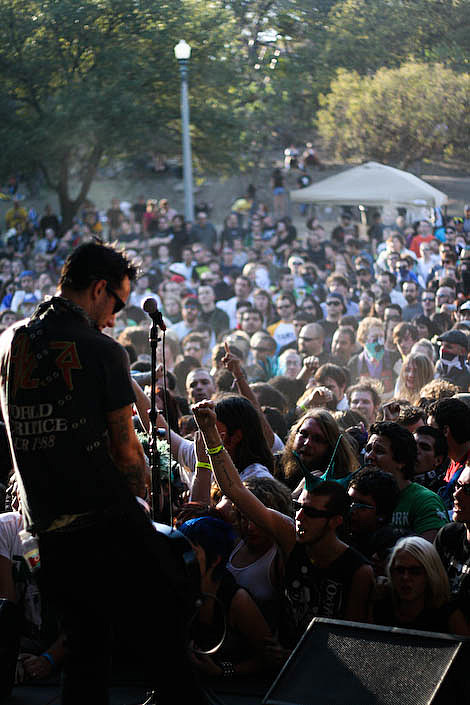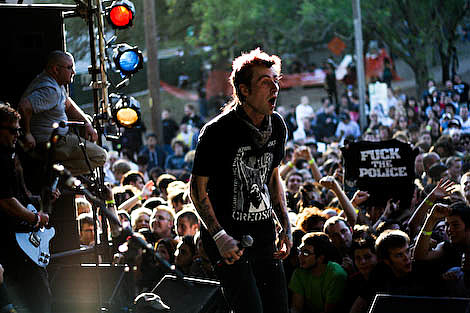 Leftover Crack - F*ck the Police (live @ Fun Fun fun fest)