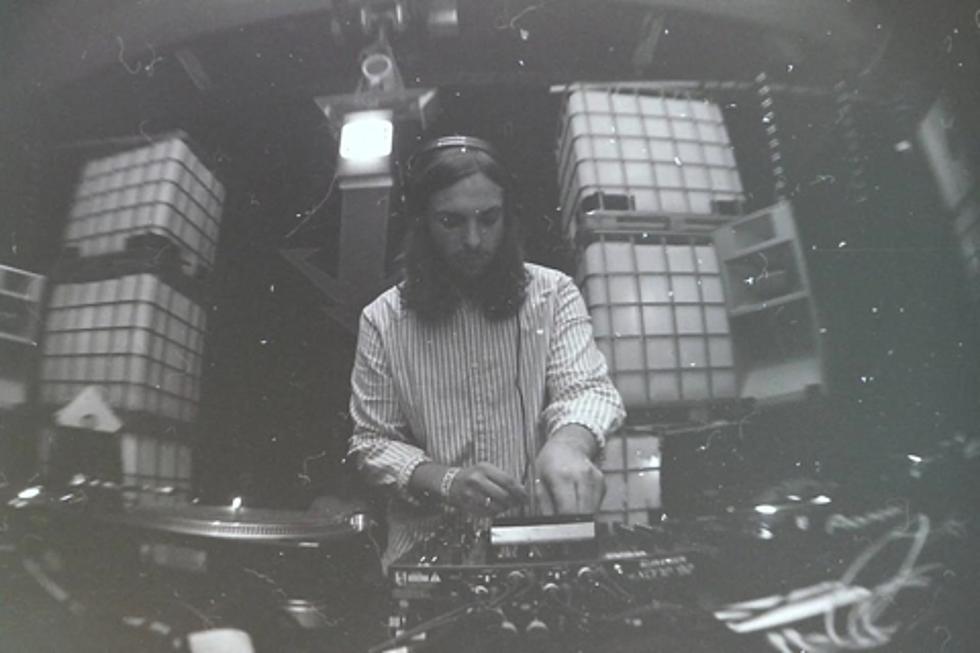 Leon Vynehall released a mini LP, playing secret late NYC show w/ George FitzGerald after their Warm Up w/ Martyn
photo by Timothy Francis

Following singles/EPs on George FitzGerald's ManMakeMusic and other labels, UK producer Leon Vynehall put out his first lengthy release, Music for the Uninvited, this year via Martyn's 3024 label. Though he technically calls it a mini LP, its seven songs in over 35 minutes come off like a very complete statement, rather than a promising EP that ends too quickly. He tells Red Bull that the inspiration for the album was to evoke his earliest memories of absorbing music. He talks about subconsciously hearing cassettes in his mother's car as a child, and now romanticizing about the tape hiss those tracks would all have, as well as playing video games like Zelda, whose music directly influenced the album's opening track, "Inside the Deku Tree."
Don't let the sound of that make you think this is another of those '80s/'90s "VHS-style" nostalgia projects or an 8-bit chiptune thing. "Inside the Deku Tree" is full of gorgeous strings, jazz piano, and some rattling percussion that never fully dives into dance music. Other parts of the album are ready-made for the dancefloor though, like the house-inspired "Be Brave, Clench Fists" and "Pier Children." And those jazz influences are further explored too. "St. Sinclair" is like Herbie Hancock gone IDM (or, Flying Lotus), and elements of jazz and fusion pop up on other tracks as well. You can stream the album in full (via SPIN) below.
Leon also has a number of international dates coming up this year, and will come to the US for NYC's Warm Up at MoMA PS1 which he plays on August 9 with his pals George FitzGerald and Martyn, as well as Mutual Dreaming's Aurora Halal and San Francisco house producer Matrixxman (who played NYC with Martyn in June). That's a day show running from 3-9 PM and tickets are on sale now. Later that night, George and Leon will team up yet again for a Blkmarket show in a secret NYC location. Tickets for that late show are on sale now. Stay tuned for more details.
Leon is also featured on Isaac Tichauer's new mixtape. All of his dates are listed, with the mini LP stream, below...

---
Leon Vynehall - Music for the Uninvited

Leon Vynehall -- 2014 Tour Dates
Fri, 11 Jul 2014 / 6 Jahre Leisure System / Leisure System.22 at Berghain/Panorama Bar, Berlin
Sat, 12 Jul 2014 / [elek'tro:nik mju:zik] at Gewölbe, Cologne
Sun, 20 Jul 2014 / Piknic Electronik Barcelona #8 - Aus Music at Jardins de Joan Brossa, Barcelona
Sat, 26 Jul 2014 / Tramlines Festival 2014 - Saturday at Sheffield, North
Thu, 31 Jul 2014 / Stop Making Sense 2014 at The Garden Tisno, Croatia
Fri, 01 Aug 2014 / at The Garden Tisno, Croatia
Sat, 09 Aug 2014 / Blkmarket show at Secret NYC Location *
Sat, 09 Aug 2014 / Warm Up at MoMA PS1, New York *^
Sun, 10 Aug 2014 / Piknic Electronik at Parc Jean-Drapeau, Montreal
Fri, 22 Aug 2014 / at Thompsons, Northern Ireland
Sat, 23 Aug 2014 / at Oval Space, London
* - w/ George FitzGerald
^ - w/ Martyn, Aurora Halal, Matrixxman