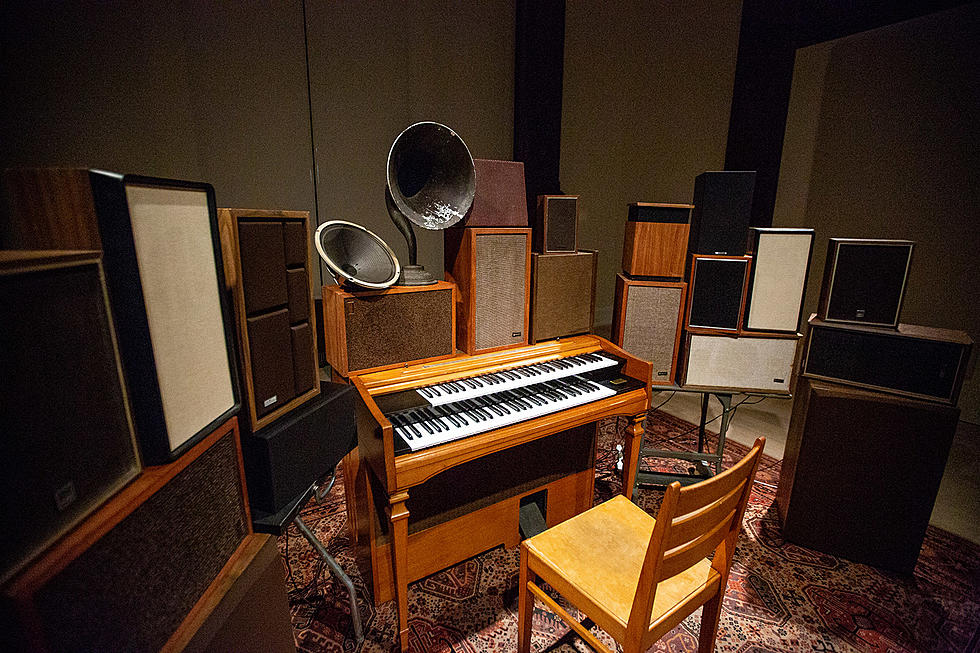 'Leonard Cohen: A Crack in Everything' at The Jewish Museum: a preview
photo by Amanda Hatfield
Leonard Cohen art exhibit "Leonard Cohen: A Crack in Everything" debuted at the Musée d'art contemporain de Montréal in November of 2017, almost a year exactly after Cohen's death. The exhibit is now on an international tour: it will stop in Copenhagen and San Francisco over the next year and a half, and on Friday (4/12), it opens in NYC's The Jewish Museum, where it runs until September 8, 2019. We got an early look; check out some pictures in the gallery above.
Spread out over the museum's first and second floor, with a single exhibit on the third, "A Crack in Everything" begins with a timeline of Cohen "moments," compiled by Chantal Ringuet, outlining milestones of his life and career. With that nod to exhibit convention out of the way, it segues right into a rich collection of projected videos and media, each housed in its own alcove. In one room, three huge, room-spanning screens display Passing Through, a 56 minute movie spanning years of performance and interview footage, created by George Fok (you can see some images and watch a five-minute clip from it here). The "Depression Chamber" is a solitary multimedia experience (literally: one person at a time can enter) that incorporates the lyrics to "Famous Blue Raincoat;" its entrance is near one of the exhibit's few displays of physical memorabilia, a copy of New York Times from November 8, 2016, showing Cohen's obituary on the front page, below a photograph and article about Obama and Trump's first face-to-face meeting.
The second floor houses what were my personal highlights of the exhibit. One of them, "The Poetry Machine," features a keyboard and chair surrounded by a variety of speakers. When pressed, each key cues the sound of Leonard's voice reading a different poem from his 2006 collection Book of Longing. In the other, "I Heard There Was a Secret Chord," from art and design studio Daily Tous Les Jours, microphones suspended over a cluster of seating emit the sound of what sounds like a choir of people humming "Hallelujah." From the museum's description:
Here real-time online listener data is transformed into a virtual choir of humming voices. The number of voices played back in the space corresponds to the current online listener count, which is visible on the hanging numerical display. Participants are free to sit or lie down on the octagonal structure, and by humming along with the choir into the microphones, low-frequency vibrations are generated, closing the circuit of collective resonance with their bodies. The project comprises this participatory audio installation and a website. The website, asecretchord.com, operates as a one-song radio channel allowing people anywhere to tune into the same perpetually fluctuating choir of humming Hallelujah voices and to connect to the universal Cohen magic
On the third floor, one final alcove, "Listening to Leonard," houses 18 covers of Cohen's work, by musicians including Feist ("Hey, That's No Way to Say Goodbye"), Moby ("Suzanne"), Julia Holter ("Take This Waltz"), Chilly Gonzales and Jarvis Cocker with Kaiser Quartett ("Paper Thin Hotel"), The National with Sufjan Stevens, Ragnar Kjartansson, and Richard Reed Perry ("Memories"), Basia Bulat ("Dance Me to the End of Love"), Little Scream ("I Can't Forget"), and Lou Doillon ("Famous Blue Raincoat").