Leonard Cohen & Anjani @ Joe's Pub, NYC – pics
Anjani played two shows at Joe's Pub in NYC last night (Tuesday, April 24, 2007). I was at the earlier one, which was also the one that was billed as "Leonard Cohen presents".
It was known that Leonard would be there, and even that he would probably introduce Anjani - his protégé who was singing songs they wrote and recorded together - but nobody was quite sure if Leonard himself would actually get up and sing. Ends up he did.....
Anjani had a few moments, but mostly I wasn't that into her music - kind of smooth jazzy. The show was more than worth it though - to not only first hear Leonard Cohen speak, but then hear (and watch) him sing two songs with Anjani - and in such an intimate setting. It was pretty awesome, exciting, etc.... More pics below....


Cohen's new book of poetry and drawings, Book of Longing, was published in May 2006; in March a Toronto-based retailer offered signed copies to the first 1500 orders placed online, which saw the entire amount sold within hours. The book quickly topped bestseller lists in Canada. On May 13, 2006, Cohen made his first public appearance for thirteen years, at an in store event at a bookstore in Toronto. Approximately 3000 people turned up for the event, causing the streets surrounding the bookstore to be closed. He sang two of his earliest and best-known songs: "So Long, Marianne" and "Hey, That's No Way To Say Goodbye", accompanied by the Barenaked Ladies and Ron Sexsmith. Also appearing with him was Anjani, the two promoting her new CD, along with his book.[8] Cohen's new album meanwhile is also slated for late 2007, while rumors of a tour, his first after 1993, remain unconfirmed. [Wikipedia]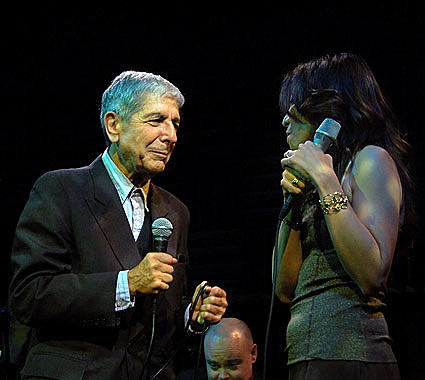 Elvis Costello, Diana Krall, and Philip Glass were among those in attendance.
Leonard mentioned Neil Sedaka in his introduction - something about 'many people have played this stage'...like Neil Sedaka. Neil Sedaka did in fact play on that stage - just an hour earlier. He left before the Leonard show though. Fountains of Wayne also played that stage - with Neil for one song. Then they left to go play their show with Robbers on High Street at Webster Hall.