Leonard Cohen played two nights at Radio City Music Hall (night 1 pics & review, setlists from both)
Dominick Mastrangelo
words and photos by Dominick Mastrangelo
Leonard Cohen @ Radio City Music Hall 4/6/2013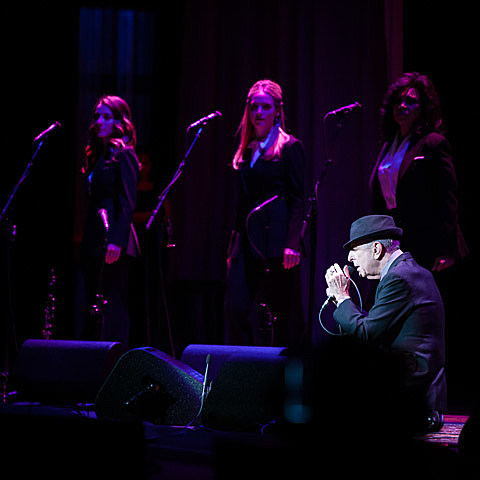 On the first night of a two-night stand at Radio City Music Hall on Saturday (April 6), Leonard Cohen -- singer-songwriter, poet, living legend -- promised the sold-out audience that he and his band would give everything they had. And though it's a line he breaks out at nearly every show, over the course of the next three hours, he and his stellar backing band did precisely that.
In a mix of old hits and new songs from last year's Old Ideas, Cohen, decked out in dark suit and fedora, crooned from his knees on several occasions and even skipped across the stage as he exited and entered between two full sets sets and two three-song encores; both maneuvers belying his 78 years. "I ache in the places I used to play," he sang on "Tower of Song." "I was born like this / I had no choice / I was born with the gift of a golden voice."
That golden voice is a bit deeper and more gravelly than before but his delivery was impeccable and the audience was rapt during "Suzanne" and especially his spoken-word version of "A Thousand Kisses Deep."
During the first intermission a friend who was at the show said that he was thinking of the eulogies for the late Roger Ebert and how all of them referenced his belief that (paraphrasing here) "where words and images can lie, emotions are always true."
And that observation fit on the evening. Who in attendance had not been stirred at some point by a Leonard Cohen song? That answer, most likely, not many.
"Hallelujah" was the fitting emotional high point met with enthusiastic applause and then a standing ovation at its conclusion several minutes later.
All along his rich baritone was balanced by his background singers, long-time collaborator Sharon Robinson, and Charley and Hattie Webb, musically known as The Webb Sisters. Cohen returned to spoken-word form as he introduced Robinson's gorgeous turn at lead vocals on "Alexandra Leaving" and the Webb Sisters on "If It Be Thy Will."
And the stellar group of musicians Cohen has assembled were all given several opportunities to shine as Cohen would remove his fedora in reverence, step into the shadow and the spotlight would find the soloist taking his turn, be it Neil Larsen on the Hammond B-3, music director Roscoe Beck on the upright bass ("veteran and victim," quipped Cohen of their 30-plus years performing together) or Javier Mas on bandurria. Mitch Watkins on electric guitar, Alexandru Bublitchi on violin and Rafael Gayol on drums rounded out the band and all deserve recognition. In his return to Radio City the night belonged to Mr. Cohen but his band gets credit for transforming the evening into something close to magical.
Leonard was previously here in December, having played MSG and Barclays Center. More pictures from Saturday -- plus setlists from both nights at Radio City -- are below.

----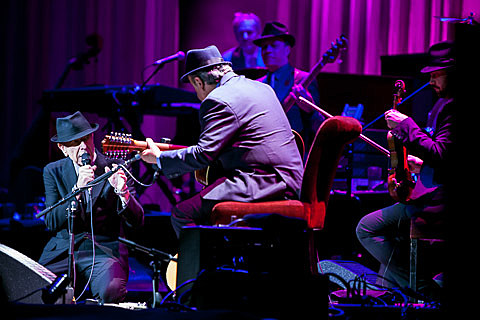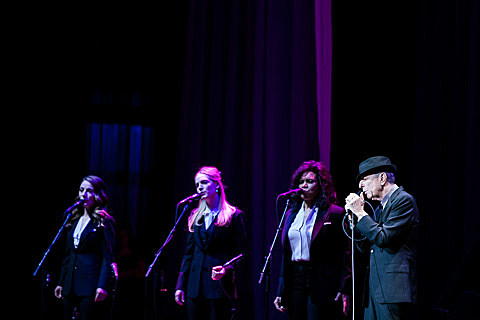 LEONARD COHEN, RADIO CITY MUSIC HALL, APRIL 6th, 2013 SETLIST
Dance Me to the End of Love
The Future
Bird on the Wire
Everybody Knows
Who by Fire
Darkness
Ain't No Cure for Love
Amen
Come Healing
Democracy
A Thousand Kisses Deep
Anthem
====
Tower of Song
Suzanne
Waiting for the Miracle
Show Me the Place
Anyhow
Lover Lover Lover
Alexandra Leaving
I'm Your Man
Hallelujah
Take This Waltz
====
So Long, Marianne
Going Home
First We Take Manhattan
====
Famous Blue Raincoat
If It Be Your Will
Closing Time
LEONARD COHEN, RADIO CITY MUSIC HALL, APRIL 7th, 2013 SETLIST (via)