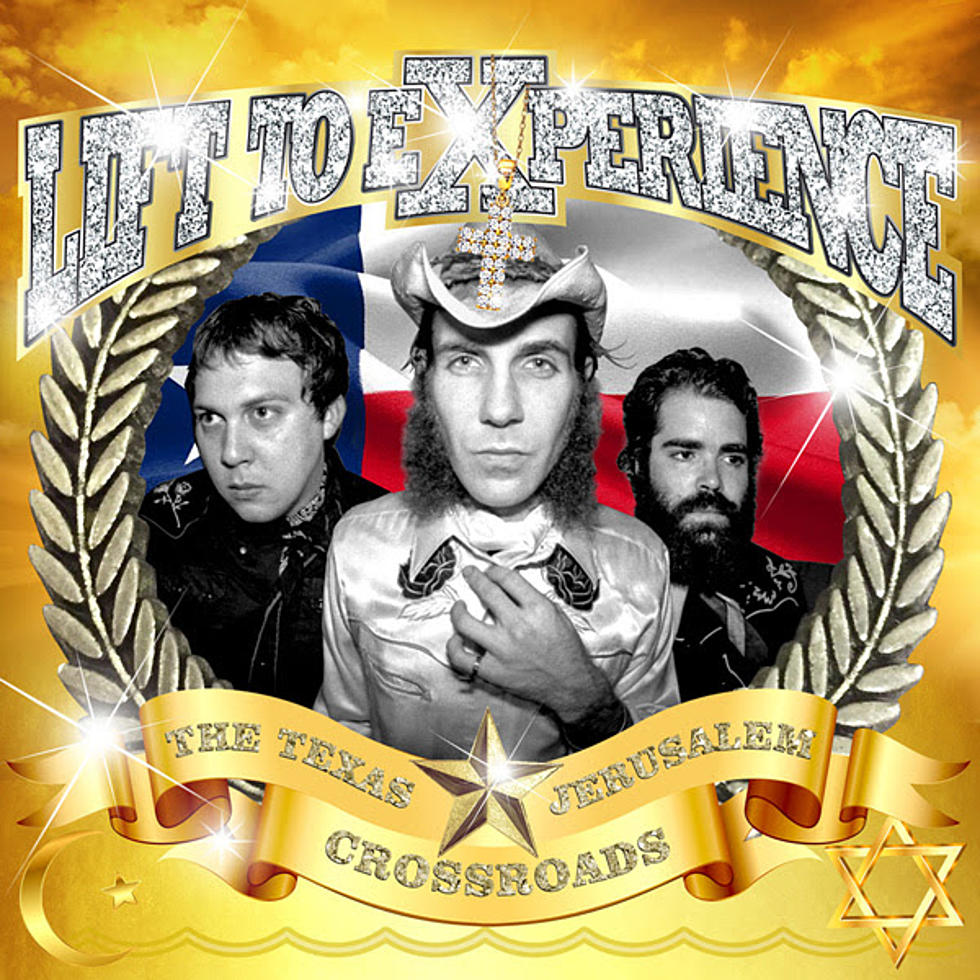 Lift to Experience's 'The Texas Jerusalem Crossroads' gets deluxe reissue (listen); band reuniting for SXSW
"I first heard of Josh when I listened to the Lift To Experience album The Texas-Jerusalem Crossroads. It was around the time I started recording the first Bat For Lashes album, and I remember being so taken aback by Josh's haunting voice, preacher-like storytelling lyrics and guitar playing… Like a doomed angel singing over a desert storm." –Bat For Lashes
Texas spacerock cult legends Lift to Experience had a sound as big as their home state, towering guitars, crashing drums and Josh T Pearson's distinctive vocals soaring above it all, plus a live show folks still talk about. The band broke up not too long after releasing their debut album, 2001's The Texas-Jerusalem Crossroads, which was released by Bella Union and mixed by the label's then label co-heads (and former Cocteau Twins) Robyn Guthrie and Simon Raymonde.
That mix never quite sat right with Pearson and his bandmates, though. The band reformed last year to play the London's Meltdown Festival, which was curated by Elbow's Guy Garvey, which was preceeded by a few Texas gigs, and also decided to take a second shot at mixing the album. Says Pearson, "We went back to the studio, neck deep in the heart of Texas, where Lift recorded 'The Texas-Jerusalem Crossroads' -- remixing the album the way it should have be mixed originally. It's good to have our balls back after years spent being castrated."
The shined-up version of The Texas-Jerusalem Crossroads is out digitally now via Mute and will be released on LP and CD this week (2/17), complete with rejuvenated cover art that pays homage to Houston design firm Pen & Pixel Graphics (who created the cover art to most of No Limit's '90s output). A deluxe four-LP box set, which comes with the album plus the band's Peel Session and the band's original 1997 EP (plus a download of the original mix of the album), will be out March 3.
Will there be more Lift To Experience shows? No word yet but you can check out the tracklsit for the LP and box set, and listen to the new mix of the LP and watch the video for "These Are the Days" and the original 2001 EPK for the LP, below.
UPDATE: They're playing SXSW with three shows:
Thursday, March 16 – Parish @ 1am (technically Friday morning)
Friday, March 17 – Cenote @ 6pm
Saturday, March 18 – Central Presbyterian Church @ 11:59pm
Josh T Pearson released his debut (and so far only) solo album, Last of the Country Gentlemen, on Mute in 2011 (one of our favorites of that year).
Lift to Experience Box Set -- The full tracklist:
The Texas-Jerusalem Crossroads 2CD
CD1 - Texas
1. Just As Was Told
2. Down Came The Angels
3. Falling From Cloud 9
4. With Crippled Wings
5. Waiting To Hit
6. The Ground So Soft
CD2 - Jerusalem
1. These Are The Days
2. When We Shall Touch
3. Down With The Prophets
4. To Guard And To Guide You
5. Into The Storm
- Peel Session:
Side A
1. Falling From Cloud 9
2. The Ground So Soft
Side B:
1. Just As Was Told (7.52)
2. With The World Behind (3.57)
- EP:
Side A:
1. Falling From Cloud 9
2. With The World Behind
Side B:
3. Arise and Shine
4. Liftin On Up