Lightning Bolt, Teeth Mountain & Talk Normal @ Broadway Backyard in Brooklyn – pics
photos by Leia Jospe
Forced to listen to that sucky band Lightning Bolt giving a concert right outside my window:( -Xtine000

Lil Wayne is here at the lightning bolt show no shit!!! -rezound

Lightning Bolt show was fucking mindblowing. Knee is pretty fucked up from mosh. -aMetallurgist
Lightning Bolt played Broadway Backyard on Sunday (Aug. 30th) for an afternoon show that also included sets by Teeth Mountain, Talk Normal and Hot Box. Lightning Bolt, who usually play from the crowd (like at their gig at the same venue last year), played from the Backyard's stage, with a massive array of speakers behind them.
I don't think Lil Wayne was there, but Jay-Z was at the Grizzly Bear show which was happening at the same time in the same borough. Lightning Bolt's new disc, Earthly Delights, comes out October 13th on Load Records.
More pictures below...


Talk Normal
Teeth Mountain
Lightning Bolt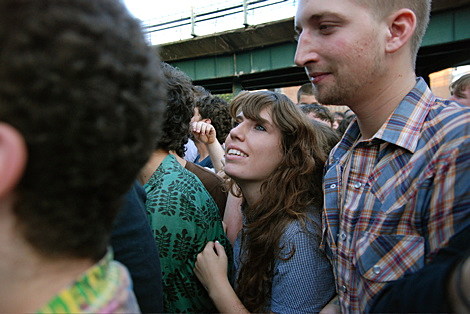 Lightning Bolt - 2009 Tour Dates
Aug 31 first unitarian church Philadelphia, Pennsylvania
Sep 5 Los Angeles Historic State Park/MANY BANDS PLAYING!! LA, California