lightning ended the Pool Party before Trail of Dead could play
the Waterfront - emptied out due to lightning - July 26, 2009 (by Kurt Christensen)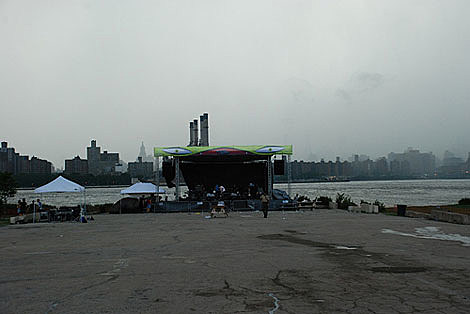 Trail of Dead never got a chance to play the Pool Party at the Williamsburg Waterfront on Sunday. Grupo Fantasma, HEALTH, and Black Lips did get to perform before they called it for lightning though. More pictures soon. In the meantime, I posted seven other sets of photos on Sunday (still not caught up either), and then there's the pretty pics from the sunny South Street Seaport show on Friday, and Thursday's Ted Leo show where bands were also cut due to the weather.
If you were looking forward to Trail of Dead, don't worry, they play the NYC-area three more times between now and September 19th (though not for free). The first chance to see them again is this very Saturday at All Points West. They go on at 1:50 PM.
This coming Sunday's Pool Party at Williamsburg Waterfront is the one with Dan Deacon, Deerhunter, and No Age (playing in the round). It's unfortunate that it conflicts with All Points West.
The current weather report lists isolated and scattered thunderstorms on Friday (30% chance of rain) and Sunday (40% chance of rain). Saturday is partly cloudy (20% chance of rain). The chances of no-rain are thankfully much higher.
What did you do this weekend?
Nardwuar posted a video interview with Little Boots. Below...