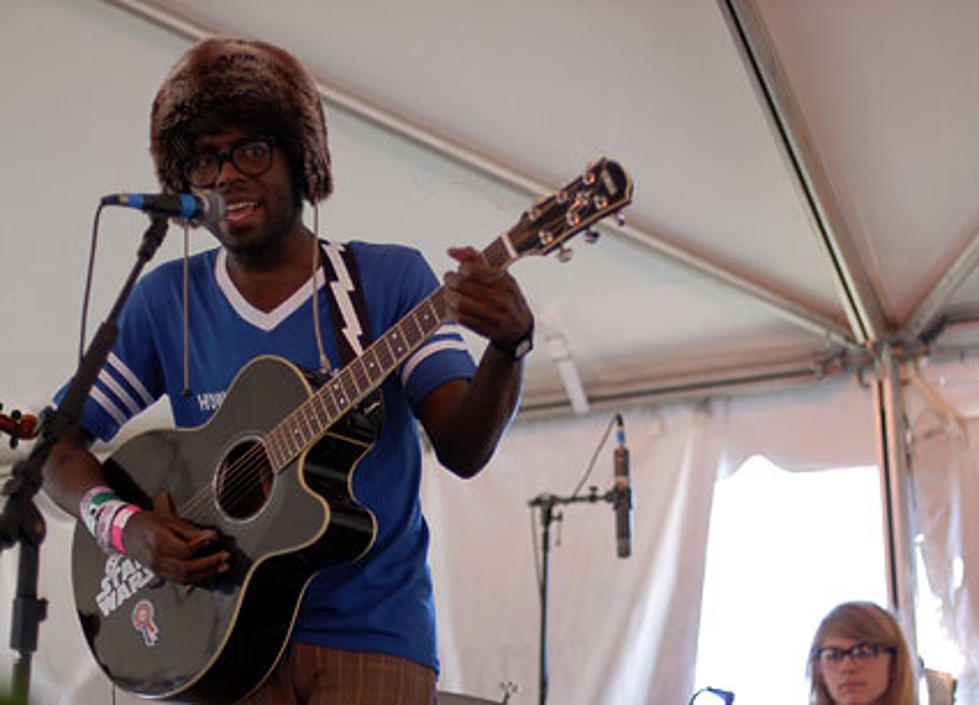 Lightspeed Champion – 2008 Tour Dates, Texas pics & video, Jackson + Emmy the Great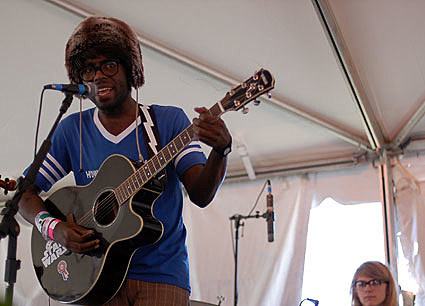 More catching up.... That early-afternoon show back on March 15th had the perfect back-to-back UK indie lineup....
As pointed out in the Lightspeed Champion (Dev) interview, Emmy the Great contributed to Lightspeed's album, so it was cool to see her sing with him live. PLUS, it was a total surprise to see NYC's own Jackson Pollis walk up with Dev and then play drums on a couple of songs with them too (video and more pics below).
She was wearing a Municipal Waste t-shirt.
Lightspeed Champion's show....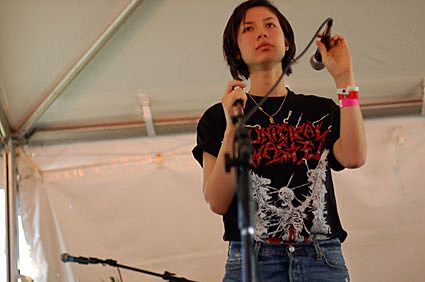 Lightspeed Champion - 2008 Tour Dates
May 10 - Limelight (18+) Belfast
May 12 - 12 Bar (14+) Swindon
May 13 - BBC Caen
May 14 - L'Ubu Rennes
May 15 - La Maroquinerie Paris
May 16 - Le Grand Mix Tourcoing
May 17 - The Great Escape Festival Brighton
May 18 - WOOD Festival *solo* Oxon.
May 23 - Royal Albert Hall w/The Wombats London
May 24 - Forgotten Valley Lake District
May 26 - Evolution Festival Newcastle
May 28 - Liverpool Sound City (14+) Liverpool
May 29 - St. George's Hall (14+) Bradford
May 30 - Casa da Music Festival Porto
May 31 - Primavera Barcelona
Jun 3 - Washington, DC @ Black Cat *
Jun 4 - Philadelphia, PA @ First Unitarian Church *
Jun 5 - Hoboken, NJ @ Maxwell's +
Jun 7 - New York, NY @ Bowery Ballroom +
Jun 8 - Boston, MA @ Great Scott +
Jun 10 - Montreal, QC @ Les Saints +
Jun 11 - Toronto, ON @ Lee's Palace +
Jun 12 - Pittsburgh, PA @ Andy Warhol Museum +
Jun 13 - Chicago, IL @ Empty Bottle +
Jun 14 - Minneapolis, MN @ 7th Street Entry +
Jun 17 - Seattle, WA @ Chop Suey +
Jun 18 - Portland, OR @ Doug Fir Lounge +
Jun 20 - San Francisco, CA @ The Independent +
Jun 21 - Los Angeles, CA @ Troubadour +
Jun 22 - Pomona, CA @ The Glass House +
Jun 27 - Glastonbury Festival - John Peel State Glastonbury
Jun 27 - Glastonbury Festival - The Guardian Stage Glastonbury
Jun 28 - St Gallen Open Air Festival St Gallen
Jun 29 - Wakestock Festival Blenheim
Jul 3 - Cabaret Frappe Grenoble
Jul 4 - Wireless Festival London
Jul 4 - Red Fest Red Hill
Jul 6 - Wakestock Festival Abersoch
Jul 11 - Lounge on the Farm Canterbury
Jul 12 - Oxygen Festival Dublin
Jul 13 - T In The Park Kinross
Jul 20 - Lovebox London
Jul 20 - T4 On The Beach Weston-Super-Mare
Jul 24 - Les Prairies de La Mer St Tropez
Jul 26 - Sound Labs Pescara
Aug 2 - Splendour In The Grass Byron Bay, New South Wales
Aug 7 - Oya Festival Osla
Aug 8 - Way Out West Gothenburg
Aug 10 - Summer Sundae Leicester
Aug 16 - Green Man Festival Brecon Beacons
Aug 22 - Leeds Festival Leeds
Aug 24 - Reading Festival Reading
* w/ Adam Green
+ w/ Flowers Forever
Emmy the Great - 2008 Tour Dates
May 24 - Dot to Dot Festival (full band) Bristol
Jun 11 - My Club Night with Diane Cluck (acoustic) Cargo, London
Jun 12 - the Deaf Institute with Diane Cluck (acoustic) Manchester
Jun 13 - Nice and Sleazys with Diane Cluck (acoustic) Glasgow
Jun 28 - Glastonbury John Peel Stage (full band) Somerset
Jul 6 - Metropolis Festival (acoustic) Holland
Jul 19 - Truck Festival (full band) Abingdon
Jul 20 - Camp Bestival Dorset
Aug 15 - Green Man Festival Big Top stage (full band) Brecon Baecons