Lilys reunited for two shows at Baby's All Right, playing FREE BV CMJ party on Saturday night (pics / setlist / video)
Gregory R. Cristman
Lilys @ Baby's All Right 10/11/2015

Kurt Heasley brought his band Lilys back for shows over the weekend, including Philadelphia and two at Brooklyn's Baby's All Right. Pictures and a show report follow, but if you missed the Baby's shows -- or want to see them again -- this lineup of Lilys will play Baby's All Right on Saturday (10/17), a 10:30pm set that's part of an entire day of BrooklynVegan-presented free CMJ fun. It starts at noon and goes till midnight.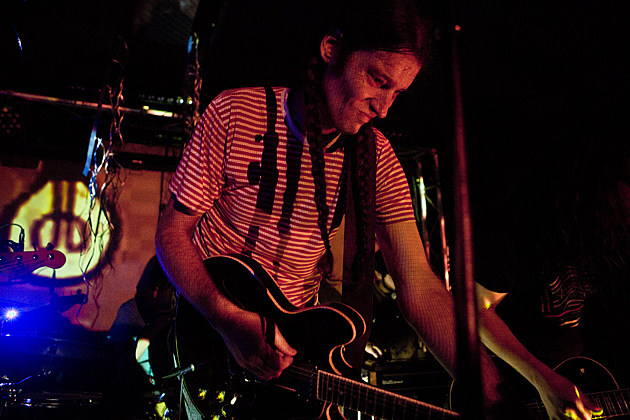 As for this past weekend's shows: Don Devore, who spent time in the Lilys, The Icarus Line, and Ink & Dagger (and is now Sick Feeling), assembled a seven-piece Lilys that, counting Heasley, featured five guitarists, and included members of MGMT, Ducktails, Acrylics and more. The focus of these shows was on Lilys first five years when they made noisy dreampop on records like Eccsame the Photon Band and A Brief History of Amazing Letdowns. Not knowing what to expect when the band took the stage late Friday night/Saturday morning (1:15 AM-ish?), I'm happy to report Lilys were awesome.
With five guitarists (one being pedal steel), they were a wall of sound and heavy as hell at times. (I had just come from seeing A Place to Bury Strangers at Saint Vitus, so my ears took a beating Friday.) It was a hit-filled setlist, including "Ginger" (which was used in a Cadillac commerical almost 10 years ago), "The Hermit Crab" and a dozen or so others. I went to both shows, setlists were at least similar if not identical (in selection, maybe not order). Light Heat opened the shows and on Sunday, frontman Quentin Stoltzfus (who used to be in Mazarin) joined Lilys for a song. Pictures and setlist for Friday's Lilys show, and video of them playing "Ginger" on Sunday, is below.
Lighting came entirely from projections, which was the sort of vibe you want from a show like this (unless you're a photographer). They were selling the limited-edition splatter vinyl edition of Eccsame the Photon Band reissue on Friday, but it was sold-out by Sunday's show.
More pics and stuff below...

----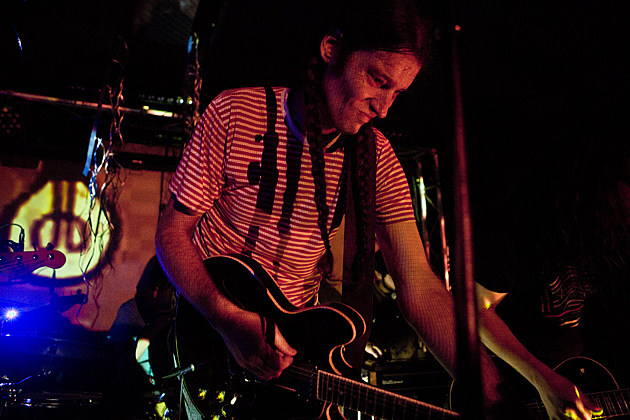 --------------------------------------------
Lilys lineup for these shows:
Kurt Heasley
Don Devore
Chris Colley
James Richardson (MGMT)
Simon O'Connor
Travis Rosenberg
Alex Craig (Limited, Ducktails, Big Troubles)
+
Fatblood (on visuals)
Danny Taylor (sound including rear fills, reverb and delay compositions & more)
--------------------------------------------
Lilys @ Baby's All Right 10/10/2015
High Writer at Home
Overlit Canyon (The Obscured Wingtip Memoir)
Threw a Day
Dandy
Perception Room
Touch the Water/Run Run Run (VU)
Claire Hates Me
Coby
Kodiak
Ginger
Hymn
The Hermit Crab
Elsa
Will My Lord Be Gardening