Limiñanas, Wrong Words, Emmy the Great, Figurines, New Lines, War on Drugs, Gytters & more in This Week In Indie
by Bill Pearis
DOWNLOAD: The Limiñanas - Down Underground (MP3)
DOWNLOAD: The Gytters - Divebombers (MP3)
DOWNLOAD: The Wrong Words - Summer's Gone (MP3)
DOWNLOAD: Figurines "New Colors" (MP3)
DOWNLOAD: The War On Drugs - "Baby Missiles" (MP3)
The Limiñanas

Band of the week is most certainly The Limiñanas (mainly because they haven't played here before) who are from France and play Death By Audio tonight (8/17) and Cake Shop tomorrow (8/18).  I'll quote myself (from my Favorite Francophone Albums of 2011 list) again:

Evoking swinging Parisian scene of the mid-'60s (Gainsbourg, Dutronc, Ye-Ye, et al), The Limiñanas dance their way through 12 hits of groovy garage: fuzz leads, killer basslines, combo organ, smoky vocals. Perfect for your next Love-In.
The band, signed to great Chicago label Trouble in Mind, are normally a trio but are joining forces on this trip with fellow Frenchies Gaz Gaz (who also play their own set) to make a seven-piece motorik garage superpower. Friends who saw them in Chicago last week were knocked out. (There's video from that show at the bottom of this post.) I implore you to make it out to one of these shows.
Both shows have their benefits. The Death by Audio also has The Gytters, a newish group fronted by Scott Rosenthal who plays keyboards in Class Actress and has spent time as one of The Beets ever-rotating list of drummers (he also produced their records). The duo make a slightly twangy brand of indie -- check out "Divebombers" at the top of this post. I was impressed when I saw them at Bruar Falls a few weeks ago. Also on the bill are great locals Diehard who are putting the finishing touches on their debut album.
Wrong Words

The Cake Shop show on Thursday, meanwhile, features yet another Trouble in Mind band, San Francisco's The Wrong Words, who have more of a crunchy, late-'70s powerpop vibe to them. (And maybe just a little Thin Lizzy in there too.) Their self-titled debut is a boppin' good time -- you can download a track from it at the top of this post. If you can't make this one, The Wrong Words also play Bruar Fall on Saturday (8/20). Locals The Judy Blooms open the show.
The Wave Pictures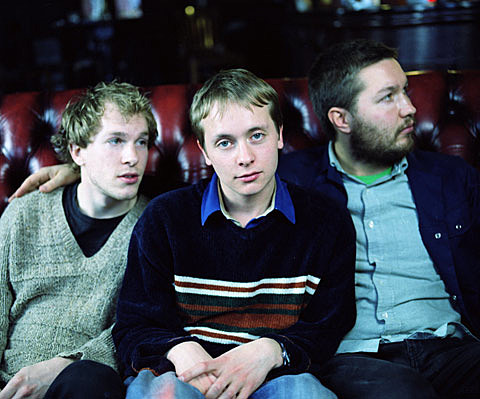 The Wave Pictures are visiting from the UK, their first time here since playing Sunday night of the 2010 Northside Festival. Dates have changed a bit since wefirst announced them. The band are now playing three shows in NYC: tonight (8/17) at Mercury Lounge, tomorrow (8/18) at Public Assembly and then next Thursday (8/25) at The Rock Shop. We at BrooklynVegan are big Wave Pictures fans, which I think most people who see them become. Here's what I wrote when they played our Pre-SXSW show in 2010:

Next up were the Wave Pictures who I'm pretty sure charmed everyone in the room. Singer David Tattersal, in addition to being a hell of a songwriter and pretty fierce guitarist, is a very funny guy. His between-song stories were just as entertaining and the music. At one point he accidentally unplugged his guitar mid-solo, but he hilariously covered the gaff made for one of the more memorable moments of the evening.
The band have a new album out, Beer in the Breakers, and is another fine example of Tattersal's tongue-twisting prose and snaky solos. But I still don't think any record has quite captured the experience of seeing them live. So I do hope you do so. You won't be sorry.
Emmy the Great

Speaking of artists that pretty much the entire BV staff loves, Emmy the Great is also here, playing the Studio @ Webster Hall on Thursday  (8/18). She's an extremely charming songwriter and performer (and person in general) who can find humor in even the bleakest of situations without cheapening the emotions. Case in point her new album Virtue which deals with some major heartbreak. (She can also be just straight-up funny too.) And like The Wave Pictures, she's much better experienced in person than on record (though the new record is quite good).
I'm not sure if she's here solo or with her band or maybe just collaborator Euan Hinshelwood who has accompanied her before. He's got his own band, Younghusband, whose new single on Too Pure is teriffic (and nothing like Emmy's music).
Figurines

Now we move to Denmark. Figurines were supposed to be here in June but the dates got pushed back to this week. They play tonight (8/17) at Knitting Factory and then an early show tomorrow (8/18) at Mercury Lounge.
The band's fourth album, which came out in Denmark last year, just got a belated but welcome American release. For those who found 2007's The Deer Wore Blue a bit wilfully obscure, the new self-titled album marks a return to the hook-filled indie rock of their 2005's Skeleton. You can download "New Colors" at the top of this post.
I haven't seen Figurines play since CMJ 2006 when they opened for Girl Talk. I thought they were fantastic then, I mix of various '90s influences (Built to Spill, The 3D's, Unrest) but processed through that eccentric Denmark filter than makes everything just a little off kilter. The one thing I really remember about that show was how tight they were. Figurines can really play.
The New Lines

And finally I'd like to highlight a local band I like a lot, The New Lines who play this Thursday (8/18) at Bar4 in Park Slope. Steeped in late '60s/early '70s baroque psychedelia and soundtrack music, it's all groovy rhythms and basslines, icy harmonies, analogue keyboards and vibrato. The band just released a split 7" with Still Corners which is a perfect match. You can download a couple songs for free via a Bandcamp widget at the bottom of this post.
I just love this kind of stuff  -- I made a whole mix of it last week over at Sound Bites -- and The New Lines do it very, very well. No idea what they're like live, but I'm looking forward to finding out.
This is a really good week for music. Do go see some. In addition to the above highlights, there are even more shows I recommend which are listed below on a day-by-day basis.
WEDNESDAY, AUGUST 17
While I'm seeing The Limiñanas, I think the rest of the BV staff will be going to Chelsea Wolfe, Cult of Youth, and Planning For Burial at St. Vitus Bar. I am the black sheep.
continued below...

--
THURSDAY, AUGUST 18
Tokyo Police Club, Against Me!, Big Freedia, Japanther, and Team Robespierre play House of Vans which is free with RSVP. I had no idea Team Robespierre were still a band.
Palomar, I'm Turning Into, Spanish Prisoners, Jeane, and Nite Flights are at Shea Stadium. This is a very good line-up and if I wasn't trying to go see four different shows with out-of-town bands this is where I'd be without a doubt.
FRIDAY, AUGUST 19
If you read TWII regularly, it's no secret that Hospitality are one of my favorite NYC bands. They play The Rock Shop tonight with former Nothing Painted Blue frontman Franklin Bruno, plus Daniel Klag.
Go see The War on Drugs at Cameo before they become too big to play somewhere that small, which is going to happen very soon. Their new album on Secretly Canadian is a winner. MP3 at the top of this post, new tour dates at the bottom.
SATURDAY, AUGUST 20
For those who didn't know how to dance to the music at last week's PS1 Warm Up, it's a little more four-on-the-floor this Saturday: The Juan Maclean, Blood Orange, Solange, Pictureplane, Grimes, and Ford & Lopatin perform. For me, this is the Warm Up of the season.
After sweaty sets in July, intense Danes Iceage are back for more shows, beginning tonight at Cake Shop. This one's a little more on the goth side, with minimal wavers Frank (Just Frank) and You (not you, but them.) If you can't make it Saturday, Iceage plays Secret Project Robot on Sunday as part of a night of "\goth inspired post punk" curated by Cult of Youth's Sean Rogen. Also playing: Raspberry Bulbs, Crazy Spirit and Perdition.
--

The Limiñanas @ The Empty Bottle 8.12.2011

The Wrong Words - 2011 East Coast Dates
THURSDAY AUGUST 18th at THE CAKE SHOP, NYC
FRIDAY AUGUST 19th at GOLDEN WEST Baltimore, MD
SATURDAY AUGUST 20th at BRUAR FALLS Williamsburg Brooklyn
SUNDAY AUGUST 21st at LITTLE BAR Philadelphia, PA)
Figurines - Live in Copenhagen, July 2011

Figurines - 2011 North American Tour Dates
Aug 16 2011 - World Café Live, Philadelphia, PA, US
Aug 17 2011 - Knitting Factory, Brooklyn, NY, US
Aug 18 2011 - Mercury Lounge, New York, NY, US
Aug 19 2011 - Brighton Music Hall, Boston, MA, US
Aug 21 2011 - Black Cat Backstage, Washington, DC, US
The Wave Pictures - Little Surprise

The Wave Pictures - 2011 Tour Dates
8/17 - New York, NY - Mercury Lounge
8/18 - Brooklyn, NY - Public Assembly
8/19 - Philadelphia, PA - Northstar Bar
8/20 - Montauk, NY - Music To Know Acoustic Session at Sole East Hotel
8/25 - Brooklyn, NY - The Rock Shop
Emmy the Great - Iris

The War on Drugs - 2011 Tour Dates
August 18 Philadelphia, PA Johnny Brenda's w/ Caveman
August 19 Brooklyn, NY Cameo Gallery w/ Porcelain Raft, Caveman
August 20 New York, NY Mercury Lounge w/ Porcelain Raft
August 21 Boston, MA Brighton Music Hall w/ Porcelain Raft, Caveman
August 23 Montreal, QC Casa Del Popolo w/ Porcelain Raft, Caveman
August 24 Toronto, ON Drake Hotel w/ Porcelain Raft, Caveman
August 25 Ann Arbor, MI Blind Pig w/ Caveman
August 26 Chciago, IL Schuba's w/ Caveman
August 27 Milwaukee, WI Club Garibaldi w/ Caveman
August 28 Minneapolis, MN 7th St. Entry w/ Caveman
August 30 St. Louis, MO Billiken Club @ St. Louis University w/ Caveman
August 31 Lexington, KY Cosmic Charlie's w/ Caveman
September 1 Pittsburgh, PA Club Cafe w/ Caveman
September 2 Washington, DC Red Palace w/ Caveman
October 11 Raleigh, NC Kings Baracade w/ Purling Hiss, Carter Tanton
October 12 Asheville, NC Grey Eagle w/ Purling Hiss, Carter Tanton
October 13 Atlanta, GA The EARL w/ Purling Hiss, Carter Tanton
October 14 Pensacola, FL De Luna Festival w/ The New Pornographers, Cut Copy, Ra Ra Riot
October 17 Dallas, TX Bryant Street Tavern w/ Purling Hiss, Carter Tanton
October 18 Austin, TX Emo's w/ Purling Hiss, Carter Tanton
October 20 Tucson, AZ Plush w/ Purling Hiss, Carter Tanton
October 21 San Diego, CA Soda Bar w/ Purling Hiss, Carter Tanton
October 22 Los Angeles, CA Satellite w/ Purling Hiss, Carter Tanton
October 23 San Francisco, CA The Independent w/ Purling Hiss, Carter Tanton
October 25 Portland, OR Bunk Bar w/ Purling Hiss, Carter Tanton
October 26 Seattle, WA Tractor Tavern w/ Purling Hiss, Carter Tanton
October 27 Spokane, WA A Club w/ Purling Hiss, Carter Tanton
October 28 Nampa, ID Flying M w/ Purling Hiss, Carter Tanton
October 29 Salt Lake City, UT Kilby Court w/ Purling Hiss, Carter Tanton
October 30 Denver, CO Hi DIve w/ Purling Hiss, Carter Tanton
November 1 Lawrence, KS Jackpot w/ Purling Hiss, Carter Tanton
November 2 Columbia, MO Mojo's w/ Purling Hiss, Carter Tanton
November 3 Bloomington, IN The Bishop w/ Purling Hiss, Carter Tanton
November 4 Cincinnati, OH Mayday Northside w/ Purling Hiss, Carter Tanton
November 5 Cleveland, OH Beachland Tavern w/ Purling Hiss, Carter Tanton
Noember 6 Baltimore, MD Talking Head at Sonar w/ Purling Hiss, Carter Tanton