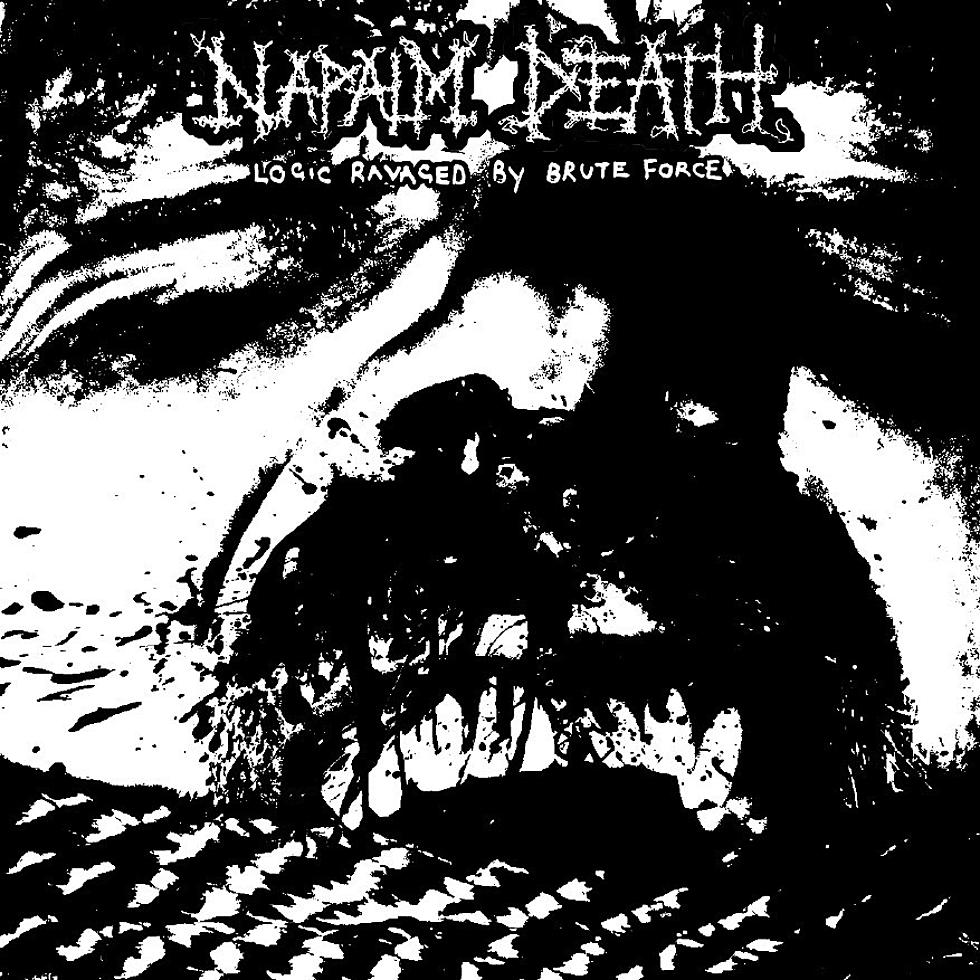 listen to Napalm Death's first new song in 4 years & Sonic Youth cover
Napalm Death have returned with the new Logic Ravaged By Brute Force 7", featuring their first new song in four years (the title track) and a cover of Sonic Youth's "White Kross." Napalm Death have explored several different styles of music throughout their lengthy, consistently rewarding career, but for a band who's still most associated with grindcore, you may not expect this new song to be the one they return with after long break. It's sort of like a cross between deathrock and hardcore punk, but done in a way that only Napalm Death can do. Whatever it is, it pairs very well with the Sonic Youth cover. For that one, they keep the overall instrumental vibes of the original more or less intact, but then show just how well Sonic Youth's music works with gnarly screamed vocals. If Sonic Youth ever made a post-metal record, it'd probably sound something like this cover. Listen to both songs:
Here's what frontman Barney Greenway says about the new 7" and Sonic Youth cover:
In keeping with NAPALM DEATH custom, we had a vast swathe of new songs with many different flavours. So then naturally we moved into single territory and opted for 'Logic Ravaged By Brute Force'. It's the coldness and desperation of the guitar chords and voice that swung it. And then, seeing as Sonic Youth mash chords like few others, this cover of 'White Kross' just seemed to lift itself beyond the constraints of cover – or filler – song into a bit of a rumbling wall-of-sound epic.
Napalm Death also recently announced a North American tour with Aborted, Tombs, and WVRM, including two sold-out shows at Brooklyn's Saint Vitus. Their Europe tour starts tonight (2/7). All dates are listed below.
Napalm Death -- 2020 Tour Dates
FEB 07 Oberhausen, Germany Kulttempel
FEB 08 Hamburg, Germany Gruenspan
FEB 09 Nurnberg, Germany Hirsch
FEB 12 Praha 1, Czechia Roxy
FEB 13 Leipzig, Germany Werk 2 – Kulturfabrik Leipzig
FEB 14 Berlin, Germany Astra Kulturhaus
FEB 15 Mannheim, Germany MS Connexion Complex
FEB 16 Antwerpen, Belgium Muziekcentrum Trix
FEB 18Bournemouth, United Kingdom Old Fire Station
FEB 19 Cardiff, United Kingdom Tramshed Cardiff
FEB 20 Birmingham, United Kingdom O2 Institute
FEB 21 Glasgow, United Kingdom Slay Glasgow
FEB 22 Leeds, United Kingdom Leeds Uni Stylus
FEB 23 London, United Kingdom Electric Brixton
FEB 25 Haarlem, Netherlands Patronaat
FEB 26 Saarbrücken, Germany GARAGE
FEB 27 Vieux Lyon, France NINKASI GERLAND KAO
FEB 29 Toulouse, France Le Metronum
MAR 01 Biarritz, France Atabal
MAR 03 Paris, France La Machine du Moulin Rouge
MAR 04 Stuttgart, Germany Im Wizemann (Halle)
MAR 05 Lindau, Germany Club Vaudeville
MAR 06 München, Germany Backstage Werk
MAR 08 Köln, Germany Essigfabrik
MAR 27 Limerick City, Ireland Dolans Warehouse
MAR 28 Dublin, Ireland Voodoo Lounge
MAR 29 Belfast, United Kingdom Limelight
APR 03 Philadelphia, PA Decibel Metal & Beer Fest
APR 04 Philadelphia, PA Decibel Metal & Beer Fest
APR 09 Los Angeles, CA The Belasco Theater*
APR 10 San Francisco, CA Great American Music Hall*
APR 14 Portland, OR Bossanova Ballroom*
APR 15 Seattle, WA Showbox SoDo*
APR 17 Salt Lake City, UT Metro Music Hall^
APR 18 Denver, CO Gothic Theater^
APR 19 Kansas City, MO Riot Room Monday^
APR 20 St Louis, MO Red Flag^
APR 21 Milwaukee, WI Miramar Theater^
APR 22 Minneapolis, MN Cabooze^
APR 23 Des Moines, IA Vaudeville Mews^
APR 24 Chicago, IL Reggies Rock Club^#
APR 25 Toronto, Canada Opera House^#
APR 26 Ottawa, Canada Brass Monkey^#
APR 28 Quebec City, Canada La Source^#
APR 29 Montreal, Canada Fairmount Theater^#
APR 30 Boston, MA Paradise Rock Club^#
MAY 01 Brooklyn, NY Saint Vitus^#
MAY 02 Brooklyn, NY Saint Vitus^#
MAY 03 Washington, WA Black Cat^#
MAY 04 Durham, NC Motorco Music Hall^#
MAY 06 Tampa, FL The Orpheum Tampa^#
MAY 07 Miami, FL Churchill's Pub^#
MAY 08 Orlando, FL The Haven^#
MAY 09 Atlanta, GA 529 Gallery^#
MAY 10 New Orleans, LA One Eyed Jacks^#
MAY 11 San Antonio, TX The Rock Box^#
MAY 13 Albuquerque, NM LaunchPad^#
MAY 14 Phoenix, AZ Club Red^#
MAY 15 San Diego, CA Brick By Brick^#
MAY 16 Santa Ana, CA Observatory^#
JUN 04 Barcelona, Spain Primavera Sound
JUN 25 Madrid, Spain Rock The Night
* – w/ The Locust, Nastie Band
^ – w/ Aborted, WVRM
# – w/ Tombs