Little Dragon played MHOW & Bowery (will again) — pics
Miami New Times: The third Little Dragon album is half-done, right? How far along is the writing and recording?

Yukimi Nagano: All the songs are there. It's just waiting to be mastered. We want release it this spring and we can't wait! It will be called Ritual Union.

In the past, you've said, "We're a strictly no-guitar band." Does that mean Little Dragon is totally anti-guitar?

Yukimi Nagano: None of us plays guitar very well, so that's one reason. I guess we just feel like there are so many guitar bands out there. And we haven't felt inspired to have any guitars on any songs. The third album has no guitars. One day after a lot practice, maybe we'll make some kind of a guitar jam. Who knows? We try to stay open-minded!
Ritual Union won't be here in April and May but Little Dragon will be back in NYC tonight (1/24) to play their 3rd sold out show in a row. The guitarless band played Music Hall of Williamsburg on Thursday (1/20) and Bowery Ballroom on Friday (1/21) after an appearance on East Village Radio.
Theophilus London joined the Swedes for both shows and will join them for the third time tonight. He also promises a "big headline" date to be announced "soon" is playing Music Hall of Williamsburg on February 14th (tickets will be on sale soon). Theophilus will release a new EP, Lovers Holiday, on February 8th.
Brook Bobbins followed Little Dragon from Bowery soundcheck to East Village Radio and back to Bowery. His pictures of the whole day and some videos are below...

--
Little Dragon soundchecking pre-show
Little Dragon at East Village Radio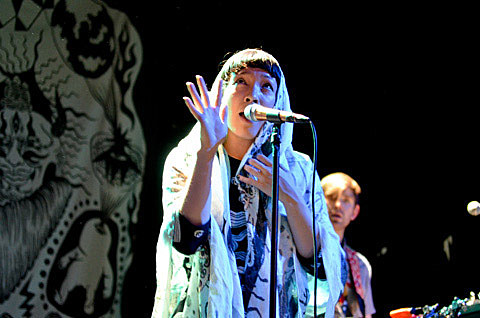 Little Dragon - Green Room - Bowery Ballroom NYC

Little Dragon - Twice - Bowery Ballroom NYC