Liturgy played Death by Audio w/ White Mice – pics & updated 2010 tour dates
guess which band this is (hint: not Liturgy)...

Liturgy is absolutely devastating Death By Audio right now. See this band this year. Shouldn't be hard, they certainly play enough. -[100TimesYes]
NYC has had plenty of chances to catch Hunter and the boys of Liturgy, and their last occasion took place on 1/15/10 at Death By Audio when the band teamed up with fellow 20 Buck Spin labelmate White Mice. The show was the first date of an east coast tour for Liturgy that will conclude at Glasslands next Friday (1/29). The band will also hit Don Pedro's on 2/18 with Aa and Glasslands again on 3/6 with Naam before heading down to Texas for a string of dates with White Mice, ultimately leading to the 20 Buck Spin SXSW Showcase with The Endless Blockade.
Liturgy was also recently announced as one of the many bands on board for Scion Rock Fest 2010. Full tour dates and pics of both Liturgy and White Mice are below...

---
White Mice @ Death by Audio...
Liturgy @ Death By Audio...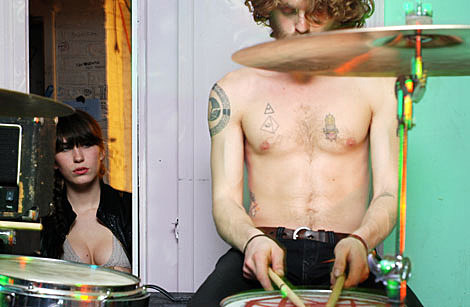 LITURGY - 2010 TOUR DATES
Jan 21 2010 Capsule House Miami, Florida
Jan 23 2010 Farside Tallahassee, Florida
Jan 24 2010 Wayward Council Gainesville, Florida
Jan 26 2010 Lenny's Atlanta, Georgia
Jan 27 2010 The Milestone Charlotte, North Carolina
Jan 29 2010 Silent Barn Brooklyn, New York
Feb 13 2010 The Hexagon w/ Nadja Baltimore, Maryland
Feb 18 2010 Impose Test Patterns @ Don Pedro's w/ Aa Brooklyn, NY, New York
Mar 6 2010 Glasslands w/ Naam Brooklyn, New York
Mar 13 2010 TBA Columbus, Ohio
Mar 14 2010 Now That's Class w/ White Mice, Tinsel Teeth Cleveland, Ohio
Mar 15 2010 The Mopery w/ White Mice, Tinsel Teeth Chicago, Illinois
Mar 16 2010 Camp Concentration w/ White Mice, Tinsel Teeth St. Louis, Missouri
Mar 18 2010 House of Tinnitus w/ White Mice, Tinsel Teeth Denton, Texas
Mar 19 2010 SXSW Austin, Texas
Mar 20 2010 SXSW Austin, Texas
Mar 21 2010 Bro Fest 2010 Dallas, Texas
WHITE MICE - 2010 TOUR DATES
Mar 10 2010 TBA Providence w/STRESS APE Providence
Mar 14 2010 Now That's Class w/Tinsel Teeth/Liturgy/Stress Ape Cleveland, Ohio
Mar 15 2010 The Mopery w/ Liturgy, Tinsel Teeth, Cacaw Chicago, Illinois
Mar 16 2010 Camp Concentration w/Tinsel Teeth St. Louis, Missouri
Mar 18 2010 Mouse of Tinnitus w/ Tinsel Teeth Denton, Texas
Mar 19 2010 SXSW 20 BUCK SPIN showcase w/Liturgy/Endless Blockade and more Austin, Texas
Mar 20 2010 SXSW Austin LOAD RECORDS showcase w/ Tinsel Teeth, Drunkdriver, and more Austin, Texas
Mar 21 2010 BROFEST 2010 w/TINSEL TEETH/LITURGY Dallas
Mar 23 2010 Rhinoceropolis w/Liturgy Denver, Colorado
Mar 27 2010 Northern Olympia, Washington
Mar 29 2010 the Tube Portland, Oregon
Mar 30 2010 The Hub w/MOM Sacremento, California
Mar 31 2010 21 GRAND Oakland, California
Apr 1 2010 Hemlock Tavern San Francisco, California
Apr 2 2010 tba LA, California
Apr 4 2010 The Tribe Phoenix, Arizona
Apr 6 2010 tba Austin, Texas
Apr 7 2010 Super Happy Funland Houston, Texas
Apr 8 2010 tba Little Rock, Arkansas
Apr 8 2010 Schiller St. Little Rock, Arkansas
Apr 9 2010 tba Nashville, Tennessee
Apr 10 2010 tba Greensboro, North Carolina
Apr 11 2010 tba Wilmington, North Carolina