Local Natives selling out shows, add Governors Island show ++ more pics from Austin, an MP3
Photographer: Bryan Bruchman
photos by Bryan Bruchman
DOWNLOAD: Local Natives - Sun Hands (MP3)
""Sometimes - like tonight, this place is sold-out - I get in awe," Kelcey admits. Yet it's only when you delve into Local Natives' background, particularly their astonishing emergence over the last 12 months, that you can fully appreciate why they seem so unfamiliar with and bewildered by the overwhelming support they've encountered so far on the tour. "Last year we did a national tour [in the U.S.] with two other LA bands. We did shitty venues, drawing in 10-30 people a night."

It's no surprise then that the thought of a headline tour would have been originally daunting to them, let alone a headline tour on this side of the Atlantic (they've only visited the UK on one other occasion). This feeling still lingers, Andy declares ominously: "We don't know the venues. We don't know the cities. We don't even know if people are going to show up. I'm still really nervous about that." But their label and tour manager will tell them not to be: across the 12 cities they'll visit, sold-out crowds are set to become the norm for Local Natives." [LeedsMusicScene]
Local Natives already have two NYC shows at Bowery Ballroom set for May 6th and 7th. Both of those shows, part of their tour with Suckers, are sold out. The good news is they added another NYC show. The bad news is it's not at Bowery Ballroom and not in May. Like Passion Pit & Tokyo Police Club, Local Natives will play a show at The Beach @ Governors Island this summer. Tickets for the Saturday, August 7th show go on AmEx presale at 11am. General sale starts Friday (4/9) at noon.
In Austin for SXSW, one of Local Natives' shows was BrooklynVegan/M For Montreal day party at the Galaxy Room on Saturday, March 20th. A second set of pictures (first ones are here), and a video from that show, continue below...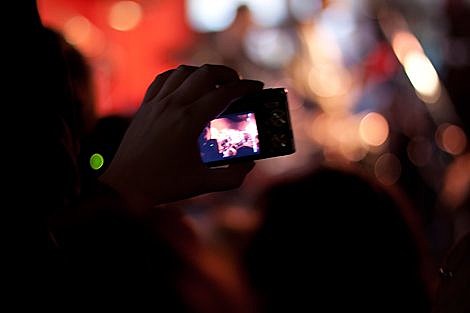 Local Natives - Warning Sign
Uploaded by KEXP.