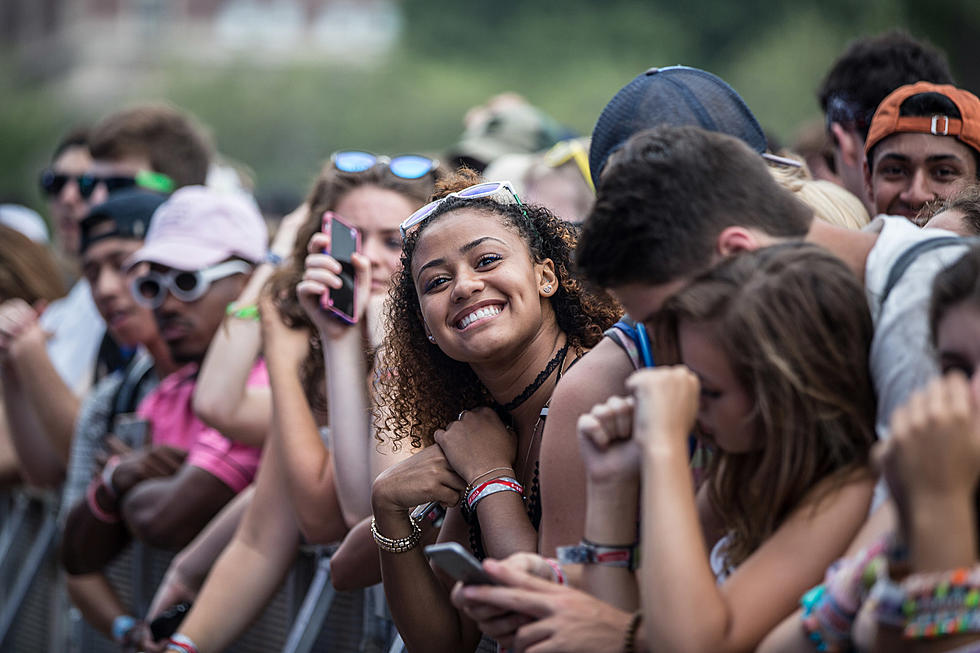 Lollapalooza 2016 day 2: pics & review (Radiohead, Future, Joey Purp, Foals, rain & more)
photo by Brigid Gallagher
The second day of Lollapalooza's 25th anniversary held a smattering of surprises, but Radiohead's absolutely stunning closing set makes even the best sets from the rest of the day seem a little less impressive. [They were great in NYC, too. - ed] The band's two-hour marathon spanned their career and put a beautiful end to another day plagued by rain. Pictures from all of Friday are in this post.
I started off the day with my DJ set at the Toyota Music Den (where I'll be all weekend, say hi!) Huge thank you to Music Den host Yassir Lester for peppering my set with laughs and holding down the stage all festival long. Modern Baseball's stage set happened to land at the same time as my set so I didn't catch them until later on back at the Den.
Chicago native and Savemoney member Joey Purp took over a slot originally planned for Skepta at the EDM-focused Perry's stage and played one of the most incredible sets of the festival so far. Purp was clearly ecstatic to be playing Lollapalooza, bouncing between his own songs to following along with brief snippets of Skepta's "Shutdown" and "It Ain't Safe" to shining the spotlight on fellow Savemoney members. Even if he didn't have Chance The Rapper out for his verse on the effortlessly fun "Girls @" the song still got the crowd bouncing. Despite the lack of a Chance appearance, Joey managed to fare well with Chicago-focused guests: Mick Jenkins, Savemoney crew members Kami and Towkio plus a fantastic showing from Twista running through "Overnight Celebrity." Even going in anticipating a good set from Purp, I was blown away by just how much fun his set held.
English math-rock outfit Foals took the stage during the worst of the day's constant rain, joking early on that they "brought the weather with [them]" from across the pond. The band opened the set with some of their bigger hits like the dancey "My Number" from 2013's Holy Fire before digging into the more complex tracks that fill their albums. It was a solid set, but nothing other than some stellar solos really stood out to me.
I found respite from the rain back at the Toyota Music Den to catch Modern Baseball's acoustic set. After that it was off to catch Future, who has been on a little bit of a creative downturn lately, but you wouldn't know it from his hit-overloaded set. The Atlanta rapper ran through all of the hardest hits from his post-Honest-era with no breaks for anything that wasn't a certified banger. In case the stacked setlist wasn't enough, Future brought out Chance The Rapper for a killer performance of "No Problem" that solidified the set's non-stop-party atmosphere.
Going from the sweaty turn up that was Future's set to catch Radiohead at the other end of the park a little bit jarring emotionally but didn't do anything to diminish how great the English indie legend's performance was. As a fan of Kid A and the band's more electronic output, the set spiraling out from this year's incredible A Moon Shaped Pool was perfect. I might have teared up a little when "Everything In Its Right Place" transformed into "Idioteque." Or it might've been just the rain.
Radiohead's setlist is below and you can check out pics from Lollapalooza day 1 here. The full gallery of day 2 pics is at the top of this post. Stay tuned for more coverage of the rest of Lollapalooza 2016.
SETLIST: Radiohead @ Lollapalooza 7/29/2016
Burn the Witch
Daydreaming
Ful Stop
2 + 2 = 5
Myxomatosis
My Iron Lung
Climbing Up the Walls
No Surprises
Pyramid Song
Bloom
Identikit
The Numbers
The Gloaming
Weird Fishes/Arpeggi
Everything in Its Right Place
(segued into "Idioteque")
Idioteque
There There
Encore:
Let Down
Present Tense
Paranoid Android
Nude
Bodysnatchers
Encore 2:
Street Spirit (Fade Out)
Karma Police