London party Deviation coming to NYC for show w/ Kode9 & Lunice, who is releasing 'TNGHT' EP w/ Hudson Mohawke
Kode9 at the American Museum of Natural History in 2010 (more by Zach Dilgard)

BBC Radio 1 DJ Benji B is bringing his London dance party Deviation to NYC for the first time on July 4 at Le Poisson Rouge, which is being co-presented by Red Bull Music Academy. The party is a series of one-off events for Deviation in honor of their 5th birthday, which they will celebrate this October. The party will feature a DJ set Hyperdub label head Kode9, and a live set by Lunice. MC Judah will host and Benji B will also DJ, like he does at all Deviation parties. Tickets for the show are on sale now. The flier is below.
Kode9 spoke to FACT last month before playing a set dedicated entirely to Hyperdub artist Burial. They spoke about how the label grew since the release of Burial's Untrue and how they have been expanding into new territory and releasing more albums than ever before (like Laurel Halo's great new album, Quarantine). In regards to DJing, Kode9 said:
I've been DJing for around 20 years. The only thing that has changed really is that I now have more dancefloors with people on them, and this has changed the way I play, and some of the music released on the label.
You can stream a Kode9 Essential Mix from last year below.
Lunice, in addition to his solo material which he will presumably be playing at LPR on Wednesday (7/4), has been working on a collaborative EP with Hudson Mohawke under the name TNGHT (pronounced "tonight"). They'll release an EP on July 24 via Warp and LuckyMe. If you're a fan of either producer's solo material, or any kind of heavy, wonky hip hop beats, TNGHT should be right up your alley. Check out "Bugg'n" from that EP and a teaser mix of the whole EP below.
Lists of all dates, streams, and the flier for the LPR show are below.

---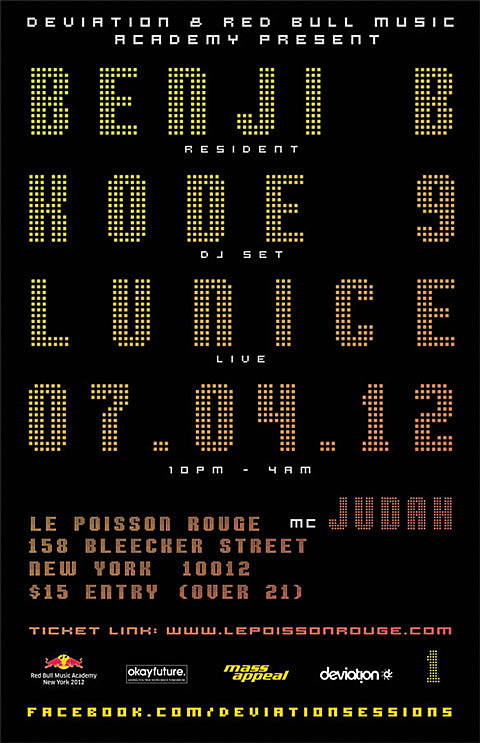 Kode9 -- 2012 Tour Dates
7/4 Le Poisson Rouge New York, NY w/ Lunice
7/27 Sub Club Glasgow, UK w/ Scratcha DVA
8/3 Fabric London, UK
8/3-5 Standon Lordship Farm Ware, UK
8/25 Scala London, UK
9/1 Fort Punta Christo Pula, Croatia w/ Joker
9/6 Fort Punta Christo Pula, Croatia w/ Joker
10/12 Palladium Riga, Latvia
Lunice -- 2012 Tour Dates
7/4 Le Poisson Rouge New York, NY w/ Kode9
7/29 Parc Jean Drapeau Montreal, QC
8/3-4 HARD Festival Los Angeles, CA