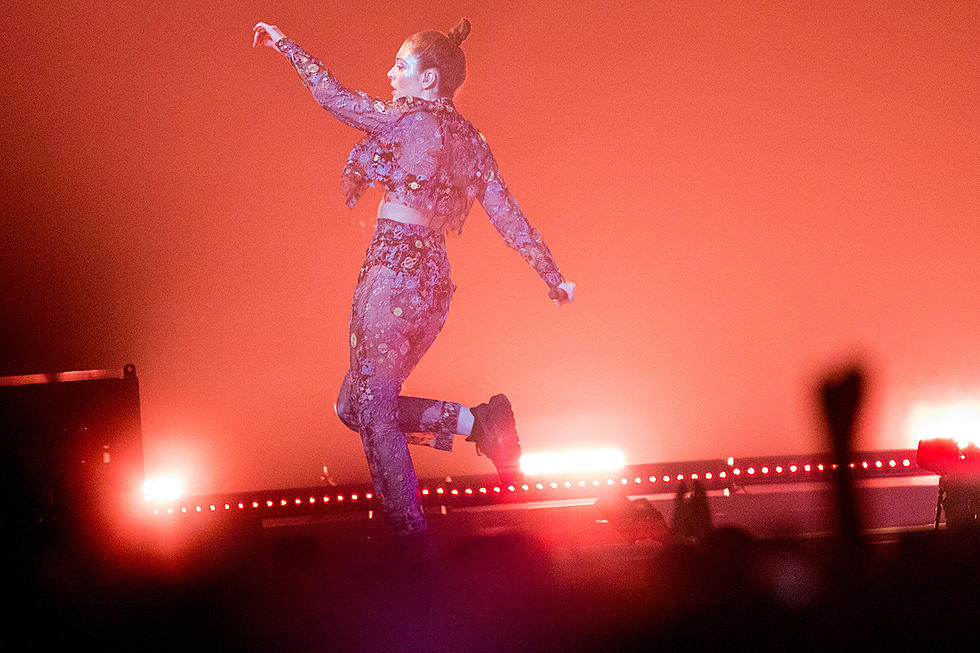 Lorde achieved transcendence at Prudential Center (pics, video, review)
photo by Amanda Hatfield
Lorde released one of the best albums of 2017 with her sophomore LP Melodrama, and she's been out on the road in support of it on a massive arena tour with some very cool openers, like Run the Jewels and Mitski. We previously reviewed the Melodrama World Tour at Staples Center in LA, and we caught Lorde again on Friday night (4/6) at Prudential Center in Newark, NJ. The Prudential show came just days after Lorde very memorably (and awesomely) covered St. Vincent's "New York" with Jack Antonoff in Brooklyn, a moment that had us hyped for what surprises she might have in store for NJ. There were no guest appearances, and the evening's cover was one she's done before, a very appropriate nod to NJ hero Bruce Springsteen with a take on the classic "I'm On Fire" that had chants of "Bruce!" filling the arena. None of this was a disappointment - Lorde has proved she can transport arenas full of fans with her music and the force of her personality, and anything extra is just icing on the cake.
Lorde's songs pair keenly honed pop sensibilities with an emotional resonance that strikes a deep chord. The intro to "Writer in the Dark," one of Melodrama's most haunting ballads, found her sitting onstage in a pile of lighted tubes, talking about the sense of connection and understanding she'd found in hearing these words, written on phones and computers, sometimes borne out of private moments and feelings, sung back to her with such fervor. For "Liability" the crowd took this one step further, starting the first verse themselves, with Lorde coming in partway through, seeming shocked and pleased. Both songs delve into the idea of ones self being too intense, too much for other people - of feeling too deeply, loving too intensely, of having emotions that bubble and froth over rather than simmering below the surface. Lorde's music celebrates this notion of experiencing the full force of your personality rather than trying to contain it, and her live show does, too - it's there in her outsized, grandiose gestures, in her command of a huge stage and the confidence with which she moves about it.
A small troupe of dancers backed Lorde throughout Friday night's show, offering symbolism and emphasis without overwhelming the production. Dressed in white, their movements mirrored the emotional exchanges happening in the songs themselves - pushing and pulling, celebrating, grasping and leaving. During "The Louvre," they picked Lorde up and carried her while she sang; "Supercut" ended with her and a dancer, face obscured, lying on the floor, having just run through an odyssey of feelings. A transparent box hung at various points of suspension in the back of the stage throughout the night, with dancers filling it in different configurations. I thought of it as a glass box of emotion, of being given a window into the heart of the songs, while they were being performed, in a subtle but somehow profound way.
There were no real low points to the Prudential Center show, but Lorde achieved true transcendence during the final few songs, especially "Supercut," "Perfect Places," "Green Light," and "Team." "Perfect Places" had her bounding around the stage beaming like a champion prizefighter, while a confetti blast during "Green Light" was perfectly timed to what Lorde amped the crowd up for as an explosive exchange of energy, ending in the illuminated confetti drifting gently over a sea of outstretched arms. For "Team," she ran offstage and along the crowd at the barrier, giving hugs and high fives. The audience looked like they might engulf her but she emerged onstage again, triumphant, before saying goodbye.
Check out pictures of Lorde and Run the Jewels (we unfortunately got there too late to see Mitski) in the gallery above, and videos and setlist from Prudential Center below.
Setlist: Lorde @ Prudential Center, 4/6/2018
Sober
Homemade Dynamite
Tennis Court
Magnets (Disclosure)
Buzzcut Season
Ribs
The Louvre
Hard Feelings
Yellow Flicker Beat
Writer in the Dark
I'm on Fire (Bruce Springsteen)
400 Lux (Partial)
Liability
Sober II (Melodrama)
Supercut
Royals
Perfect Places
Green Light
Encore:
Loveless
Precious Metals
Team