Los Campesinos! – tour dates w/ SKY LARKIN, Coachella & pictures from Bowery Ballroom
Sky Larkin

Sky Larkin's debut album, The Golden Spike, which they recorded last year in Seattle with John Goodmason (The Long Winters, Sleater-Kinney), was released last month in England and comes out in the U.S. in April. It's chock-full of super-catchy songs, like "Beeline" to which you can watch the video below. I've seen them a few times and they're definitely worth catching, and are nice folks too.
Los Campesinos! don't have any future NYC shows scheduled, but when they were here less than a month ago they played two nights in a row at Bowery Ballroom. Pictures from one of those shows, and all tour dates (SL & LC!), below...

Sky Larkin - "Beeline"

Los Campesinos! @ Bowery Ballroom...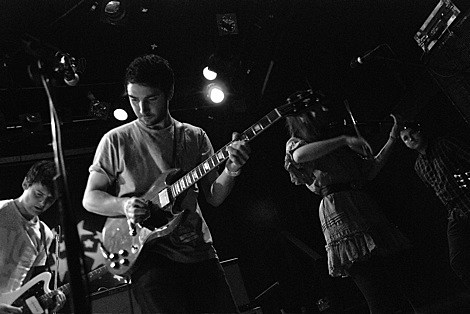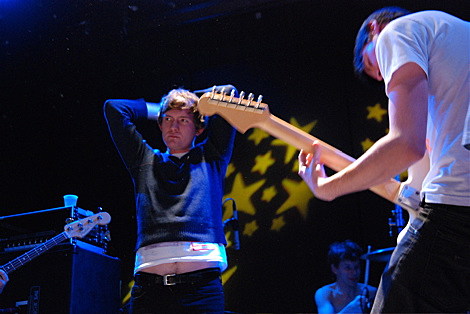 Sky Larkin - 2009 Tour Dates
March 14th LA, Spaceland
March 16th LA, Box8 Factory, Mixtape Music Party
March 18th SXSW - Hype Machine / Sup magazine party (time tbc)
March 18th SXSW - Wichita showcase 12am
March 19th SXSW - Wichita / Mixtape Party, 7600-7699 Stillridge Drv, 4.45pm
March 20th SXSW - Music for Listeners Party - 3.15pm
March 21st SXSW - British Embassy Yorkshire party - 1.40pm
March 23rd NYC, Mercury Lounge w/ The Grates -9pm
March 29th Philadelphia, PA.Theatre of Living Arts * +
March 30th South Burlington, VT.Higher Ground *
March 31st Montreal.QUE La Sala Rosa *
April 1st Toronto, ONT Opera House *
April 2nd Detroit, MI Magic Stick *
April 3rd Milwaukee, WI Turner Hall *
April 4th Minneapolis, MN Fine Line Café *
April 5th Omaha,NE Waiting Room *
April 7th Denver, Blue Theatre *
April 10th Seattle, WA Nuemos Crystall Ball *
April 11th Vancouver, BC Richards on Richard *
April 12th Portland Orm Wonder Ballroom *
April 15th San Francisco, CA Slims *
Los Campesinos! - 2009 Tour Dates
Mar 29 - Theatre Of Living Arts (with Ponytail) Philadephia *
Mar 30 - Higher Ground Burlington, Vermont *
Mar 31 - La Sala Rosa Montreal, Quebec *
Apr 1 - Opera House Toronto, Ontario *
Apr 2 - Magic Stick Detroit, Michigan *
Apr 3 - Turner Hall Milwaukee, Wisconsin *
Apr 4 - Fine Line Cafe Minneapolis, Minnesota *
Apr 5 - Waiting Room Omaha, Nebraska *
Apr 7 - Bluebird Theatre Denver, Colorado *
Apr 10 - Neumo's Seattle, Washington *
Apr 11 - Richard's On Richards Vancouver, British Columbia *
Apr 12 - Wonder Ballroom Portland, Oregon *
Apr 13 - Harlow's Sacramento, California *
Apr 15 - Slim's San Francisco, California *
Apr 16 - Detroit Bar Costa Mesa, California
Apr 17 - COACHELLA FESTIVAL CALIFORNIA
Jul 11 - Alive! Festival Lisbon