Los Campesinos! @ Sound Fix Records, Brooklyn, NY – pics
Kyle Dean Reinford
photos by Kyle Dean Reinford
The group came together at Cardiff University in 2006, originally consisting of Neil on guitar, Ellen on bass guitar, and Ollie on drums. In March 2006, Tom joined the band, assuming the role of lead guitarist and songwriter, later followed by Gareth on vocals and glockenspiel, Harriet on violin and keyboard, and finally Aleksandra on vocals, keyboards, and melody horn. "Los Campesinos" roughly translates as "The Farmers" (or "The Peasants") in Spanish, even though none of the members are Spanish, or Farmers. [Wikipedia]
While their tour-mates Titus Andronicus were busy playing a show with Vivian Girls at Maxwell's in Hoboken, UK band Los Campesinos! played their first US show of 2009 over in Brooklyn in the bar portion of the Sound Fix record store (January 14, 2009). They didn't play long though. The whole set was around 25 minutes long and five songs (which actually is all you should ever expect from a free Sound Fix show). They were also missing one member who called out sick. For that reason they joked that they should be called "Los Campesixnos!" (pronounced with a combination of French and Spanish). The small room was packed, and they had to stop letting people in pretty early.
More pictures from the show below...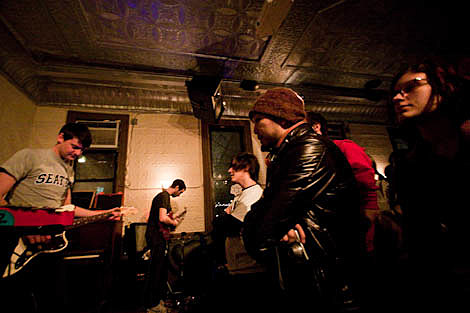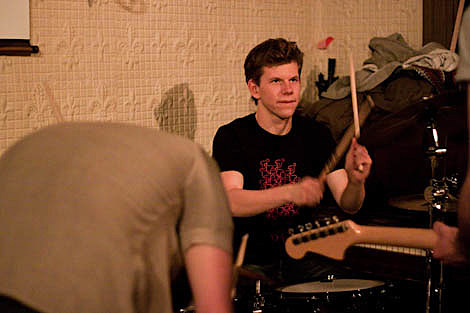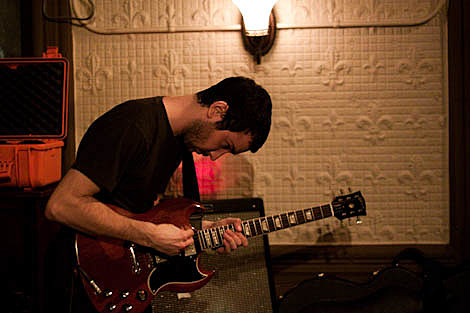 Their next NYC shows are at Bowery Ballroom on February 14th & 15th (tix). All tour dates HERE.