Lost in the Trees played Joe's Pub (pics & setlist), playing Mercury Lounge (and other tour dates)
North Carolina collective Lost in the Trees played Joe's Pub Friday night (1/7), pulling out all the stops with a theatrical and soulful performance that began softly and built to a joyful crescendo.
Wearing a homemade painted shirt of his own design, frontman Ari Picker tried to engage with the audience at Joe's Pub, which was a little stiff. "How's your food?" he jokingly asked the audience who only murmured in return.
Despite the audience's lack of charisma, the band still brought it. When they played with Plants and Animals at Bowery Ballroom back in June, they punctuated their performance by hopping down into the audience and playing in the round. This time, the drama took the form of an ivory horse carried through the audience at the start of the show while Picker gently crooned "Dead Bird".
Their orchestral folk pop melds complex orchestrations with frontier lyrics about simple pleasures, family dynamics and longing. It's emotional music that is mesmerizing to both listen to and watch. The physicality the band has with their instruments - violin, cello, horns and accordion, among others - is part of the entertainment. Violinist Jenavieve Varga in particular has a muscular style that is hard to look away from.
The group played a few new tunes, as well as favorites from the current album, All Alone in an Empty House. They covered the title song, as well as "Walk Around the Lake", and finished with "Song for the Painter" as one of the encore songs.
In case you weren't able to get tickets to the sold-out show, the group will be back to play Mercury Lounge on February 7th. Tickets go on AMEX presale at noon on 1/12 and go on general sale 48 hours later.
More pictures, including a shot of the setlist, and all tour dates are below.

--
Lost In The Trees by Dominick Mastrangelo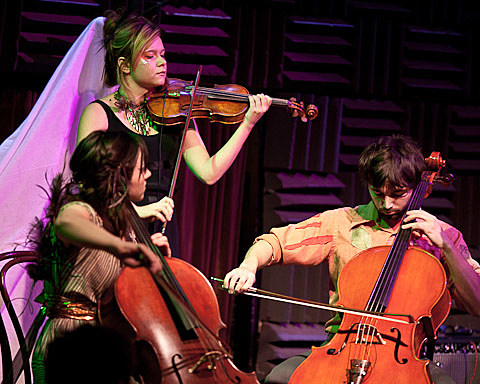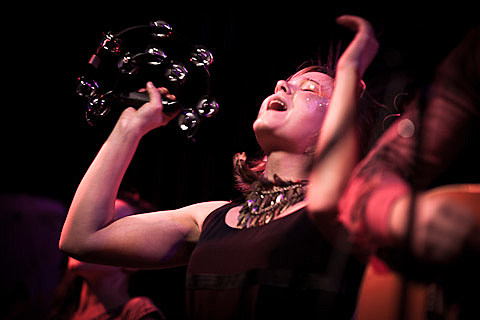 additional photos by Shanda Boyett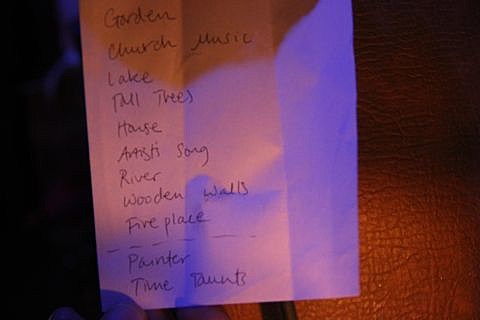 Lost in the Trees - 2011 Tour Dates
Wed Jan 12, 2011 Atlanta, GA The Earl
Thu Jan 13, 2011 Gainesville, FL Common Grounds
Fri Jan 14, 2011 Jacksonville, FL Underbelly
Sat Jan 15, 2011 Orlando, FL The Social
Sun Jan 16, 2011 Fort Lauderdale, FL The Monterey Club
Mon Jan 17, 2011 Ybor City, FL The Orpheum
Tue Jan 18, 2011 Tallahassee, FL Club Downunder
Wed Jan 19, 2011 Charleston, SC The Charleston Pourhouse
Thu Jan 20, 2011 Macon, GA The 567 Butterflies
Fri Jan 21, 2011 Asheville, NC Sage Cafe
Sat Jan 22, 2011 Charlotte, NC Snug Harbor
Fri Jan 28, 2011 Carbondale, IL The Hangar 9 w/ Cheyenne Marie Mize
Sat Jan 29, 2011 Chicago, IL Old Town School of Folk Music w/ Cheyenne Marie Mize
Sun Jan 30, 2011 Columbus, OH Wexner Center
Tue Feb 01, 2011 Woodstock, NY Bearsville Theatre w/ Neko Case
Wed Feb 02, 2011 Providence, RI Lupo's w/ Neko Case
Thu Feb 03, 2011 Boston, MA Wilbur Theatre w/ Neko Case
Fri Feb 04, 2011 Northampton, MA Calvin Theatre
Sat Feb 05, 2011 Westhampton Beach, NY Westhampton Beach Performing Arts Center
Mon Feb 07, 2011 New York, NY Mercury Lounge
Wed Feb 09, 2011 Washington, DC Black Cat Backstage