Love Inks, Lovers, Slowdance, Hospitality, Soundtrack of Our Lives, The Barracudas & more in This Week in Indie
by Bill Pearis
DOWNLOAD: Love Inks - Blackeye (MP3)
DOWNLOAD: Lovers - Figure 8 (MP3)
Love Inks @ SXSW (more)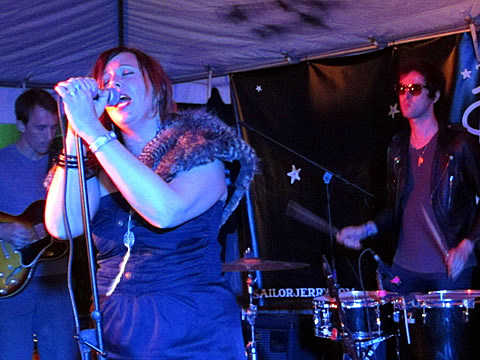 Can you feel the love tonight? I can though mainly because we've got two bands with that in their name playing tonight. Though not in the same place. First is Austin's Love Inks who, as previously mentioned, are playing NYC for the first time. Tonight (6.2) they're at Glasslands with Rewards, Slowdance, and Celestial Shore. They'll also play Tuesday (6/7) at Pianos with Elastic Summer, Monokino and more.
Love Inks' debut, E.S.P., came out last month on City Slang and, as I wrote previously, it's a pretty little understated thing. Minimalist instrumentation -- guitar, bass, drum machine -- that doesn't get in the way of the band's main asset: singer Sherry LeBlanc's honeyed vocals. (In the same timbre as Beth Cosatino.) E.S.P. is what I like to call Sunday Morning music (Galaxie 500, Belle & Sebastian), and a fine example at that. You can check out "Blackeye" at the top of this post.
Tonight's Glasslands show is pretty solid all around. I've been wanting to check out Slowdance for some time. You can download two tracks from their website and both are pretty good: atmospheric rock that is, and yes, danceable. (Though maybe not slowdanceable.) Rewards, as you may remember, is Aaron Pfanning who was in Chairlift; and Celestial Shore are channeling some serious Brian Wilson vibes in a slightly mathy kind of way.
Lovers

The other "love" band tonight is Portland trio Lovers (not to be confused with Lovvers), who are at Cake Shop with Household and Skeleton Head (They played last night at Union Hall...anybody go?). Lovers' most recent album, Dark Light, came out last fall on Badman Recordings and you can download "Figure 8" from it at the top of this post. It's a pretty good representation of the rest of the records: throbbing synths and big choruses. The BPMs are a little to slow to call it dance music, but it's definitely got a groove. Mood music you can move to.
You should get there early for local trio Household who I caught at Bruar Falls a couple weeks ago and really liked. They're in the Lilliput/Raincoats school of minimalist postpunk (or more recently Brilliant Colors or Yellowfever). No releases yet, but Household have a handful of streamable songs on their website which were produced by Andrew Raposo (who plays bass in various DFA-related bands). Definitely worth a listen.
Hospitality @ Pianos in Feb (more)

What else? After what seems like an awfully long time (two years plus), Hospitality are finally getting around to putting out an album. I think it's pretty much done, so hopefully we'll see that sooner than later. In the meantime, the trio are playing a whole bunch in June, starting Friday night (6/3) at Cake Shop where they'll share the bill with country folk act Numbers and Letters, and Edelweiss who kind of sound like first-album Foals and are not to be confused with the shortlived early '90s novelty act of the same name. The show is FREE.
Hospitality also play the final date of my Sound Bites series at the Fulton Stall Market on July 17. All upcoming shows are at the bottom of this post. More Fulton Stall Market (Seaport) shows are listed HERE.
TSOOL @ SXSW (more)

And last but certainly not least, the mighty Soundtrack of Our Lives arrive from Sweden this weekend, playing Le Poisson Rouge on Sunday (6/5) and The Bell House on Monday (6.6). If you enjoy '60s/'70s style rock, there are few bands that do it as well as TSOOL, and certainly not many who put on a better live show. I wrote of their 2009 show at Music Hall of Williamsburg:
A nearly two-hour show of guitar windmills, endless stick twirls, karate kicks, ponderous, psychedelic lyrics and massive riffs. You could watch The Soundtrack of Our Lives and spend the whole time picking apart the references: The Who, Stones, Pink Floyd, Love, Spirit, Faces, Beatles, etc. But to do so is to miss the point of TSOOL, who distill everything that is great about rock's classic late '60s / early '70s era into one incredible band. And an even better live show. Seriously, these guys knock it out of the park every time.
The band have just released a best-of compilation, Golden Greats, which is a fine introduction to the band's catalogue to date (five albums, all doubles) and really showcases what this band does so well. But live is where they make you a believer. TSOOL are promising wildly different setlists for the two shows, and superfans can buy a discounted $35 ticket that gets you into both. These guys love to play, and usually do two-hour sets so... be prepared.
Opening the Le Poisson Rouge show are The Mommyheads ('90s era indie rockers who pop up now and again), and at The Bell House is Montreal's sitar-fueled Elephant Stone (an especially inspired pairing). TSOOL are also on Last Call With Carson Daly tonight (6/2).
That's the main stuff this week. A few more recommended shows, day-by-day, are below
THURSDAY, JUNE 2
Some of you may remember The Barracudas who led the UK surf-rock/garage revival in the early '80s. (If not, there's a video below.) Singer Jeremy Gluck has formed a new line-up of the group and they're playing Union Hall tonight. Don't be confused with Georgia's  Barreracudas on the bill as well. We can only hope they'll hll play together as The Barrarerrarerracudadas.
continued below...

--
FRIDAY, JUNE 3
I think we can all agree that the best part (only good part?) of HBO series How to Make it in America is the opening credits which is scored to Aloe Blacc's "I Need a Dollar." Here that tune and others from Aloe's fine debut album at the Highline tonight.
It's June but that's no reason not to go see the world's greatest hockey-themed indie rock band in the world, The Zambonis, at the Rock Shop.
SATURDAY, JUNE 4
It doesn't seem possible that Sondre Lerche has released seven albums but that's what it will be when his new self-titled LP drops this Tuesday. Dude is only 28. Get a preview on Saturday when he plays Bowery Ballroom with Nightlands and Kishi Bashi. As charming as he is playing solo, which has been his M.O. in America, he's now touring with a band (drummer, bassist, violinist) this time out which is exciting I think.
SUNDAY, JUNE 5
Tonight might be a good night to check out the psychedelic experience that is The Joshua Light Show.
That's it for this week. Tour dates, flyers and videos after the jump.
--
Love Inks - Leather Glove

Love Inks - 2011 Tour Dates
THU 6/2 - Brooklyn, NY @ Glasslands
FRI 6/3 - New York, NY @ Cake Shop
SAT 6/4 - Newark, DE @ Mojo Main
MON 6/6 - Boston, MA @ O'Briens
WED 6/8 - Washington, DC @ Red Palace
--

Lovers - 2011 Tour Dates
6/2 New York NY Cake Shop
6/3 Woodbridge CT ATC
6/4 Biddeford ME The Oak and The Ax
6/5 Boston MA The Problem House
6/7 Northampton MA Flywheel
6/8 Rochester NY The Bugjar
6/9 Buffalo NY Sugar City
6/10 Detroit MI The New Miami
6/11 Grand Rapids MI Founders Brewing Company
6/12 Ann Arbor MI Elbow Room
6/13 Cleveland OH Wilberts
6/14 Bloomington IN Bishops Bar
6/15 Chicago IL Ponchos
6/16 Milwaukee WI Frank's Powerplant
6/17 Minneapolis MN The Nomad
6/18 Des Moines IA Vaudeville Mews
6/19 Saint Louis MO Cranky Yellow
6/20 Columbia MO Hairhole
6/21 Kansas City MO TBD
6/22 Lawrence KS Replay Lounge
6/23 Lincoln NE Claw Foot House
6/24 Denver CO TBD
6/25 Salt Lake City UT The Garage
6/26/2011 Boise ID TBD
Hospitality - All Day Today

Hospitality - 2011 NYC Dates
6/3 - Cake SHop
6/9 - Cameo Gallery w/ Sean Bones
6/16 - Union Pool (Northside Festival)
6/24 - Cake Shop
6/27 - The Rock Shop
7/17 - Sound Bites Series at Fulton Stall Market
The Soundtrack of Our Lives - Mantra Slider

The Soundtrack of Our Lives - 2011 Tour Dates
06/02/11 Champaign, IL High Dive
06/03/11 Chicago, IL Martyr's
06/04/11 Toronto, ON Lee's Palace Canada
06/05/11 New York, NY Le Poisson Rouge
06/06/11 Brooklyn, NY The Bell House