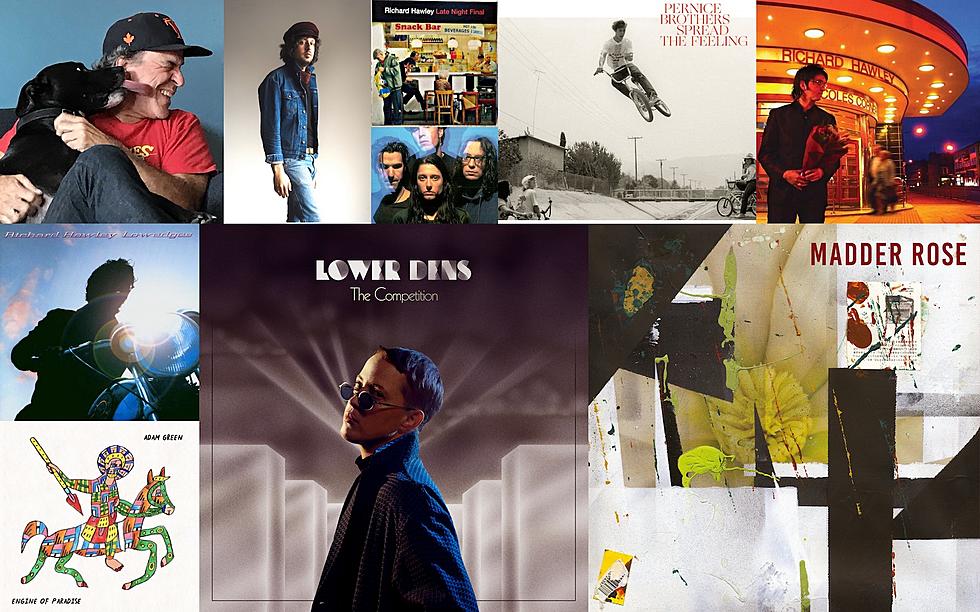 Bill's Indie Basement (9/6): the week in classic indie, college rock, and more
Hello September readers! Last week was a big week for new releases, and next week is even bigger. This week, not so much but, like shows in NYC on any given night, there are always some good options. Today we've got new albums from Lower Dens, '90s NYC indie rock band Madder Rose who are back with their first record in 20 years, and onetime Moldy Peach Adam Green. Plus: Richard Hawley's first five records are getting reissued on vinyl, and check out a few songs from Pernice Brothers' first new album in five years.
If you need more new album action, Andrew's got you covered with Notable Releases (Squid, and more). If you need more Basement-approved stuff: Supergrass are getting back together for a 25th anniversary tour (fingers crossed they're gonna come to North America); and I'm curious to hear this new mix of R.E.M.'s Monster (an album that hasn't aged so well for me).
1

Lower Dens - The Competition

Jana Hunter further refines Lower Dens' atmospheric synthpop while applying a welcome lyrical directness and sense of humor.

Jana Hunter has never sounded more confident than on Lower Dens' new album, The Competition. Taking the neon-lit "To Die in L.A," from 2015's Escape from Evil, as a jumping off point, The Competition is Lower Dens' most expansive and lush record yet, with a widescreen sound that cribs from all corners of the '80s. You can hear Top 40, arena rock, John Hughes soundtracks, Windham Hill new age, Wire's synth era, Talk Talk, and more Regan Era signifiers all over the record. Songs like "I Drive," "Young Republicans," and "Buster Keaton" gleam like polished steel, thick with synthesizers, and soaring choruses really complement Hunter's husky, commanding vocals.

Hunter has been through a lot in the last four years, undergoing treatment for gender dysphoria with hormone replacement and surgery, and those struggles have perhaps, in part, inspired the new lyrical directness on The Competition, be it the personal ("Two Faced Love," "Galapagos"), or the political ("Empire Sundown," "Young Republicans"). Not that those subjects are mutually exclusive, necessarily, but the political numbers are distinct. They also show off Hunter's cutting sense of humor. "In every generation there are those who just don't fit in," they sing, adding "we never ask to be this way." If you think the song's about one thing, it soon becomes clear that it's not, with the next line: "Born without souls, or blood, or skin...we're Young Republicans." (The video really hammers this home.) "Young Republicans," which Lower Dens' record label claimed was "too hot" for commercial radio (a bone-dry joke, I think -- Lower Dens are not a band I think of with "commercial radio," hooky as this is), is one of the best songs on the album, along with the emotionally bare "I Drive," that sells it just with delivery and hooks. "I was wild and in a lot of pain as a kid; home life was very bleak, and pop songs were a guaranteed escape to a mental space where beauty, wonder, and love were possible," says Hunter. "I wanted to write songs that might have the potential to do that." Much of The Competition does just that.

Lower Dens opened for Of Monsters & Men last night at Radio City Music Hall (weird pairing but if it gets you in front of more people...), and tonight they celebrate The Competition's release with a free party at Elsewhere where Jana will be DJing. Lower Dens also play Pitchfork's Octfest with Dungen, Mogwai, Screaming Females, Parquet Courts, and more.

2

Madder Rose - To Be Beautiful

Underrated '90s-era NYC indie group returns, in quieter, more sultry form, for their first album in 20 years. It's great.

New York City has been a hotbed of indie rock for the last 20 years or so, but in the early and mid-'90s there wasn't a whole lot going on. Most of the bands were coming out of the Pacific Northwest, the South or Midwest, and NYC had Blonde Redhead, Cake Like, Lotion, Guv'ner, Luna, Ivy, Jon Spencer Blues Explosion, Bowery Electric, Pavement (kinda), and not a lot else. (I am probably missing some obvious ones.) There was also Lower East Side band Madder Rose, who made wonderful, fuzzy, melodic, occasionally psychedelic rock. Led by singer/guitarist/songwriter Mary Lorson and guitarist/songwriter Billy Coté, they were a little like The Blake Babies but with more of a druggy New York attitude and, on the slow numbers, real beauty. The band released two good albums for "cool" Atlantic imprint SEED (1994's Panic On is really good), then 1997's not-so-good, trip-hop-influenced (everyone loved Tricky in the mid-'90s!) Tragic Magic on Atlantic proper, before going back to their roots for 1999's Hello June Fool on Cooking Vinyl. They broke up the same year as that last one, just when things were about to heat up in their hometown.

Lorson and Coté continued to work together, often helping out on each others post-band projects (like Lorson's Saint Low, whose albums Coté produced). At some point this decade, there were rumors there might be a new Madder Rose album and now here we are, 20 years after breaking up, with To Be Beautiful. There's not a lot of indie rock on this one, but the bones of Madder Rose are still here. To Be Beautiful is nine truly lovely, laid-back songs full of warm atmosphere, sad grandeur and a little scruff. (The album isn't subtitled "Pretty Songs about Death, with Noise" for nothing.) The layered and inventive arrangements sound modern, but don't call attention to themselves, and the songs are full of great little touches. More than anything, it all works toward highlighting Lorson's smoky, sultry voice, Coté's textured guitarwork and their great songs. The album hits a high late in the record with "On Dit Adieu" and the harmony-rich "Rose," which are both about lost friends, and both sound like Madder Rose finally figured out how those trip hop influences could work in their music without, y'know, sounding like trip hop.

You could also call To Be Beautiful an adult contemporary record for those who would never ever listen to adult contemporary and it's not a million miles from what Cowboy Junkies or Hope Sandoval are doing these days. In other words, it's "mature," but not boring. To Be Beautiful transcends the "comeback" tag, works on its own gorgeous merits and succeeds wildly in the goals of its title.

3

Richard Hawley - first five albums reissued on vinyl

Pure class, back on wax

The great Richard Hawley, who played in Pulp, The Longpigs, and tried out to be Morrissey's lead guitarist / collaborator in the early '90s (a job that went to Boz Boorer), is one of the most underrated artists of the last 20 years. Given what's happened to Moz in the last decade, maybe it's not so bad they didn't work together (but what a What If), but you can see how it would've made sense given Hawley's solo career, which is steeped in the dreamy side of early '60s rock n' roll, country and orchestral pop. (All with his hometown of Sheffield as a thematic backdrop.) He's a crooner with swoon-inducing pipes that fit perfectly with his sound, conjuring romantic days-gone-by. The dude is pure class and still pumping out great records, like this year's Further.

Hawley's great first five albums are all getting new pressings via Setanta, the label that put out his first three, Richard Hawley, Late Night Final and Lowedges. (Those three were also reissued in 2014.) Cole's Corner and Lady's Bridge, which fetch for well over $100 each for original vinyl copies online, are getting their first vinyl reissues since their initial mid-'00s release.

The template for his sound -- a little Roy Orbison, a little Everly Brothers, a little Marty Robbins -- was there from the start with his terrific 2001 self-titled debut, a mini-LP. Apparently, he made the recordings using leftover Pulp studio time and, when making it, never actually thought the songs would see the light of day. Glad they did. That sound, and his songwriting, were honed further on Late Night Final (also out in 2001) and 2003's Lowedges, both of which are fantastic. If you need to distill the magic Hawley makes in a few songs, head to Late Night Final's "The Nights Are Cold" and "Can You Hear the Rain Love" or Lowedges' "Run to Me" and "Darlin'."

Late Night Final got a U.S. release by Bar-None and Lowedges came out over here via XL, so there was bigger interest brewing for his next record, at which point Hawley signed with Mute worldwide. Working with a bigger budget, he wisely used it on a full string section. The result was 2005's stunning, Mercury Prize-nominated Cole's Corner, which is loaded with some of his best-ever songs ("Just Like the Rain," "The Ocean," "Born Under a Bad Sign," the title track) with string arrangements that might bring a tear to your eye. 2007's Lady's Bridge was nearly as good, with classics like "Tonight the Streets Are Ours," "I'm Looking to Find Me," "Dark Road," and "Valentine."

Cole's Corner is due out September 13, Lady's Bridge is out September 27, and Richard Hawley, Late Night Final and Lowedges are all out October 27. Despite repeatedly vowing to never buy another vinyl record again, I am eyeing Late Night Final, Lowedges and Cole's Corner. Stream those here:

Also: Setanta, while you're reissuing things, how about putting The Divine Comedy's Liberation, Promenade and Casanova back on wax? And those Edwyn Collins albums?

4

The Pernice Brothers - "Mint Condition"

Lead single from The Pernice Brothers' first album in nine years.

Though he's made records as part of New Mendicants, Roger Lion and a reignited Scud Mountain Boys, Joe Pernice hasn't made a record under the Pernice Brothers banner since 2010's Goodbye Killer. Spread the Feeling has been in the works for a while; the album title was announced six years ago and, according to Joe, he recorded a whole album and scrapped it. But finally, here we are and the whole album will be out on Monday (9/9). Till then, we've got first single and lead track "Mint Condition" which is the sort of sparkling, slightly twangy powerpop you expect from Pernice Brothers. Opening with chugging muted guitar a la The Cars' "Best Friend's Girlfriend," the song opens up wide into more typically Pernice-y territory with honeyed harmonies, twin leads, handclaps and an especially dream middle eighth. (It almost seems like there are two different middle eighths.) Joe has always been able to pack in the hooks, and loads "Mint Condition" with an amazing amount of catchy bits for its three-minute running time.

Pernice Brothers have also made the album's bonus tracks available to stream: an opulent Beach Boys-esque, baroque surf instrumental, "Frank Say," and then what is maybe the closest Joe Pernice has ever come to punk, "Knock Me Down." Check all that out now:

5

Adam Green - Engine of Paradise

The onetime Moldy Peach returns to the orchestrated baroque pop of his early-'00s records

Speaking of swoony strings (see Madder Rose and Richard Hawley, above), Adam Green's new album, Engine of Paradise, is a return to the baroque, orchestrated stylings of his early-'00s solo output. Which is welcome, as his slightly melodramatic, highly enunciated baritone is suited best for these kind of arrangements. (It's more than a little Scott Walker.) It's a concept record that brings to life through song a companion graphic novel about "satirical war epic is about the clash of humans with machines, the meeting of spirituality with singularity, and the bidirectional relationship between life and the afterlife." I'm not sure I follow what's going on, concept-wise, and maybe this album could have benefited from theatrical treatment like his 2016 film Aladdin, but Engine of Paradise sounds great, and songs like "Freeze My Love" and album-closer "Reasonable Man" (which features Florence Welch) work on their own.