Lucero, Centromatic, Nicole Atkins, Holly Miranda, Zola Jesus, more @ Club DeVille (BV/DailyMotion day party) – pics & video
photos by Tim Griffin
Lucero

"...The bands were running late at Club Deville, but I was pleased to hear Centromatic on the stage. They sounded like classic rock and when Steve Miller Band's "Rock'N Me" came on after their set, it was in the same vein, but Centromatic was above and beyond.
Lucero came on next and killed it. Nichols' voice is like sandpaper on gravel and it has a booze-soaked and sorry quality that makes it sound like the hard nights and heartbreaks that he sings about are real experiences. Lucero is one of the few bands that I've seen (Free Energy comes to mind as well) that broke through to fans. Quite a few folks were dancing, jumping, singing and generally rocking out during their set..." [Rock Candy]
...It was a perfectly rowdy ending to the BrooklynVegan/DailyMotion day party at Club DeVille on Friday, March 19th (one of our seven shows this year). The day's eclectic lineup ranged from country to electro to singer-songwriter to comedy. We also made a huge effort to feed people and give away free stuff this year. Those who stopped by the free show got free Ear Piece ear plugs, Magic Hat beer, Firefly Sweet Tea vodka (that lasted the entire 6+ hours), Gundlach Bundschu wine, Raw Rev bars, Nadamoo ice cream, Hail Merry "Grawnola", breakfast tacos and Daily Juice catering. Action For Animals was on hand with baked goods for sale that helped raise $800 for charity. Somebody (and every band and comedian) won some Original Penguin clothes. Members of Passion Pit (aka the Wet Bandits) played the music between bands. KEXP was filming video. All in all an amazing day.
Catch Lucero in NYC at Music Hall of Williamsburg this Tuesday, March 30th with Glossary (tickets are still on sale). Centro-matic kicks off a house tour in Houston the same day.
You've already seen some of this Friday party HERE, HERE, HERE and HERE. Pictures, reviews and videos from it continue below...

--
Passion Pit DJs (outside)
Princeton (outside)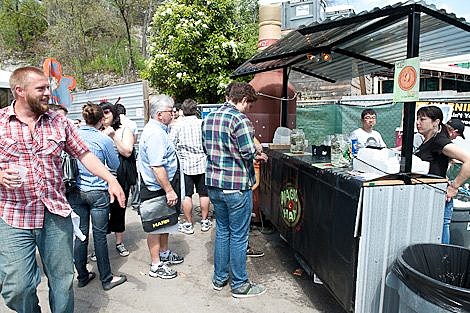 Active Child (inside)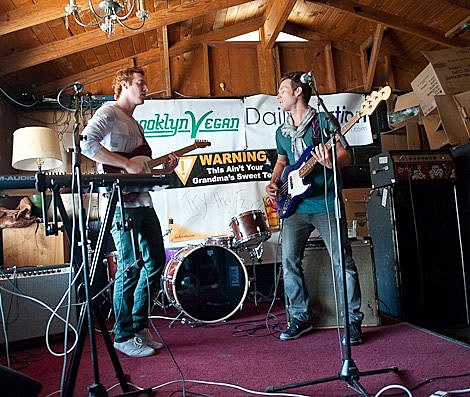 Active Child are channelling some serious '80s here: Bronski Beat, Blamcmange, Erasure...and just covered New Order's "Ceremony." -bp
Twin Sister (outside)
Pearly Gate Music (inside)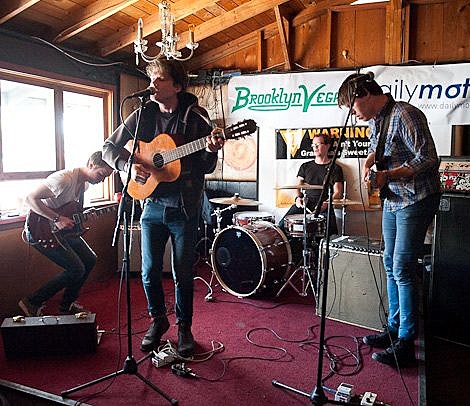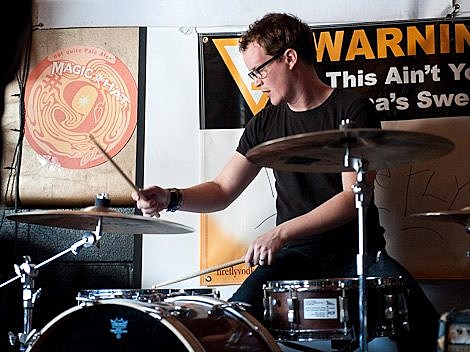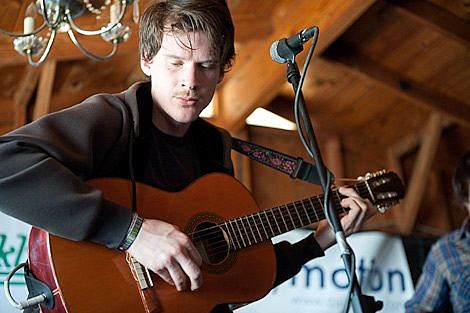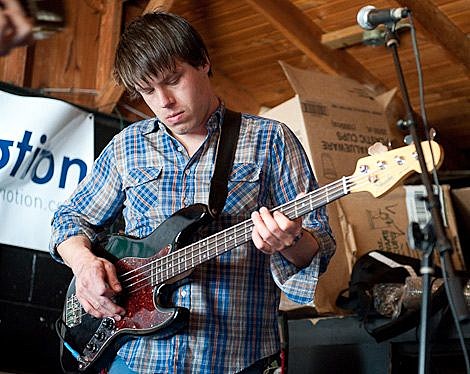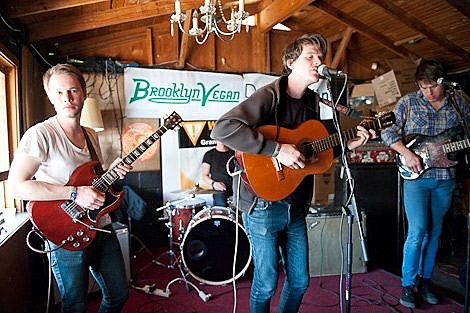 Sondre Lerche (outside)
Part-time Brooklynite Sondre Lerche has the crowd at Club Deville eating out of the palm of his hand. What a charmer. -bp
More Sondre Lerche HERE.
Nicole Atkins (outside)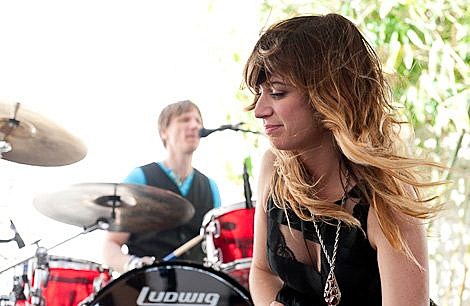 "I was really there to see Nicole Atkins, though - since touring the hell out of her 2007 debut Neptune City, Atkins has lain low, parting with both her label and her band; The Sea has been replaced with The Black Sea, but they weren't on hand for her SxSW appearances. Instead, she conscripted Austin's Future Clouds & Radar to back her up and it's pretty fair to say they were up to the task. Her set was comprised mainly of new material which confirmed not only that she was backing away from the stylistic ranginess of her debut in favour of a leaner, more focused classic rock-derived sound, but that she was damn good at it. Interestingly, she didn't play guitar at all during the set, leaving six-string duties to two of Future Clouds - time will tell if this was just for these shows or if she's put down the guitar for good. For a set closer, she dedicated a beautifully torchy cover of Sparkehorse's "It's A Wonderful Life" to the late Mark Linkous. Two years since seeing her last is far too long; news of a new record is anxiously awaited." [Chromewaves]
Tig Notaro (inside)
More of Tig Notaro HERE.
Katie Stelmanis (inside)
"Katie Stelmanis and her band played the BrooklynVegan/DailyMotion day party that happened Friday, March 19th at Club DeVille in Austin, TX. As they announced at the show (and as you'll see if you visit their Myspace), the band is going with a new name, Private Life, effective immediately (though you'll probably see them listed as the former for a while). They've added a new bass player too, since their show at the Masonic Temple in November." [BrooklynVegan]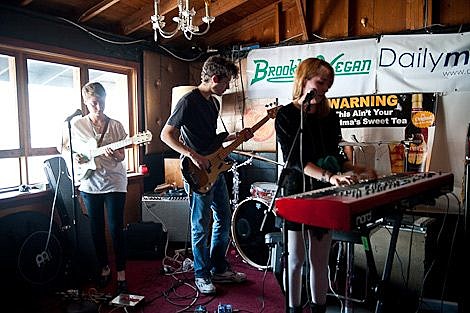 Joe Mande (outside)
Joe Mande (on at the moment) & Tig Notaro are troopers - both performed comedy sets to very tough crowds. @bvsxsw
More of Joe Mande HERE.
Holly Miranda (outside)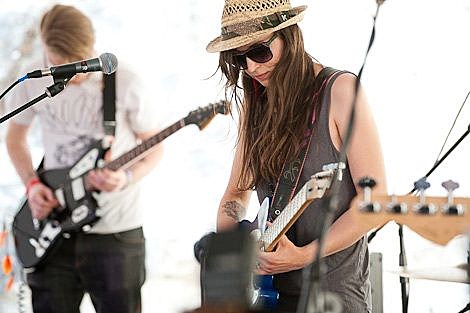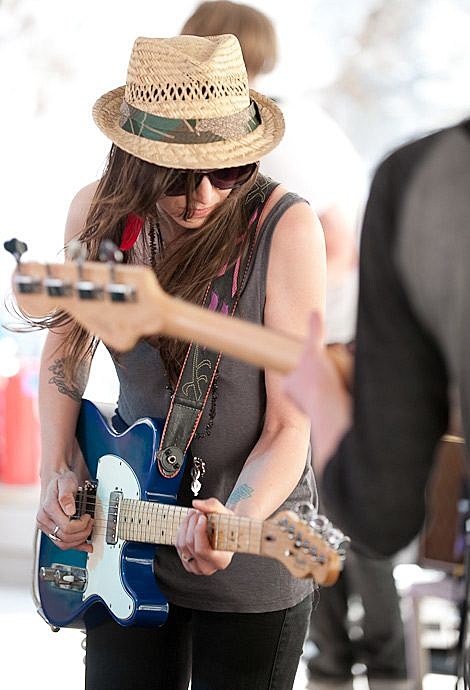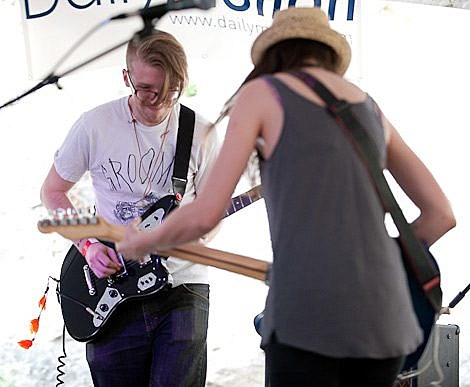 Zola Jesus (inside)
"ZOLA JESUS: Keyboard-saturated gothpunk @ its most life-affirming & holyshitbeautiful.In the hottest sun-baked cabin in Texas" - Rolling Stone
(Abe Vigoda were supposed to play right around this time, and they did show up with their gear, but I think they left because we were running slightly late and they scheduled a gig just one hour later at another venue - nobody could figure it out. If someone saw them actually play at our show, let me know!)
The Antlers
"Holly Miranda joined the Antlers on stage for their epic ten minute show closer. Centro-matic on next @bvsxsw @ club deville"
MNDR (inside)
Little Boots

"Then we saw another of my favourite gigs at a teeny crammed Brooklyn Vegan showcase, a girl called MNDR. She's a kind of amazing one woman show that kind of DJs all her own self produced backing tracks live and sings a bit like Cyndi Lauper and dances like crazy! I've been listening to her sampler CD a lot since I got back, Fade to Black is especially good which you can hear at www.myspace.com/mndrtronica (MNDR stands for Amanda). [Little Boots]"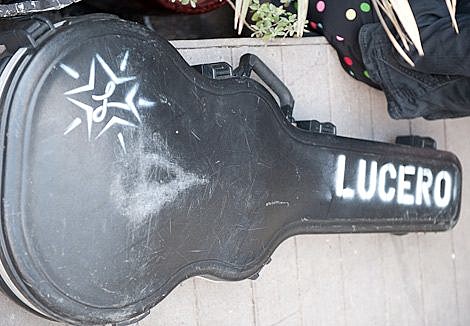 The Wave Pictures (inside)
Centro-matic (outside)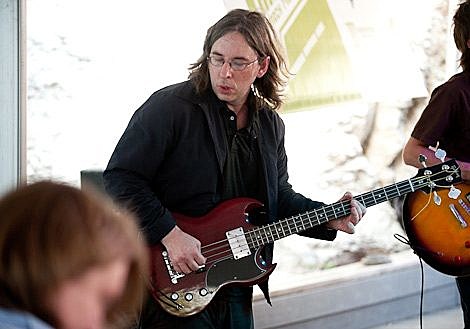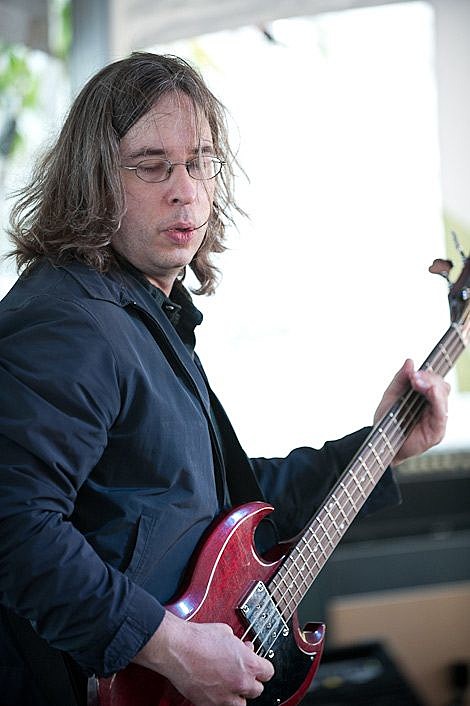 Lucero (outside)
"Thank you club DeVille for letting us stay open late. 2 songs into Lucero - fists are in the air. People are singing along. @bvsxsw"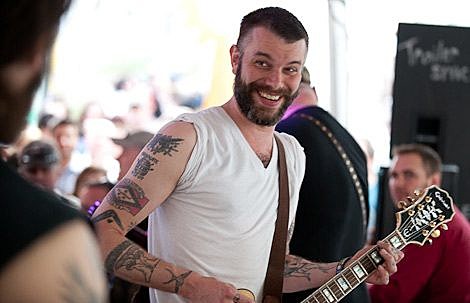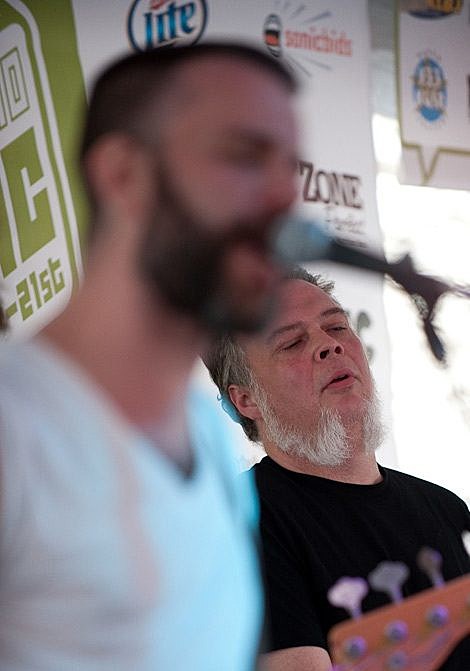 The Antlers had some technical difficulties during their set...

The Antlers - Two (Live)
Uploaded by brooklynvegan.

MNDR - Fade to Black (Live)
Uploaded by brooklynvegan.

Katie Stelmanis/Private Life - BVSXSW day party 3/19
Uploaded by brooklynvegan
Find lots more SXSW videos at the BrooklynVegan DailyMotion account, and thanks to our partner KEXP for providing these:

Sondre Lerche - Good Luck
Uploaded by KEXP.

Sondre Lerche - Airport Taxi Reception
Uploaded by KEXP.

Princeton - Worried Mind
Uploaded by KEXP.

Princeton - Sugarcube
Uploaded by KEXP