Ludicra, Krallice, Castevet & Atakke played Europa (pics)
words by Stefan Raduta, photos by BBG
Laurie and John of Ludicra

He is risen. By he, I mean John Cobbett. And by risen, I mean up from the hospital bed after being treated for a burst appendix and ensuing abcess. Cobbett is on the mend (though he still needs your help) and he joined his mates in Ludicra when they headlined the BV/Osiris show at Europa on 4/18 with a little help from Krallice, Castevet, and Atakke. Stefan filed the following review from the show.... -BBG
I've been hearing good things about Brooklyn's Atakke, but seeing them for the first time convinced me this really is a band to keep a close eye on. Hands down, they have it all: intense, neck-breaking riffs, great drumming and to top it all, a very charismatic (and quite pretty) bullet-belted female singer that seriously raises some pulses on stage. I mean, this girl can scream her lungs out, she's not fooling around. Just awesome! Great set, super catchy breakdowns, I was really impressed with them. They sort of remind me of a thrashier Benediction, and I'm willing to bet they're all into early Sepultura. Thumbs up.
continued below w/ more pictures, videos & setlists...


Besides Ludicra, Brooklyn's Castevet was the other band I was really dying to see once this great bill was announced. In 2007 I saw them by chance at Rockstar Bar (I actually think that was their first gig) and was totally awestruck by Andrew Hock's (check out his grind band Biolich, and death/jazz Ehnahre) straight-forward, savage guitar style and plain dirty, raunchy vocals. Three years have passed, but I remember that small gig like it was yesterday... that's how blown away I was by this kid. I had no idea Castevet was not only still active, but just about to release their debut album Mounds Of Ash on Profound Lore (really? is there any new killer band this label hasn't got its hands on?)
Thankfully, nothing's changed and Andrew still turns into a beast on stage. It's a bit hard to put their music into words...It's a really savage and raw mixture of black metal, post-hardcore and Voivod if you will. Definitely the most promising new band in Brooklyn, right up there with Krallice (they actually recorded their album in Colin Marston's studio). I'll put it like this, they'd be the perfect opener for Cobalt. I think Sunday they could have benefitted from more volume, as it kinda pissed me off that they weren't as loud as Atakke. One thing is sure... this a band you have to keep your eye on. Mounds of Ash is out May 25th.
When it comes to Krallice, their shows have simply become ridiculous. Someone oughta start a petition and raise signatures to get these guys to take it down a notch, slow the hell down...it's almost becoming unfair for everyone else who's sharing a bill with them. Whether you're into their own brand of progressive black metal or not, seeing them live becomes painfully obvious that these guys just can't be touched, period. I think Mick Barr (Ocrilim, Octis, Orthrelm, Crom-Tech, etc) and Colin Marston (Behold...The Arctopus, Byla, Dysrhythmia, and now Gorguts) have become the fastest, most menacing guitar duo in today's scene, and I'd love it if someone would prove me wrong. Out of all of the zillion projects they're in, they really seem to have hit the bull's eye with Krallice. Backed by Lev Weinstein's (also in Bloody Panda) monstrous drumming and Nick McMaster on bass (also BP), there's just no stopping them, it's utterly scary.
Sunday they performed a brand new song off their as of yet untitled new album and it sounded phenomenally good (video of it is below). Overall, a killer set as usual, they give you no time to catch a breath, it's just relentless drone, pounding blast beats and yells on and on and on. I have to admit though, I wish I saw more (or any for that matter) crowd movement at their gigs, there are moments where a serious pit would be more than appropriate, and I'm sure the guys wouldn't mind it...last year's November 13th at Union Pool really sticks out, that was a great show when people actually reacted accordingly...
Finally, close to midnight San Francisco's Ludicra began their headlining set. I don't have enough praise words to say about this long-standing band, their show was just spectacular, much like their newest album The Tenant (out now on Profound Lore, what a shock). I have to shamefully admit that I've only gotten into them in the past few years, right after drummer Aesop Dekker joined Agalloch (who I saw in Romania). The band's pedigree is actually quite diverse, guitarist John Cobbett playing in Hammers Of Misfortune and bassist Ross Sewage having played with Impaled.
First thing that hit me was the obvious chemistry between the five members, they're so comfortable with each other on stage... they could just play blindfolded. Ludicra's music is beautiful on CD but it becomes such a magical experience witnessed live. The soft, heartbroken melodies backed by constant pummeling drums and fronted by lead vocalist Laurie Sue Shanaman's tormented, sickening vocals really provide a platform for a serious soul-search, for an inner-journey to the very depths of your being. I love the very personal approach to music, their original black metal sound cut so often by superb guitar solos, the really uplifting and exquisite musicianship.
It's awesome when a band releases a killer album and their live set turns out to be even more devastating. The most striking part of their show seems to be the antithesis, the contrast between Laurie's demented screams and Christy's clean voice, particularly the way Laurie physically reacts to the music is spellbinding. She stops and twists, almost possessed at times, ready to pull her hair out, to cut her wrists open. Her face expression leaves you speechless...so filled with despair and pain, it feels like she's just dying on that stage, screaming the life out of her lungs.
Utterly devastating and moving from beginning to end, Ludicra conquered my heart and I cannot wait until the day I will see these guys again. By far, one of the best shows I've seen since living in NYC....Finally I understand why so many people are saying they're San Francisco's best underground band.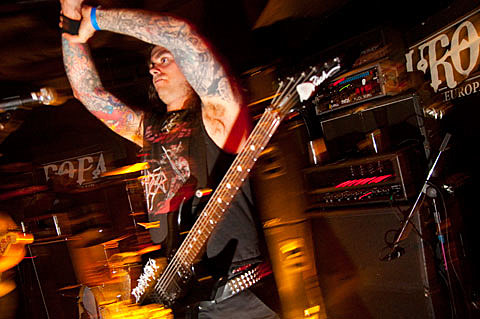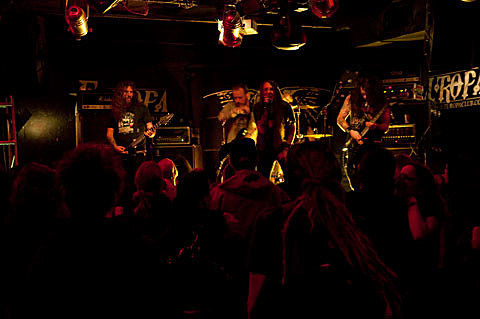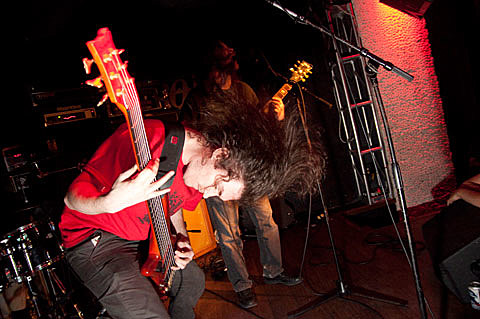 Castevet | NYC @ Club Europa | 18 Apr 2010

Krallice - "The Mountain" | NYC @ Club Europa | 18 Apr 2010

Krallice - New song | NYC @ Europa | 18 Apr 2010

Ludicra - "A Greater Silence" | NYC @ Europa | 18 Apr 2010

Krallice setlist:
1. new one, no title yet
2. dimensional bleedthrough
3. another untitled new one
4. autochthon
5. the mountain