LUPE FIASCO playing NYC + pics from the 2007 WOODIES (Tokyo Police Club, Spank Rock, Rilo Kiley)
I saw Lupe Fiasco perform last week - ONE WHOLE SONG (and with a member of Fall Out Boy) at the mtvU awards at Roseland - the same show Spank Rock was drunk at. That's Lupe in the photo above. It was taken by Leia Jospe for BrooklynVegan. So were all the other pictures in this post. More photos of Lupe, Rilo Kiley (played 2 or 3 songs), Annie Lennox (accepted an award), Peter Bjorn and John (nominated, men about town), Spank Rock (played 2 songs), Tokyo Police Club (played 2 or 3 songs, then explored the basement of Roseland with us) & other characters present at the event....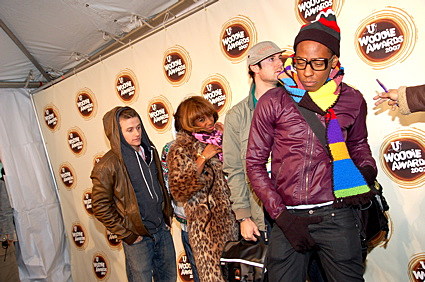 deep in the bowels of Roseland with Tokyo Police Club....