Lupe Fiasco played Webster Hall w/ help from Black Milk, John Legend, Sway & Dosage (pics & setlist)
photos by Andrew St. Clair
Lupe Fiasco's "Lasers" album finally will be released to the public this Tuesday. It's been a long time coming -- his last record was "The Cool" in 2007 -- but it's not at all the album the Chicago rapper wanted to make. His valiant attempts to buck up and promote it are downbeat and disheartening. When I first chatted with Fiasco during some down time last week in New York City, I congratulated him on the album's first single, "The Show Goes On," which had just gone gold (selling 500,000 singles). He huffed, his whole attitude was "whatever" as he responded: "It's their record. My words, their music. They forced this song to be a No. 1 single, and that's what they got. I can't take any credit for it."

He's referring to Atlantic Records, the once historic label (founded by Ahmet Ertegun) that is now a subsidiary of the Warner Music Group. According to Fiasco, various players at Atlantic thwarted his artistic mission on this, his third album for the label -- a process that dragged on for three years and ended only when several hundred fans scheduled a protest last October in downtown Chicago and outside the label's New York City offices. -[Chicago Sun-Times]
Regardless of Lupe Fiasco's feelings on Lasers, the Chicago MC gave a highly-energetic performance as he celebrated its release last night, 3/7, at a sold-out headlining NYC show at Webster Hall. Special guests included John Legend, Sway, and Dosage. Black Milk, who also opens the upcoming Roseland show, opened the night.
Lupe also recently played a sponsored event at the smaller Music Hall of Williamsburg. His next show may be the Atlantic Records showcase (he can't be that angry) with Wiz Khalifa and Cee-Lo at SXSW.
More pictures from Webster Hall, setlist included, below...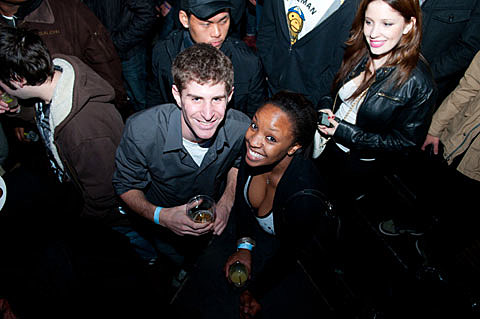 Black Milk
Lupe Fiasco
Dosage
John Legend
Sway