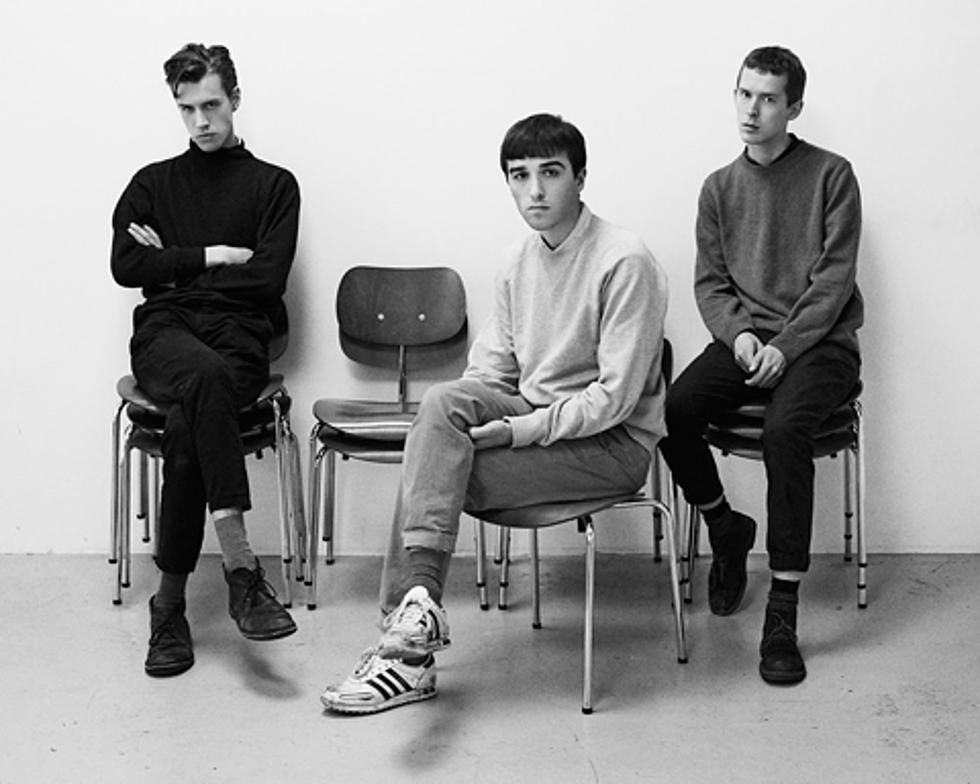 Sacred Bones, Danish punk & more (Lust for Youth, Damien Dubrovnik, Croatian Amor, Container, Uniform, Pharmakon)
Lust For Youth (photo by Rasmus Jensen

We've mentioned that Posh Isolation's Lust for Youth and Damien Dubrovnik are playing the Posh Isolation fest in LA next weekend (May 16-17), and now both bands have streamed new songs from forthcoming albums. The deluxe version of Lust for Youth's International LP, out on 6/10 via Sacred Bones, is going to be accompanied by an International Remixes EP, featuring remixes of songs off of International by Sean Ragon (Cult of Youth), Silent Servant, Helm, and more. The Silent Servant remix of the title-track--a gorgeous synth number that builds from minimalist beginnings into heady dance bliss--is streaming below, along with another previously released song off of International.
Damien Dubrovnik, meanwhile, sits at the other end of the electronics spectrum, blasting out an intoxicating PE-style performance on "Penis Corset" off of a forthcoming 7", Patterns of Penetration, which is out on 5/26 via ALTER. For those trying to keep it straight, Lust for Youth is primarily the vehicle of Hannes Norrvide, though he later added Malthe Fischer and (live) Loke Rahbek (also of the now-defunct Var) to the lineup, while Damien Dubrovnik is Rahbek's project with fellow Posh Isolation label boss Christian Stadsgaard.
Lust for Youth will be playing a few US dates in between gigs in Europe, including two shows in Brooklyn--the Sacred Bones/AdHoc Northside show on June 14 at Baby's All Right with Container, Pharmakon, Uniform, and Croatian Amor, and a free 7 PM in-store on June 16 at Rough Trade. Tickets for Baby's are on sale now, no wristband or RSVP needed for the Rough Trade show. All of their dates are listed below.
A bit about that Baby's lineup: Container delivers some pretty wild techno (and recently released a new album), Pharmakon's noisy reputation proceeds her, and Uniform is a side project of members of Believer/Law and The Men. Croatian Amor is another of Loke Rahbek's projects--to add to the dizzying list--and traffics in something akin to ambient electronics. Listen to streams of all, with lists of tour dates for all, below.
Iceage in Portland, 2013 (more by Autumn Andel)

As discussed, Uniform will be opening for Iceage, another member of the Danish invasion, when they play Glasslands on May 24. (To bring things full circle, Iceage's Elias Bender-Rønnenfelt contributed guitars to the LFY track "Epoetin Alfa" below) Tickets for that show are still available. Iceage also play Home Sweet Home with NYC punks Anasazi on May 25 in a special Sunday installation of the weekly Nothing Changes party. And, for good measure, we should mention that Danish punks Lower, who are also playing the Posh Isolation LA fest, bring their tour to Nothing Changes the following Wednesday, May 28 (two days before they play Acheron).
One last related note--as previously mentioned, Pharmakon is also playing Pitchfork's Northside show with Marissa Nadler, Youth Code, Pyrrhon (Hey Doug!) and Couch Slut. Tickets are still available.
All Lust for Youth dates are listed, with the many streams, below...

---
Lust For Youth - Epoetin Alfa

Lust For Youth - International (Silent Servant Remix)

Lust For Youth - International Remixes EP Tracklisting:
1. New Boys (I'm Falling Club Mixx by Sean Ragon of Cult of Youth)
2. International (Silent Servant Remix)
3. After Touch (Thulebasen Remix)
4. Epoetin Alfa (Liquid Teddy Gram Marshstepper Remix)
5. Illume (Played by Sand Circles)
6. Lungomare (Helm Remix)
7. Armida (Incongruous Drum Mix by Total Control)
8. After Touch (Remix by Ben Chisholm of Chelsea Wolfe)
Damien Dubrovnik - Penis Corset

Croatian Amor - LA Hills Burn At The Peak Of Winter

Pharmakon - Bang Bang (Nancy Sinatra cover)

Lust for Youth -- 2014 Tour Dates
May 17, 2014: Los Angeles, CA, The Church on York
May 28, 2014: Berlin, DE, Urban Spree
May 30, 2014: Paris, FR, Espace B *
Jun 7, 2014: Copenhagen, DK, Distortion Final Party
Jun 14, 2014: Brooklyn, NY, Baby's All Right †
Jun 16, 2014: Brooklyn, NY, Rough Trade
Jun 19, 2014: Boston, MA, The Church of Boston §
Jul 1, 2014: London, UK, Rough Trade
Jul 2, 2014: London, UK, Shacklewell Arms
Aug 9, 2014: Copenhagen, DK, Pumpehuset
§ w/ Amen Dunes
* w/ Croatian Amor
† w/ Container, Pharmakon, Uniform, Croatian Amor
Uniform -- 2014 Tour Dates
05/21/2014 Chicago, IL / Subterranean *
05/22/2014 Cleveland, OH / Now That's Class
05/23/2014 Philadelphia, PA / Moonbase *
05/24/2014 Brooklyn, NY / Glasslands Gallery *
06/14/2014 Brooklyn, NY / Baby's All Right w/ Lust for Youth, Container, Croatian Amor, Pharmakon
Pharmakon -- 2014 Tour Dates
May 13, 2014: Portland, OR, Mississippi Studios
May 14, 2014: San Francisco, CA, The Knockout
May 15, 2014: Los Angeles, CA, The Church on York (w/ The Haxan Cloak)
May 24, 2014: Utrecht, NL, Le Guess Who?
May 25, 2014: Groningen, NL, Vera
May 26, 2014: Hamburg, DE, Hafenklang
May 27, 2014: Berlin, DE, Berghain Kantine
May 28, 2014: Cologne, DE, Baustelle
May 30, 2014: Birmingham, UK, Supersonic Mini Festival
May 31, 2014: Liverpool, UK, 24 Kitchen Street
Jun 1, 2014: London, UK, BadVibrations (w/ Föllakzoid)
Jun 4, 2014: Paris, FR, Villette Sonique Festival
Jun 5, 2014: Amsterdam, NL, OCCIII
Jun 14, 2014: Brooklyn, NY, Saint Vitus Bar (w/ Marissa Nadler, Youth Code, Pyrrhon, Couch Slut)
Jun 14, 2014: Brooklyn, NY, Baby's All Right (w/ Lust for Youth, Uniform, Container, Croatian Amor)
Jul 10, 2014: Keflavik, IS, ATP Iceland
Pharmakon -- 2014 European Tour Dates supporting Swans
Sept 25, 2014: Brussels, BE - AB club
Sept 26, 2014: Amsterdam, NL - Paradiso Music Hall
Sept 28, 2014: Paris, FR - LA MAROQUINERIE
Sept 30, 2014: La Rochelle, FR - La Sirene
Oct 1, 2014: Barcelona, ES - Sala Apolo
Oct 2, 2014: Madrid, ES - Shoko
Oct 3, 2014: Durango, ES - PLATERUENA
Oct 4, 2014: Porto, Portugal - AmpliFest
Oct, 7, 2014: Fribourg, CH - FRI-Son
Oct 8, 2014: St. Gallen, CH - Grabenhalle
Oct 9, 2014: Torino, IT - Hiroshima Club
Oct 10, 2014: Bologna, IT - Estragon Club
Oct 11, 2014: Roma, IT - Circolo Degli Artisti
Oct 12, 2014: Milan, IT - Alcatraz Milano
Oct 14, 2014: Zagreb, HR - Pogon Jedinstvo
Oct 15, 2014: Budapest, HU - A38 Ship
Oct 16, 2014: Ljubljana, SL - Kino Kiska Centre for Urban Culture
Oct 17, 2014: Vienna, AT - Arena Big Hall
Oct 18, 2014: Krakow, PL - Unsound Festival
Oct 20, 2014: Prague, CZ - Lucenra Music Bar
Oct 23, 2014: Leipzig, DE - Schauspiel Leipzig
Oct 24, 2014: Cologne, DE - Gebaeude 9
Oct 25, 2014: Hannover, DE - MusikZentrum
Oct, 27, 2014: Hamburg, DE - Kampnagel
Oct 29, 2014: Dresden, DE - Beatpol
Oct 30, 2014: Frankfurt, DE - Mousonturm
Oct 31, 2014: Karlsruhe, DE - Jubez
Nov 1, 2014: Munich, DE - Feierwerk
Croatian Amor -- 2014 Tour Dates
5/16-17 Posh Isolation Fest Church on York Los Angeles, CA
6/14 Baby's All Right Brooklyn, NY w/ Lust for Youth, Pharmakon, Container, Uniform
Container -- 2014 Tour Dates
5/18- Pawtucket, RI @ Machines with Magnets
6/6- Los Angeles, CA @ Complex
6/7- San Francisco, CA @ Mercer
6/12- Seattle, WA @ Kremwerk
6/14- Brooklyn, NY @ Baby's All Right w/ Lust for Youth, Pharmakon, Croatian Amor, Uniform