Lykke Li & Grimes played Webster Hall (night 2 pics & setlist)
Lykke Li @ Webster Hall

"She looks like a normal non-idiotic Gaga. With better music." Or at least, that's what the consensus seems to be among Lykke Li fans on the music site Last.fm.
Lykke Li's rise to fame over the last few years has not been incidental. She's got an ear for catchy pop music, sexy dance moves, and just the right combination of Swedish genes. On stage, she seems to exude a cool confidence. And yet, in the song "Dance, Dance, Dance," she insists that she's actually quite shy. Of course, with her dramatic eye make-up, form fitting clothing, and sleek physique, she's gorgeous, but not in a way that incites resentment or makes her seem elitist or impossible to relate to. When she encourages you to dance, you want to respond accordingly, even though the room is far too crowded and you know you won't have the space to dance as gracefully as she does. Behold the draw of Lykke Li.
"We're lucky we're seeing her play here. She won't play anywhere this small again," a concert-goer said to his companion. One thing's for sure: She's certainly a tough act to precede.
But despite the fact that few people at Wednesday night's show at Webster Hall (the second of two sold out shows at the venue) seemed to even know there was an opener on the bill (let alone the identity of said opener), the audience seemed highly receptive to the Toronto one-woman outfit Grimes - even when she (Claire Boucher) momentarily flubbed the intro to her first song.
With her catchy keyboard-driven melodies and thumping bass lines, Grimes at times reminds me of a female Baths - but with an otherworldly twist due to Boucher's distinctive high-pitched, childlike voice and indecipherable lyrics.
Boucher's performance was certainly not as polished as that of Li (She coughed right into the microphone at one point), but her experimental leanings nicely contrasted Lykke Li's more straightforward pop sensibility.
With the exception of some dramatic lighting, the stage set-up was fairly minimal for Grimes, but for Lykke Li, the venue piled on the drama. Following a long intermission between sets, the room suddenly went dark and the smoke machines on stage kicked into overdrive.
As music played in the background, Li's backing back assumed their positions, and the tension escalated. Finally, Li herself appeared to rapturous applause. As if the setting on stage wasn't dramatic enough, Li looked like a widow in mourning in her black veil and oversized cloak. Bursts of blinding white light, thick clouds of smoke, and well-placed fans made it seem as if a tempest had broken out on stage. Long black curtains billowed in the manmade gusts and effectively enveloped Li until she brushed them aside with a graceful flourish.
Of course, it wasn't long before the veil fell and revealed Li's beauty mark, well-defined cheekbones, and unblinking gaze; and the cloak fell open. Li powered through her hour-long set, playing songs both from her most recent release and a few old favorites, including "I'm Good, I'm Gone" and "Little Bit." At the encouragement of the audience, she extended her encore and closed with "Unrequited Love."
Lykke Li's lyrics may not be particularly groundbreaking, but she performed with the poise of an experienced pop star and a level of intensity typically reserved for an encore. Perhaps she said it best herself: "Words can never make up for what you do."
More pictures pictures from the Wednesday night show at Webster Hall, and the setlist, below...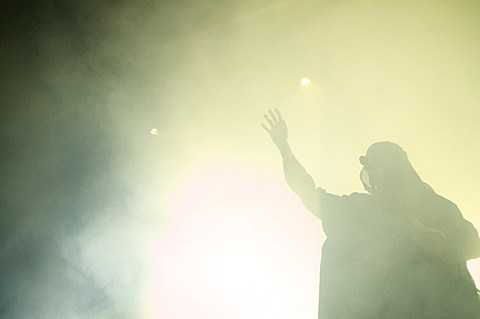 Lykke Li Setlist
Jerome
I'm Good, I'm Gone
Sadness Is a Blessing
Velvet
I Follow Rivers
Dance, Dance, Dance
Made You Move
I Know Places
Little Bit
Love Out of Lust
Rich Kid Blues
Until We Bleed (Kleerup cover)
Get Some
Encore:
Youth Knows No Pain
Possibility
Unrequited Love
--